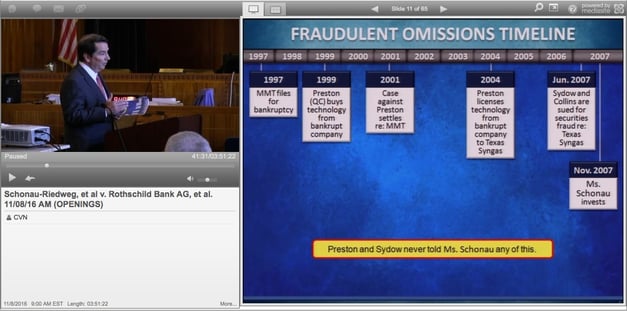 Attorney Glenn Ballard, representing Novartis heiress Corinna von Schonau, delivers his opening statement on Tuesday. Click here to see video from the trial.
Boston - A lawsuit filed by the heiress to part of the Novartis pharmaceuticals fortune went to trial Tuesday in Massachusetts state court, in a case claiming she lost $5 million after MIT's former chief intellectual property official and his business partner duped her into investing in a failed energy startup.
Corinna von Schonau, granddaughter of the founder of the drug company Geigy that later became Novartis, accuses former MIT administrator John Preston and attorney Michael Sydow of convincing her to invest in the now bankrupt Texas Syngas, an energy startup that hoped to convert coal into clean natural gas. Von Schonau claims that Preston, a Syngas board member and Sydow, the company's chief executive, failed to disclose that Syngas's key technology was based on that of another bankrupt company.
The $5 million is only a slice of the $77 million von Schonau says she lost due to bad investment advice from Baron Wilfrid von Plotho, a Rothschild Bank executive and German nobleman who she turned to for financial counsel after inheriting hundreds of millions of euros in Novartis shares following the death of her mother in 2002. She claims von Plotho sunk her money into Syngas after Preston and Sydow convinced him to fund a reactor that was never built, instead keeping much of the money for themselves.
Von Schonau secured a $15 million judgment against von Plotho in 2014, however her claims against Rothschild were thrown out.

"All of a sudden she has money, but that doesn't mean she can be deceived, and that doesn't mean she can be defrauded," her attorney Glenn Ballard of Dentons told the jury during his opening statement, according to a Courtroom View Network webcast of the trial.
Syngas, which also did business under the name NC12, shut down in 2010 after financing for the reactor fell through and the company declared bankruptcy the following year, with von Schonau losing her entire $5 million investment.
Ballard told jurors that Preston and Sydow, who had previously worked as an attorney representing high-profile clients like deceased pop star Michael Jackson, based Syngas' coal-to-gas process on technology used by Molten Metal Technology, a once-promising startup that hoped to recycle toxic waste by submerging it in a bath of melted metal but went bust in the 1990's.
Ballard also argued that Preston and Sydow largely relied on technical advice from Syngas founder Michael Collins, a man they claim falsely represented himself as an engineer who supposedly lied about his academic credentials. Preston and Sydow were aware of this, Ballard claimed, but didn't disclose the information to von Schonau.
"These guys knew exactly what they were doing," Ballard said, noting that they had merely claimed to use technology from a company that had "exited business" as opposed to declaring bankruptcy, and that Preston had previously been sued in a securities case. If von Schonau knew this, Ballard argued she never would have invested in the company.
Preston's attorney Neil Hartzell of LeClairRyan told jurors during his opening statement that von Schonau's lawsuit is a "misguided" attempt to blame his client for Collins' actions.
Hartzell walked jurors through Preston's extensive professional record, including service to multiple presidential administrations and testimony before the United States Congress. He argued that when Collins refused to cooperate with an investigation by an outside corporate forensic company, that it was Preston who sounded the alarm about Collins' false credentials to the board of directors.
Collins was removed from the board, however the disclosures about Collins' background already spooked outside investors who pulled their funding, which Hartzell claims ultimately doomed the company.
"Mr. Preston is the one who uncovered the fraud," Hartzell said. "To accuse him of some conspiracy we're going to prove to you is absolute nonsense."
Sydow's attorney John Santangelo told jurors that his client doesn't have a technical background, and that he agreed to work for Syngas on business development because he trusted the advice of supposed scientific experts.
"These are the kinds of people that Mr. Sydow satisfied himself with to know the technology is sound and had a bright future, or else he would have continued with his law practice which was quite lucrative," Santangelo said.
Santangelo explained that Sydow never thought to investigate Collins' claims about his background, since Collins himself recruited him to work at Sygas.
"He did not do a background check on the person that hired him," Santangelo said.
The trial is taking place before Justice Edward Liebensperger in Suffolk County Superior Court's "Business Litigation Session" - a specially designated court in Boston that handles complex business and commercial disputes. Jurors are expected to begin deliberations late next week, and the full trial will be webcast and recorded gavel-to-gavel by CVN.
The case is Schonau-Riedweg, et al. v. Rothschild Bank AG,et al., case number 1284CV04630.
Email David Siegel at dsiegel@cvn.com