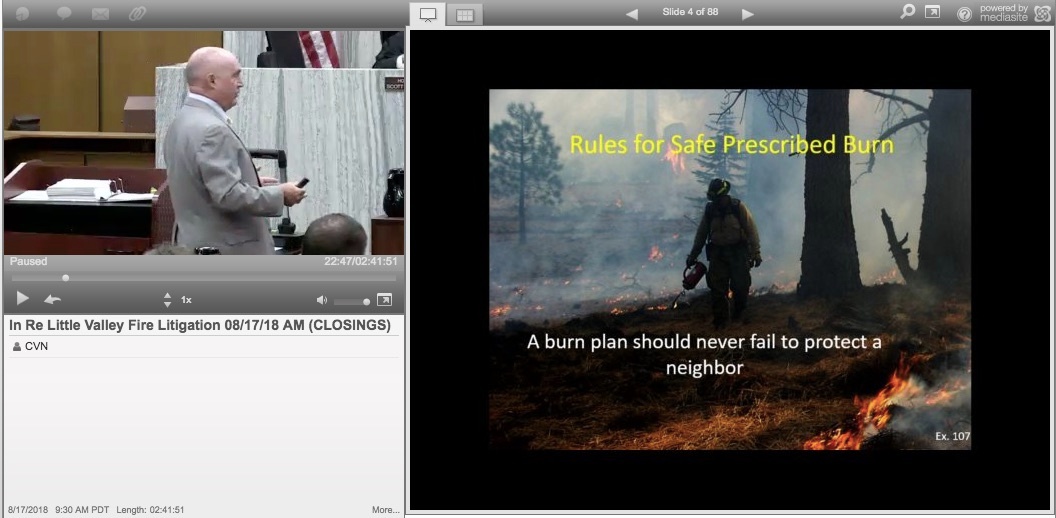 CVN screenshot of plaintiffs attorney Bill Jeanney delivering his closing argument
Reno, NV - A state court jury determined on Friday that the Nevada Division of Forestry's gross negligence caused a prescribed burn to rage out of control, potentially opening the state up to liability for more than $80 million in property damage caused by the blaze.
Dozens of plaintiffs sued the NDF and the University of Nevada after the 2016 fire consumed 23 homes, many of them mansions, and other buildings. The burn began on land owned by the university, which planned to study the fire's environmental impact.
After hearing two weeks of testimony jurors cleared the university of any responsibility for the fire but accepted the arguments made by property owners and and insurance companies that NDF officials failed to adequately monitor the blaze. The finding of gross negligence is critical, since an immunity clause for state agencies would otherwise limit potential damages to $100k.

Attorneys for the state described the fire as a freak accident, citing unexpected winds as high as 85 miles-per-hour.

The full trial was webcast live and recorded gavel-to-gavel by Courtroom View Network.

Plaintiffs attorney Bill Jeanney of Bradley, Drendel & Jeanney told jurors during his closing argument that NDF failed to properly monitor the burn once it began, and that they failed to do an adequate analysis of potential fuel sources adjacent to the burn site.

"This is a very dangerous business of lighting fires so if you're gonna do it, you have to follow the rules," Jeanney said.

Jeanney asked jurors to reject the state's argument that weather conditions beyond their control caused the fire to jump its boundaries. He suggested that NDF officials prematurely abandoned the site despite clear signs the fire was not completely extinguished.

While a specific amount of damages owed to homeowners wasn't at issue in the trial, Jeanney did ask jurors to consider the losses they incurred. An analysis by the Reno Gazette Journal calculated total damages potentially owed to residents in excess of $80 million, with most destroyed homes having an average value of $1.4 million.

"For two years, these people have been living without their homes," Jeanney said. "Some lost 60 years worth of memories. They just want (NDF) to accept responsibility for what they did, for breaking their own rules."

Representing the state, Steven Shevorski of the Nevada Attorney General's office told jurors that NDF met its due diligence obligations in planning the burn and monitoring it, describing how witnesses testified that fire crews extinguished all hotspots in the burn area with foam and water.

"Is that gross negligence?" Shevorski said. "Is that failure to use even a slight degree of care?"

He argued that university officials had nothing to do with planning the burn and sought only to study its effects, drawing a clear distinction between school's role in the burn and NDF's.

"Did they sign the burn plan? No. Did they draw the control lines? No. Did they pick the men (to staff the burn)? No," Shevorski said. "There's no basis to hold UNR liable for something they did not control."

With a gross negligence finding meaning that caps on damages no longer apply, the plaintiffs now must turn to the Nevada Supreme Court for a determination of the parameters of what homeowners could potentially recover.

Another trial would then need to take place to determine the amount of those damages.

The consolidated case is captioned In Re Little Valley Fire Litigation, case number CV17-00225, in Nevada's Second Judicial District Court.

E-mail David Siegel at dsiegel@cvn.com