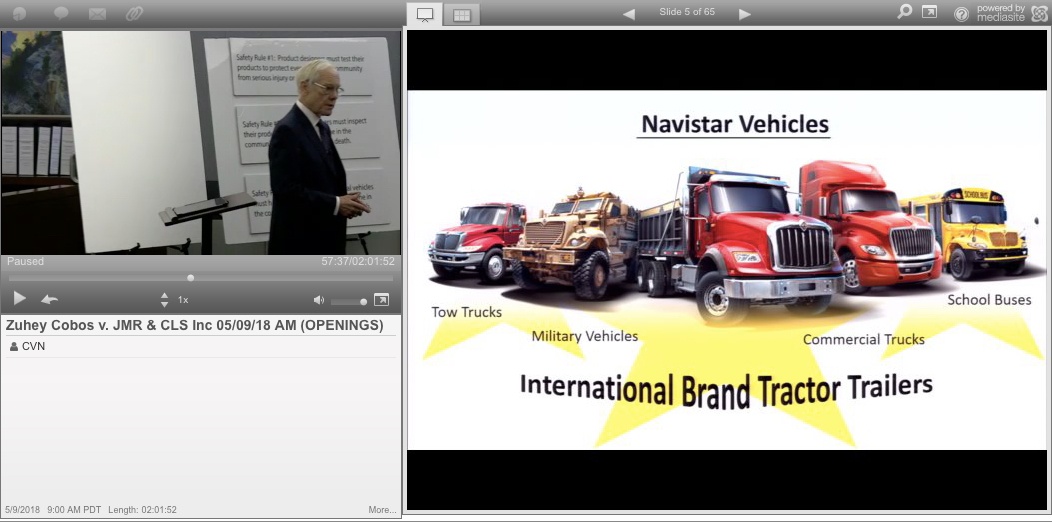 CVN screenshot of plaintiff attorney Samuel Harding delivering his opening statement
Las Vegas - Truck manufacturer Navistar International Corporation faced accusations on Wednesday in a Nevada state courtroom that a defective emergency brake in one of its tow trucks caused the vehicle to roll backwards into oncoming traffic, injuring a driver in the ensuing pileup.
Jurors heard opening statements in a negligence and products liability lawsuit filed by plaintiff Zuhey Cobos, who claims she suffered serious back, neck and shoulder injuries after the Navistar truck rolled across multiple lanes of traffic, causing another car to rear-end her. Cobos, who also sued Navistar dealer McCandless International Trucks and Tri State Towing, accuses Navistar of failing to act on multiple reports of similar brake failures that preceded the accident.
Navistar denies liability, maintaining that the accident is solely the responsibility of the tow truck driver, while the towing company argues their driver was unknowingly sold a defective product.
Cobos' attorney, Samuel Harding of the Claggett and Sykes Law Firm, told jurors he would ask them to award over one million dollars for past and future medical expenses and an unspecified amount for pain and suffering, according to Courtroom View Network's webcast of the trial.
The full proceedings are being webcast and recorded gavel-to-gavel by CVN.

Attorneys for all the parties agreed in their opening statements that in 2013, tow truck driver James Rubico parked his truck, operated by Tri State, at a gas station with the transmission in reverse and the emergency brake engaged. While he went inside the truck rolled down an incline towards an adjacent multi-lane road.
However the parties laid out different explanations of who was liable for the accident, with Harding claiming it was a combination of negligence on Rubico's part and Navistar's brake, and both defendants saying the fault lay entirely with the other defendant. Attorneys for Navistar and Tri State both emphasized that Cobos, who was 37 at the time of the accident, bears no responsibility, nor does the driver of the car who rear-ended her.
Harding methodically walked jurors through a series of warranty complaints that he said Navistar received about the same emergency brake as the one used in the 1998 4000-series flatbed truck that rolled into traffic. Despite five warranty complaints about the same brake between 2009 and 2013, he said Navistar took no action.
"There was no investigation, no testing, no inspection to determine the cause of the failure," Harding said. He told jurors that he would present evidence showing Navistar sold over 7000 replacements for the type of emergency brakes in question between 2008-2013.
"They never had a qualitative inspection process to ensure the emergency brakes were safe," Harding said.
He argued that in addition to Navistar, Tri State is also responsible for the accident due to Rubico parking his truck on an incline and leaving the the transmission in gear, against the advice of the Navistar truck's user manual.
Navistar and McCandless' attorney, Daniel Rodman of Snell & Wilmer, agreed that the brake failed but argued the failure occurred because of misuse by the driver and not a defective design. According to Rodman, Rubico would allow the brake to slam down after releasing it instead of holding it and lowering it slowly like the user manual suggests.
"Just like any other mechanical part, it can break if suggested to extreme forces," he said.
Rodman explained that the brake at issue was a replacement for the one originally sold with the truck, and that Rubico chose to install it himself at a friend's home garage despite not being a licensed mechanic.
He also argued that although the emergency brake was sold by Navistar and included with its trucks, the brake was actually manufactured and designed by a separate company, Orscheln Products. Orscheln was originally listed as a defendant in the case, but settled out prior to the start of the trial.
While Rodman repeatedly stated that Cobos was not at fault, he claimed that she suffered minor soft tissue injuries in the accident, which he said her attorneys are overstating.
Tri State's attorney, Gordon Park of McCormick Barstow LLP, echoed many of the claims raised by the plaintiff during his opening argument. He said metallurgical analysis of the emergency brake proves it failed as a result of a manufacturing defect and not due to any misuse by Rubico. He also maintained that Rubico didn't engage in any actions that were not consistent with standard industry practice in parking the truck.
"The fight is going to be between two of the defendants," he said.
The trial is taking place before Clark County Judge Joanna Kisher and will run for approximately two-to-three weeks.
The case is captioned Zuhey Cobos v. JMR & CLS Inc., et al., case number A-15-724639-C in Nevada's Eighth Judicial District Court.
Email David Siegel at dsiegel@cvn.com