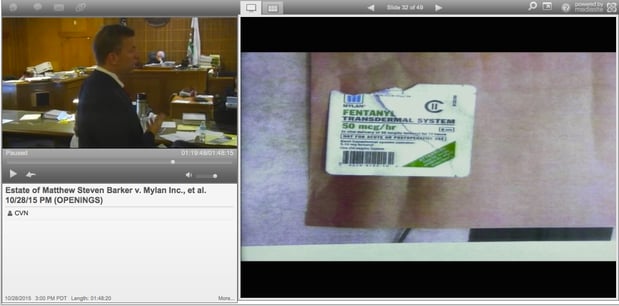 Plaintiff's attorney John Marcin shows jurors a picture of the wrapper for the Fentanyl patch that he claims was illegally sold to his client's mentally ill son. Click here to see video from the trial.
Burbank — A California state court jury has awarded $216,450 to the mother of a mentally ill 20-year-old who died after overdosing on narcotic pain medication provided to him by a former psychiatric nurse with whom he had maintained a sexual relationship.
The jury found on December 1, following a trial that began in October, that Cari Garza, who treated plaintiff Marilyn Smith's son Matthew Barker while he was a patient at the Aurora Las Encina Hospital in Pasadena, was negligent in giving Barker a non-prescribed Fentanyl patch that contributed to his death in 2008. Jurors awarded $650,000 to Smith, herself an attorney specializing in elder and dependent adult abuse cases, but the amount was reduced due to Barker and his mother also being found partially responsible for his death.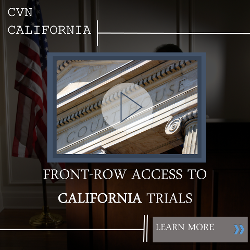 Barker had a lifelong history of severe mental illness and substance abuse, and by the time of his death had attempted suicide on multiple occasions and been placed under the conservatorship of his mother. Garza and Barker began sleeping together while he was hospitalized at Las Encina and Smith, who had previously assisted Garza in an unrelated lawsuit, enlisted her help in caring for Barker after his discharge.
During this time, Smith's attorney John Marcin of Marcin Lambirth LLP argued that Garza illegally sold prescription medications to Barker, including a Fentanyl patch.
While the jury found that Garza was not a care custodian for Barker after he left the hospital, they did decide that Garza breached her duty to use reasonable care under the circumstances to prevent harm to Barker, according to a Courtroom View Network webcast of the trial.
Marcin told CVN that his client is happy and feels vindicated by the jury's decision.
"It continues to chip away at the mindset that people with mental illness are throwaways,'' he said.
In June, Smith served an Offer to Compromise - known in California as a "998 offer" - to resolve the case for $249,999, according to Marcin, but that offer was rejected by the insurance carriers responsible for Garza's defense.
"Since I've been involved in the case, they didn't offer a penny," Marcin said, noting that with his client's "hefty" expert witness fees and other costs included, the award could ultimately exceed $340,000.
Garza's attorneys argued throughout the trial that she didn't sell Barker the fentanyl patch in question, and that his death was not accidental but the result of suicide.
Marc Shapiro of Hanger Steinberg Shapiro & Ash told CVN that while he feels the jury properly valued Barker's life and was correct in its apportionment of fault, that it also improperly evaluated evidence presented during the trial.
"There was no evidence proffered that Ms. Garza ever owned the patch that resulted in Matthew Barker's death," Shapiro said.
Shapiro added that he felt the court "errored in allowing in inadmissible text messages and other hearsay evidence which unfairly prejudiced my client." Marcin had presented numerous text messages exchanged between Garza and Barker in the hours leading up to his death in a motel near Smith's home.
At one point, Barker texted "Can u bring those klons down 2nite" followed by "Or tat patch I already bought I could realy use it." Barker and Garza then engaged in a 16-minute phone conversation Garza later texted "Ey u need budda" to Barker, using the street name for marijuana that is laced with opiates. She then texted "I can get you narcus," a possible reference to narcotic painkillers. Barker later sent her directions to his motel.
During her testimony, Smith displayed a level of comfort speaking to the jury that likely came from her own experience trying elder and dependent adult abuse cases, but Marcin said jurors told him after the trial that her background didn't influence their decision.
"I think the jury saw her for what she was, a mom just trying to do the best for her kid."
Judge William Stewart presided over the trial.
The case is The Estate of Matthew Barker v. Cari Garza, case number GC045404, in the Superior Court of California for Los Angeles County.
Garza was also represented by Jennifer Sturges of Caroll Kelly Trotter Franzen McKenna & Peabody.
E-mail David Siegel at dsiegel@cvn.com.
Not a subscriber? Click here for access to other California trials in our online video archive.