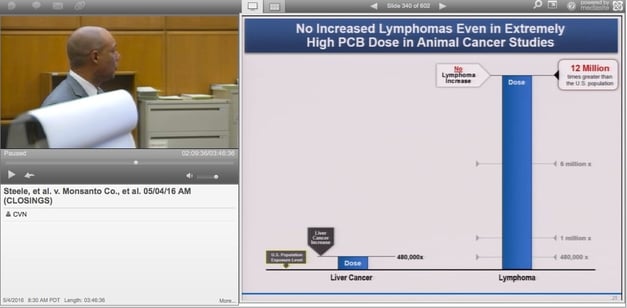 Monsanto attorney Anthony Upshaw delivers his closing argument. Click here to see video from the trial.
Los Angeles — A California state court jury on Thursday rejected claims from two men who said they developed non-Hodgkin lymphoma from exposure to long-lasting carcinogenic chemicals manufactured by Monsanto Co. called polychlorinated biphenyls, or PCBs, which they alleged the company sold for decades despite knowing their potential health risks.
The jury deliberated over the course of two days following a 14-day trial before finding that although plaintiffs Fred Steele, 63, and Arutyun Karabadzhakyan, 64, were exposed to PCBs the chemicals were not the definitive cause of their cancer. Both men claimed they ate foods contaminated by PCBs for years, after the near indestructible chemicals permeated much of the environment and entered the food chain.
The trial was webcast and recorded gavel-to-gavel by Courtroom View Network.
Thursday's verdict marks the third consecutive win in Los Angeles for Monsanto in a PCB exposure case and could put the company in a much more favorable position to resolve hundreds of similar cases still pending in California and Missouri. In March another Los Angeles jury sided with Monsanto, as did another jury in 2014. A Missouri state court jury similarly sided with the company in 2015, and another PCB case that ended with a deadlocked jury that same year is currently being re-tried in St. Louis.
For decades PCBs were used for fire protection and a wide variety of other industrial purposes, and they remain present in trace amounts in much of the food supply throughout the United States. Steele and Karabadzhakyan's attorneys argued that the vast majority of PCBs present in the United States were manufactured by Monsanto, including specific compounds that blood tests revealed in the two men, and that Monsanto publicized results only from short-term safety tests of the chemicals despite knowing that long-term studies were necessary to accurately gauge their potential risk.
They asked jurors to award $20 million plus an unspecified amount in punitive damages.
Monsanto's attorneys argued throughout the trial that Non-Hodgkin lymphoma can be caused by a range of factors, and that existing medical and scientific evidence doesn't support the claim it can be caused by exposure to PCBs.
"While we have sympathy for the plaintiffs, we are pleased the jury in Los Angeles found for Monsanto and against claims that the historic sale of PCBs or the conduct of the former Monsanto in manufacturing a useful product caused the plaintiffs' harms," company spokeswoman Charla Marie Lord told CVN in an email. "This is the fourth separate jury to reach the same conclusion that the former Monsanto Company is not responsible for alleged injuries from the historic sales of PCBs."
Attorneys for the plaintiffs did not respond to a request for comment.
Steele and Karabadzhakyan are represented by Scott Frieling of Allen Stewart PC and by Gary Paul of Waters Kraus & Paul.
Monsanto is represented by Anthony Upshaw of McDermott Will & Emery LLP.
The case is Steele, et al. v. Monsanto Co., et al., case number BC497582 in the Superior Court of California for Los Angeles County.
E-mail David Siegel at dsiegel@cvn.com.