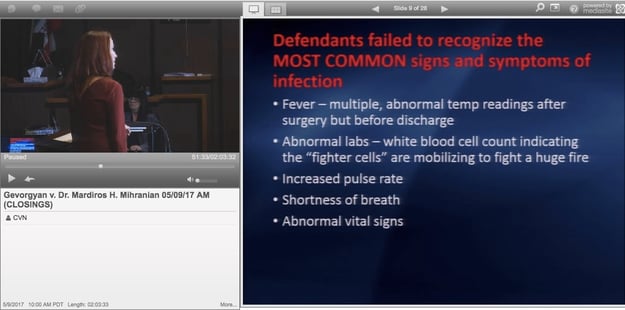 CVN screenshot of plaintiffs' attorney Amanda McClintock delivering her closing argument. Click here to see video from the trial.
Los Angeles — A California state court judge declared a mistrial on Thursday in a medical malpractice lawsuit filed by the family of a well-known Armenian folk singer who died from an infection following routine gallbladder surgery.
The decision by Los Angeles County Superior Court Judge Brian Currey came after the near-deadlocked jury was reduced to 11 members, when a juror had to be excused due to illness. Two alternate jurors had already been seated over the course of the nine-day trial, and attorneys for defendants in the case would not agree to further proceedings with less than the standard 12-member panel.
The mistrial declaration occurred after the jury had already informed the court on Wednesday evening that they were deadlocked, but jurors returned on Thursday for additional deliberations after Judge Currey asked them to continue their efforts. At that point a juror who needed assistance from court staff to make it to her car the previous evening asked to be excused for medical reasons.
Courtroom View Network provided a gavel-to-gavel webcast of the trial.

The family of Flora Martirosian sued Glendale Memorial Hospital, surgeon Mardiros Mihranian and physician's assistant Rouben Virabov after Martirosian died of sepsis at the age of 55 just days after her surgery. The hospital was later dropped from the case, and only Mihranian and Virabov remained as defendants when the trial began on April 28.
Martirosian was a popular folk musician in the Armenian community who had developed a loyal following after moving to the United States, going on to perform with headliners like Stevie Wonder.
Martirosian's attorneys argued throughout the trial that Mihranian and Virabov discharged Martirosian from the hospital too quickly, and that they missed obvious signs of a worsening infection that should have prompted additional treatment. Martirosian had a fever of 102 degrees the morning she was discharged from Glendale, and Mihranian supposedly did not prescribe adequate antibiotics to a patient he should have known faced an increased risk of infection due to her weight and the presence of a lap band in her abdomen.
Attorneys for Mihranian and Virabov maintained that they adhered to the standard of care, and that when Martirosian left the hospital her fever had come down and her lab tests did not indicate an elevated white blood cell count. They claimed Mihranian did provide Martirosian with the antibiotic Cipro upon her discharge, but that it didn't appear in her chart because he provided free samples out of pocket since Martirosian was uninsured at the time.
James O'Callahan of Girardi & Keese LLP, who represents Martirosian's family, told CVN that a new trial could be scheduled at a status conference on Monday, but that he would be consulting with defense attorney George Peterson of Peterson Bradford Burkwitz to see if the case can be resolved without requiring a second jury.
"The trial has given both sides a lot to think about," he said, adding that even a potential settlement wouldn't have been possible without first going through the initial trial.
Peterson did not respond to a request for comment, though O'Callahan had high praise for his counterpart.
"I've always had an enormous amount of respect for George Peterson," he said.
O'Callahan told CVN that had the deliberations continued, he was confident the jury would have returned a verdict for his clients, though he did not know any specifics about why the defense would not stipulate to a verdict from an 11-member jury.
He complimented Judge Currey, saying that the parties would likely want him to preside over a retrial if it becomes necessary. He also said that medical malpractice trials offer an educational opportunity to see what's going on "under the hood" of our healthcare system.
"I think that people always enjoy medical malpractice trials," he said. "You really get a chance to learn a lot."
The case is Hrahat Gevorgyan, et al. v. Mihranian, et al., case number BC512980 in Los Angeles County Superior Court.
Email David Siegel at dsiegel@cvn.com