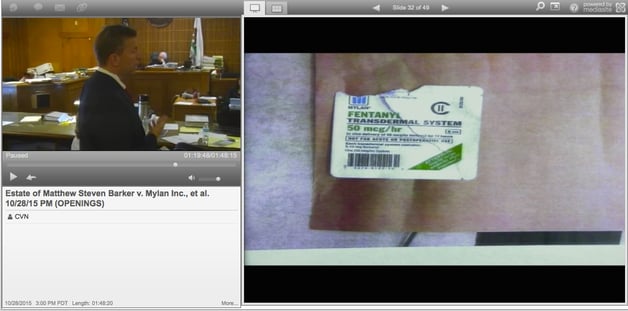 Plaintiff's attorney John Marcin shows jurors a picture of the wrapper for the Fentanyl patch that he claims was illegally sold to his client's mentally ill son. Click here to see video from the trial.
Burbank — A mother's wrongful death and elder abuse lawsuit claiming her son overdosed on prescription drugs sold to him by a psychiatric nurse with whom he had developed an improper sexual relationship went to trial on Wednesday in California state court.
Plaintiff Marilyn Smith accuses Cari Garza, a former nurse at the Aurora Las Encinas Hospital in Pasadena, of supplying her son Matthew Barker with a narcotic Fentanyl patch and the anti-anxiety drug Klonopin shortly before Barker's death in 2008. Barker, 20, was staying in a motel at the time, and Smith's lawsuit claims he maintained a relationship with Garza that began during an earlier hospitalization at Las Encinas.
Barker had a lifelong history of severe mental illness and substance abuse, and by the time of his death had attempted suicide on multiple occasions and been placed under the conservatorship of his mother. Smith's attorney, John Marcin of Marcin Lambirth LLP, told the jury during his opening statement that Garza breached ethical standards by carrying on a relationship with a patient outside the hospital.
"When a patient leaves the hospital they are supposed to have no relationship, no friendship, no socialization with former nurses," Marcin said, according to a Courtroom View Network webcast of the trial.
He explained that Smith's case includes claims for statutory elder abuse, since Barker had been deemed unable to make decisions for himself.
Garza's attorney denied she sold drugs to Barker and argued that he committed suicide.
Barker had told his physician at Las Encinas that he was engaged in a sexual relationship with Garza, claiming he would accompany her to parties at another nurse's home, but those statements were allegedly dismissed as being a product of Barker's mental illness, according to Marcin. Garza had developed a friendship with both Barker and his mother while he was treated at Las Encinas and continued to assist with his care in an informal capacity after his discharge.
During this time, Marcin claims Garza illegally sold prescription medications to Barker, including a fentanyl patch. Barker supposedly told his mother that Garza had sold him fentanyl, but after developing a trusting relationship with Garza, Smith attributed Barker's claims to his mental illness and didn't investigate further, according to Marcin.
Marcin showed jurors a series of text messages exchanged between Barker and Garza after Barker had a fight with his mother and was living in a nearby motel shortly before his death. At one point, Barker texted "Can u bring those klons down 2nite" followed by "Or tat patch I already bought I could realy use it." Barker and Garza then engaged in a 16-minute phone conversation.
Garza later texted "Ey u need budda" to Barker, using the street name for marijuana that is laced with opiates. She then texted "I can get you narcus," a possible reference to narcotic painkillers. Barker sent her directions to his motel.
He was found dead three days later, and the cause of death was determined to be a Fentanyl overdose with Klonopin also present at the scene.
Marcin didn't disclose to the jury the amount of damages he plans to ask for at the conclusion of the trial.
Garza's attorney Marc Shapiro of Hanger Steinberg Shapiro & Ash, in an opening statement that was considerably shorter than Marcin's, told the jury that Barker took his own life, and that Garza did not sell the drugs that killed him.
Garza left her job at Las Encinas months before Barker's death, and when he died she was working with law enforcement as a nurse on a mental health crisis response team and had no access to prescription medications, Shapiro argued. He also explained that Garza first developed a friendship with Barker's mother, an attorney, after she represented Garza in a previous lawsuit.
Shapiro explained to jurors that Barker had struggled with drugs both before and after meeting Garza, and that he had abused painkillers, marijuana, cocaine, LSD and Ecstasy. He argued that text messages Barker exchanged with his mother shortly before his death proved he was suicidal at the time.
Barker's final text message, sent to his mother, includes language like "do not hospitalize me 4 tat will only be prolonging the inevitable" and "i have given up."
"This is the text message of an individual who is about to take his life," Shapiro said.
He expressed sympathy for the loss of Smith's son but told jurors that she couldn't prove Barker's death was caused by Garza's actions.
"This is a suicide. This is an overdose."
The trial before Judge William Stewart is expected to take approximately last through the month of November. CVN will be on hand to record closing arguments and the verdict.
The case is The Estate of Matthew Barker v. Cari Garza, case number GC045404, in the Superior Court of California for Los Angeles County.