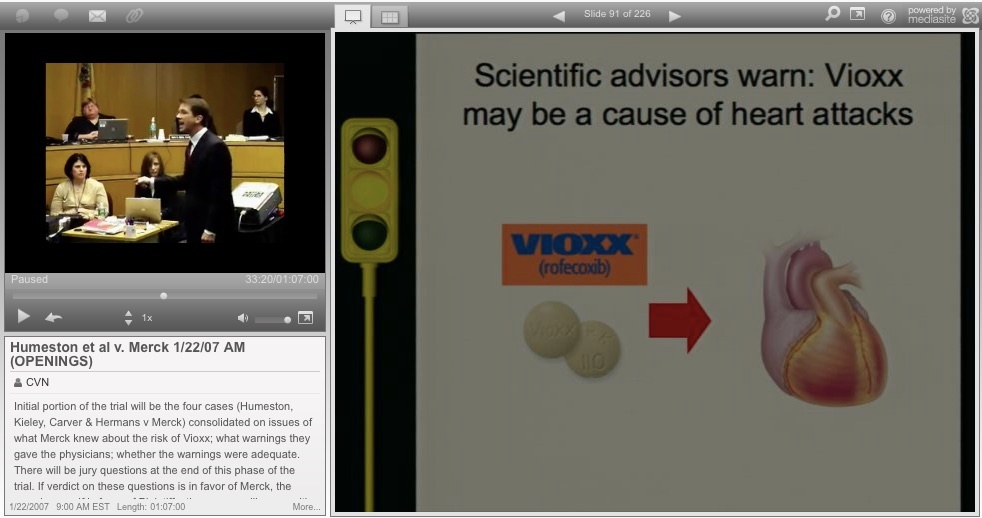 CVN screenshot of attorney Mark Lanier giving his opening statement in a Vioxx trial
St. Louis - A trial involving 22 plaintiffs represented by noted attorney Mark Lanier over the alleged health risks of Johnson & Johnson's talc-based products begins jury selection Monday in Missouri state court, and the full trial will be webcast gavel-to-gavel by Courtroom View Network.
The trial, which involves claims that J&J's talc products cause ovarian cancer, will be the first in nearly a year after a U.S. Supreme Court decision limiting the ability for plaintiffs to file lawsuits outside the state they live in caused a mistrial in an ongoing talc case last year and put the litigation on hold.
Numerous juries in St. Louis returned multi-million verdicts in similar cases in 2016 and 2017, however some of those involved out-of-state plaintiffs and were thrown out on appeal. 17 of the 22 plaintiffs in the current case are not Missouri residents, but Judge Rex Burlison determined the role of a Missouri manufacturing company in J&J's talc supply chain was sufficient to keep their claims alive.
The plaintiffs are all women who allege that years of using products like Johnson's Baby Powder and Shower to Shower on their genitals caused talc particles to lodge in their ovaries and cause cancer.
J&J maintains talc is not a carcinogen, and that the plaintiffs claims are based on faulty and outdated medical studies.
The trial will mark the first time attorney W. Mark Lanier takes a talc powder case in front of a jury. Lanier, whose firm is based in Texas, is considered one of the premier trial attorneys in the United States. He is known for landing numerous mega-verdicts in bellwether mass tort cases.
The trial is also one of the few times Johnson & Johnson has faced talc-related claims on their own. Their talc supplier, Imerys, has been a defendant in nearly all of the J&J talc trials to date, but they settled out of the case this week, according to published reports.
Next week's trial brings the spotlight back to ovarian cancer-related talc cases after a string of recent verdicts in lawsuits filed by plaintiffs claiming they developed mesothelioma after inhaling asbestos allegedly present in Baby Powder and Shower to Shower.
In April a New Jersey jury returned a $117 million verdict in a J&J talc case, followed by a California jury returning $21.7 million verdict shortly afterwards. Another recent trial in South Carolina ended in a hung jury, while J&J secured a defense verdict last year in the first such case to go to trial.
A number of those trials were recorded and webcast gavel-to-gavel by CVN.
To date there have been no mesothelioma talc trials in St. Louis, with all of the trials so far involving ovarian cancer claims. Judge Burlison also presided over all of the other talc trials in St. Louis so far.
The case is captioned Ingham v. Johnson & Johnson, No. 1522-CC10417-01 in the Circuit Court of the City of St. Louis, Missouri. The trial is expected to run through mid-July.
CVN will be present for the duration of the proceedings, and gavel-to-gavel video of the full trial will be available to CVN subscribers.
Email David Siegel at dsiegel@cvn.com