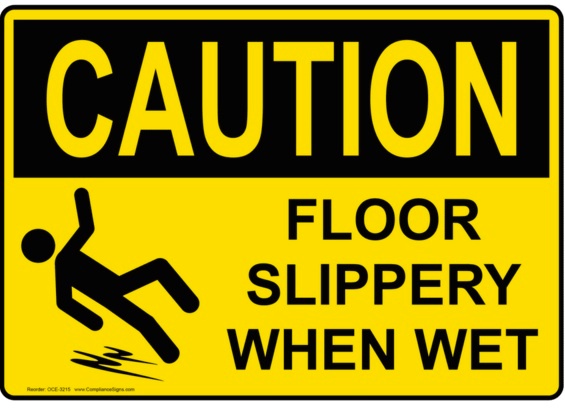 Stock image of slippery when wet sign
Las Vegas - Lowe's Companies Inc. could be on the hook for punitive damages in a premises liability suit that went to trial Wednesday in Nevada state court alleging that the home improvement retail giant's failure to clean up standing water in an outdoor area of the store caused a customer to slip and suffer a significant brain and neck injury.
Plaintiff Kelly Hendrickson claims she fell in a Lowe's store in 2013 while shopping for plants in the outdoor garden section. Her complaint states that her fall was caused by a "slippery substance on the floor" and that she sustained "severe, serious and permanent injuries and damages."
Hendrickson's attorneys have argued that Lowe's knew standing water in the outdoor garden area at their stores posed a danger to customers, and that 33 other accidents had already occurred at Lowe's stores under similar conditions prior to Hendrickson's fall.
"Defendant's conduct complained of herein was despicable and so contemptible that it would be looked down upon and despised by ordinary, decent people and was carried on by Defendant with willful conscious disregard for the safety of Mrs. Hendrickson, and others in the State of Nevada, entitling plaintiff to exemplary and punitive damages," the complaint states.
Representing Lowe's, Esther Holm of Lewis Brisbois Bisgaard & Smith LLP argued to jurors that a reasonable person should expect water in the garden area of a home improvement store, and that prudent steps were taken like putting down orange safety cones to warn customers. She noted that Hendrickson actually fell on top of a four-foot caution cone that had been placed directly next to the water on which she slipped.
"Common sense tells where you have live plants there is going to be water, because plants require water in order to live," Holm said, according to a Courtroom View Network webcast of the trial. She added that the outdoor temperature the day Hendrickson fell was 113 degrees Fahrenheit, and that additional watering was needed to keep the plants from wilting.
Holm also pushed back against the argument that 33 prior incidents meant Lowe's knew that wet spots in the garden areas of stores were dangerous. She clarified that those incidents occurred at 13 different Lowe's stores over a period of five years.
"If you do the math, it's a one in a million chance," she said.
The trial before Judge Ronald Israel is expected to last up to two weeks, and CVN is webcasting and recording gavel-to-gavel video of the proceedings.
The case is Kelly and Scott Hendrickson v. Lowe's Home Centers LLC, case number A-13-687418 C in Clark County District Court.
The Hendricksons are represented by Sean Claggett, Sam Harding and Matthew Granda of Claggett & Sykes Law Firm and by Al Lasso of Lasso Injury Law LLC.
Lowe's is represented by Esther Holm and Jeffrey Olster of Lewis Brisbois Bisgaard & Smith LLP and by Kevin Diamond of Thorndal Armstrong Delk Balkenbush & Eisinger.
E-mail David Siegel at dsiegel@cvn.com.