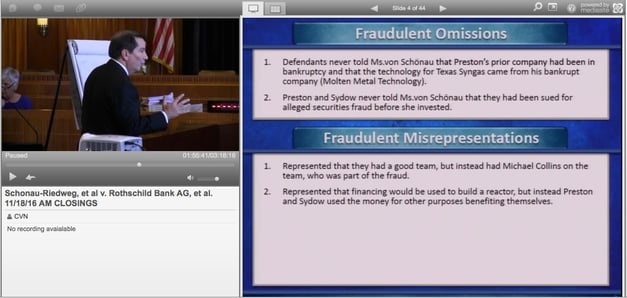 Attorney Glenn Ballard, managing partner in the Dentons Houston office, delivers his closing argument on behalf of Corinna von Schonau. Click here to see video from the trial.
Boston — A Massachusetts state court jury has rejected a lawsuit filed by the heiress to part of the Novartis pharmaceuticals fortune, who claimed that she lost $5 million after MIT's former chief intellectual property official and his business partner duped her into investing in a failed energy startup.
The jury returned the verdict on November 21 after an eight day trial in a special section of the Suffolk County Superior Court designated for complex business disputes, and the full proceedings were webcast gavel-to-gavel by Courtroom View Network.
Corinna von Schonau, granddaughter of the founder of the drug company Geigy that later became Novartis, accused former MIT administrator John Preston and attorney Michael Sydow of convincing her to invest in the now bankrupt Texas Syngas, an energy startup that hoped to convert coal into clean natural gas. Von Schonau claims that Preston, a Syngas board member and Sydow, the company's chief executive, failed to disclose that Syngas's key technology was based on that of another bankrupt company.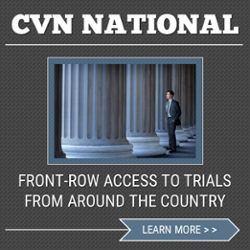 Von Schonau maintained that she never would have made the $5 million investment if she knew about the bankruptcy and the involvement of Syngas founder Michael Collins, who allegedly lied about his credentials as an engineer, or that Preston had been previously sued in securities case. However attorneys for Preston and Sydow successfully argued that they made no misrepresentations to von Schonau and were themselves mislead by Collins.
The trial ended up being a clash between two large, white-shoe law firms in a relatively rare setting - a state court jury trial - and the parties brought a number of heavyweight attorneys into Justice Edward Leibensperger's courtroom.
Von Schonau was represented by Glenn Ballard, the managing partner of the Houston office for the 7,300 attorney global firm Dentons. He was backed up by Philip O'Connell, Jr., the managing partner for the Dentons Boston office.
Preston was represented by A. Neil Hartzell David Slocum of LeClairRyan, a firm that while boasting 390 attorneys across 25 offices is decadently smaller than the international behemoth Dentons.
Sydow, who had previously worked as an attorney representing high-profile clients like deceased pop star Michael Jackson, was represented by attorney John Santangelo.
Attorneys for the parties did not respond to requests for comment.
The verdict may be the final chapter in a saga that began in 2002 when von Schonau inherited Novartis shares worth hundreds of millions of Euros following the death of her mother. She then turned to Baron Wilfrid von Plotho, a Rothschild Bank executive, German nobleman and family friend for investment advice.
Von Schonau later claimed that von Plotho lost $77 million of her inheritance in poor investments, and her lawsuit originally included both von Plotho and Rothschilds as defendants. She obtained a $15 million judgment against von Plotho, but her claims against the bank were dismissed.
On-demand video of the full trial, along with a number of other trials from Suffolk County's Business Litigation Session, are available as part of CVN's one-of-a-kind online video archive of state court jury trials.
The case is Schonau-Riedweg, et al. v. Rothschild Bank AG,et al., case number 1284CV04630.