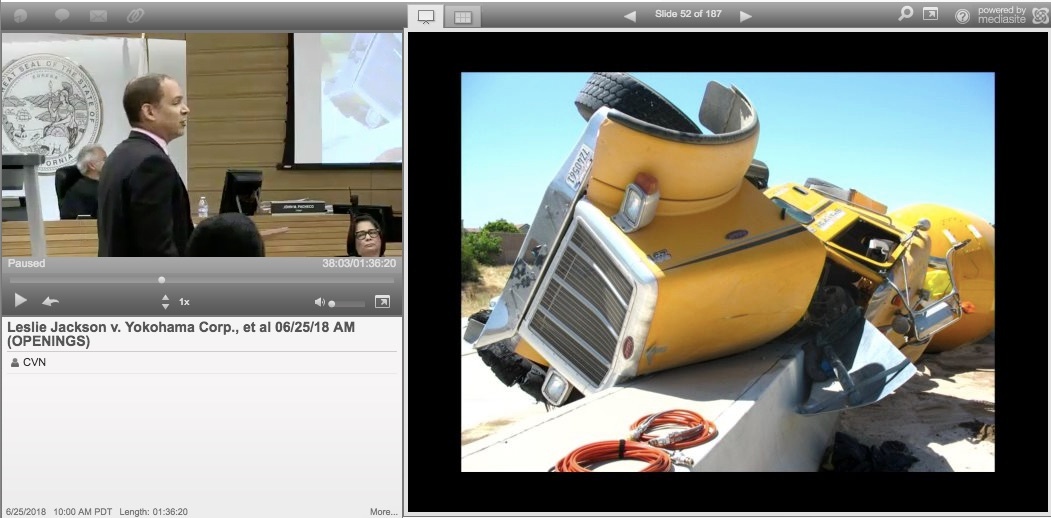 CVN screenshot of plaintiff attorney Chandler Parker delivering his opening statement
UPDATE Thursday June 28: The parties announced they reached a confidential settlement resolving the case.
San Bernardino - A California state court heard opening statements this week in a lawsuit claiming that a tire vendor is responsible for a deadly single-vehicle rollover accident, and the full proceedings are being webcast gavel-to-gavel by Courtroom View Network.
Plaintiff Leslie Jackson and her eight children sued Canyon Tire Sales Inc. in 2014, after her husband Steven Wayne Jackson died while driving a 2006 model PeterBuilt cement mixer truck. Jackson worked for a landscaping company, and the suit claims Canyon was hired to maintain the company's tires but failed to conduct regular inspections or to adequately observe and report tread wear.
The lawsuit, which characterizes Jackson's death as "entirely preventable" alleges that a blown out tire, a Yokohama SuperSteel MY507A model, showed clear signs of needing replacement due to excessive tread ware.
"However, Defendant Canyon failed to replace said tire even though they had an opportunity to do so," the complaint states.
Jackson's lawsuit originally included product liability claims against Yokohama, but the tire manufacturer was dropped from the case prior to trial.
Canyon argues neither Jackson nor anybody else at his company asked them to replace the tire, and that their contract only allowed them to replace a tire on their own if it was flat or had insufficient tread depth, conditions they claim didn't apply in this case.
Canyon asserts they met their obligations to inspect the tires on Jackson's truck, and that the tire in question blew out due to impacting a foreign object in the road.
"The condition of the subject tire and the tire immediately behind it shows that Canyon in no way caused or contributed to the accident and that the cause of the incident," the company argued in a court filing.
Judge John Pacheco bifurcated the cases. Jurors are expected to determine Canyon's potential liability by July 3 and then proceed to a second damages phase if necessary.
The Jacksons are represented by Chandler Parker of Ivie McNeil & Wyatt.
Canyon is represented by Michael Israel of Morrow & White.
The case is captioned Leslie Jackson, et al. v. Yokohama Corporation of America, et al., case number CIVDS1416256 in San Bernardino County Superior Court.
Email David Siegel at dsiegel@cvn.com