Los Angeles - The Los Angeles County Metropolitan Transportation Authority could be on the hook for up to $100 million depending on the outcome of a trial that began Friday in a wrongful death suit filed by the family of a Vietnamese immigrant who was killed when his car was struck by an MTA vehicle.
Xian Lin's widow and two adult children sued the MTA in 2014 following his death, and the mass transit system later accepted 100% responsibility for the accident that killed him. The current trial involves non-economic damages only, and while the MTA has argued $3 million is appropriate compensation for Lin's death, his family's attorneys claim the loss of a patriarch in an immigrant family that completely relied on his support is worth much more.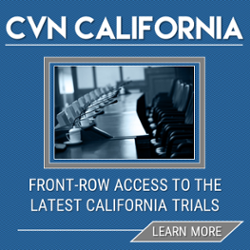 It's a case that will largely come down to raw advocacy and the attorneys' power of persuasion, with opening statements from both sides giving a preview of the intangible factors the jurors will have to consider.
"This is not a case about the grief or the sorrow that this family experiences, it's about the value of a human's life," argued Courtney Rowley of Carpenter Zuckerman and Rowley LLP, who represents Lin's widow Ma Mei and his children Yaer and Lian, according to a Courtroom View Network webcast of the trial.
Rowley told jurors that Lin, who was 56 when he died, played a key role in a family whose cultural background places enormous responsibility on the patriarch. Lin arrived in the United States before his family, and his wife and children relied on him for everything from translating english to learning how to cook American-style Chinese food so they could find work.
"You have a hub in the center of a wheel, and then you have the three spokes of the family members. He was that hub," Rowley said. "He was that center for this family."
The parties have stipulated Lin had an additional life expectancy of 27.4 years at the time of his death.
Rowley's co-counsel and husband Nicholas Rowley told jurors that the parties had already stipulated to roughly $75,000 in medical and funeral expenses, but that the jury would need to determine reasonable compensation for the family's loss of companionship, loss of society and loss of support in light of still not having fully assimilated into American culture.
Representing the MTA, Mark Weinstein of of Veatch Carlson LLP struck a sympathetic tone, telling jurors that Xian Lin's story is compelling and tragic, and that hearing about his death "makes you want to go home and hug your kids."
However he urged jurors not to be swayed by sympathy for the family's loss, but to instead use their common sense in determining appropriate compensation for Lin's death.
"Your heart is going to hurt in a case like this, but you've got to keep your head and be reasonable," Weinstein said.
Weinstein kept his remarks restrained and appeared hesitant to dismiss any of the Lin family's losses, but he also argued to jurors that both Yaer and Lian are now independent adults who have agreed to take care of their mother for the rest of her life.
"The evidence will show that these adult children of Mr. Lin are suffering, and I don't mean to diminish that in any way, but it's clear they are moving on with their lives as we would expect," Weinstein said. "They are living their lives. They are succeeding, and they're doing just what their father would have wanted them to do."
He also stressed that the case isn't about punishing the MTA, but rather determining a damages amount that he argued won't fully restore the family's loss no matter how large it is.
"Whether you decide it's 1 million or 5 million or 50 million, it's not going to change the facts. It's not going to bring him back."
The trial is taking place before Judge Anthony Mohr and is being webcast and recorded gavel-to-gavel by Courtroom View Network.
The case is Yaer Lin, et al. v. LA County MTA, et al., case number BC546460, in the Superior Court of California for Los Angeles County.
E-mail David Siegel at dsiegel@cvn.com
CORRECTION: An earlier version of this story stated that the plaintiff was struck by an MTA bus. The story has been updated to indicate that the plaintiff was not struck by an MTA bus, but rather his vehicle was rear-ended by another MTA vehicle. CVN regrets the error.
Not a subscriber? Click here for access to more high-stakes trials from California and across the country.