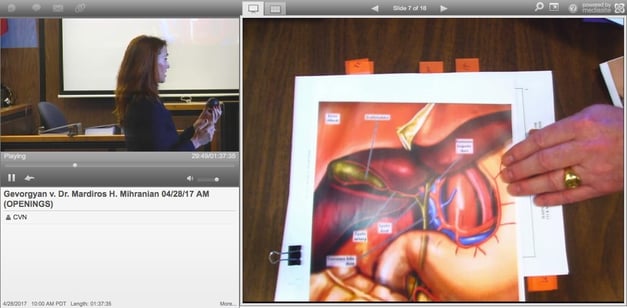 Plaintiff's attorney Amanda McClintock shows jurors an avocado during her opening statement, which she said is similar in size and shape to a gallbladder. Click here to see video from the trial.
Los Angeles — The family of a prominent Armenian folk singer who died following routine gallbladder surgery accused her surgeon of missing obvious signs of infection after the operation in a medical malpractice trial currently underway in California state court.
An attorney for Flora Martirosian's adult children accused Dr. Mardiros Mihranian of failing to prescribe adequate antibiotics and discharging their mother from Glendale Memorial Hospital despite her running a fever after surgery. During her opening statement on April 28, Amanda McClintock of Girardi & Keese LLP told jurors that these errors resulted in Martirosian's unnecessary death.
"If the defendants had been practicing according to the standard of care, they would have kept Mrs. Martirosian in the hospital," she said.
The trial is being webcast live and recorded gavel-to-gavel by Courtroom View Network.
Martirosian was a well-known folk musician in Armenia who later developed a loyal following in the United States, going on to perform with headliners like Stevie Wonder. She underwent emergency gallbladder surgery in 2012 and died days later of sepsis at the age of 55.
McClintock described the gallbladder as an organ the size of an avocado that releases bile into the small intestine to help aid digestion.
McClintock told jurors that infection is one of the most common complications from this type of surgery, and that Dr. Mihranian should have determined the cause of a 102 degree fever Martirosian presented the morning she was discharged. She said infection should have been even more of a concern due to Martirosian's weight and the presence of a lap band in her abdomen, two factors that pose an increased risk of infection.
She didn't ask for a specific amount of damages during her opening statement.
Mihranian's attorney, George Peterson of Peterson Bradford Burkwitz, told jurors that Mihranian adhered to the standard of care, and that Martirosian's death was the result of a complicated series of factors beyond his control.
He said Mihranian's fever came down before she was discharged from the hospital, and that repeated lab tests showed she had a normal white blood cell count.
"There was no reason to keep her in the hospital," he said.
Bradford claimed Mihranian gave Martirosian the antibiotic Cipro, but that it didn't appear in her records because Mihranian frequently provided free medication and services to patients who could not afford treatment, and Martirosian was uninsured at the time.
He also described a growing reluctance among doctors to quickly prescribe antibiotics due to the growing threat of bacteria resistant to most medications.
"The overuse of antibiotics has led to a diminished effectiveness of antibiotics," he said.
When Martirosian returned to Glendale in respiratory distress after being discharged, Bradford said she was treated by a team of doctors that didn't include Mihranian, and that everyone agrees the original surgery was done correctly.
Martirosian's family originally sued Glendale Memorial along with Mihranian, but the hospital was dropped from the case prior to the start of the trial.
The trial before Judge Brian Currey is still underway and expected to continue through at least May 9.
The case is Hrahat Gevorgyan, et al. v. Mihranian, case number BC512980 in Los Angeles County Superior Court.
Email David Siegel at dsiegel@cvn.com