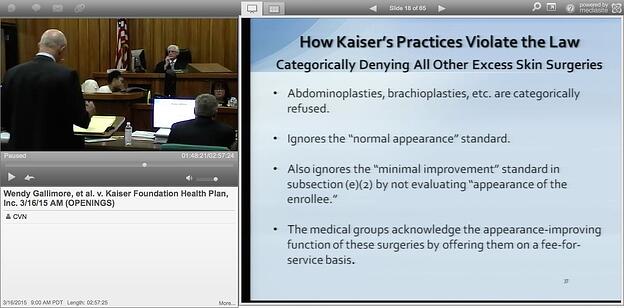 Plaintiffs' attorney Rob Gianelli presents argument to Judge Wynn S. Carvill. Click here to see video from the trial. Click here for a copy of Judge Carvill's ruling.
Oakland — A California state court judge has ruled that Kaiser Permanente cannot systematically classify removal of excess skin following bariatric weight loss surgery as a cosmetic procedure after a lengthy trial in a 10,000-member class action, but found doctors could decide on a case-by-case basis whether or not patients qualified for a referral to a plastic surgeon.
In a 60-page tentative ruling issued July 15, Alameda County Superior Court Judge Wynne S. Carvill said Kaiser misinformed patients and doctors by claiming removal of disfiguring excess skin following gastric bypass surgery is not a covered procedure, despite the fact California law requires insurance companies to pay for reconstructive surgery to repair disfigurement caused by trauma or disease.
Judge Carvill rejected Kaiser's position that excess skin is not a disease, and he ruled that the insurer's policy of only providing referrals to plastic surgeons for patients whose excess skin presented a functional problem ignored the California Health & Safety Code's requirement that reconstructive surgery also must be covered if it will help restore a patient's normal appearance.
However he declined to grant the declaratory relief requested by the plaintiffs, which asked the court to rule that referral denials for each class member violated the statute, finding that in some instances the denial could be medically appropriate.
"While not all members of the class may qualify for excess skin removal surgery and many who do may choose not to undergo such a procedure, they all have a common interest in being correctly advised as to the availability of coverage for such procedures and to have their physicians evaluating any request they might make do so under legally correct criteria," Judge Carvill wrote.
Lead plaintiff Wendy Gallimore sued Kaiser after she experienced drastic weight loss following bariatric surgery - also known as stomach stapling - in 2006 to treat her morbid obesity. She was left with a large amount of loose skin that she claimed was disfiguring. Rather than pay for removal of the skin, Gallimore says Kaiser referred her and other similarly situated patients to the company's for-profit cosmetic surgery centers without first providing an adequate evaluation.
Her suit was later certified as a class action on behalf of all Kaiser members who had bariatric weight loss surgery after February 7, 2006, a group estimated to consist of roughly 10,000 people. The case went to trial without a jury in March and lasted for nearly a month, while Judge Carvill heard testimony from patients, treating physicians and expert witnesses from both sides. The trial was recorded gavel-to-gavel by Courtroom View Network.
In his ruling Judge Carvill cited Kaiser's 2012 instructor training manual for an orientation class that patients considering bariatric surgery - which involves shrinking the stomach to a fraction of its normal size - must take before undergoing the procedure. According to the ruling, the manual states, "While cosmetic surgery may help some people after surgical weight loss, it is not a benefit of a Kaiser Health Plan."
Once Judge Carvill's order becomes final, Kaiser will have to update websites, training manuals and other information provided to doctors and patients to make clear that post-gastric bypass skin removal is a covered procedure if deemed medically necessary, even if the skin doesn't present a functional impairment.
While the plaintiffs prevailed in obtaining an order that said Kaiser can't deny coverage for excess skin removal en masse for being merely a cosmetic procedure, they fell short in their efforts to force the company to pay for evaluations and possible surgery for all class members initially denied a referral.
"When it comes to post-bariatric excess skin conditions, there is no bright line between what would constitute reconstructive versus plastic surgery," Judge Carvill wrote, finding a ruling that skin removal is covered doesn't automatically mean plaintiffs are entitled to the procedure. He said those determinations would require a level of scrutiny of clinical decisions beyond the court's abilities.
"Each class member's circumstance would have to be examined at a level of detail that would be impossible on a class basis and was never even attempted in this trial," the ruling states.
Judge Carvill set a Sept. 10 hearing to determine fees and costs, and directed the attorneys for both sides to collaborate on a form of judgment that would contain the terms in his tentative ruling.
Kaiser spokesman John Nelson told CVN the company is reviewing the court's decision. An attorney for the plaintiff class declined to comment prior to the court's ruling becoming final.
The plaintiff class is represented by Robert Gianelli and Joshua Davis of Gianelli & Morris and by Jane Trigero of Knox Ricksen LLP.
Kaiser is represented by Mark Palley, Brian Lee and Tanya Cecena of Marion's Inn.
The case is Wendy Gallimore, et al. v. Kaiser Foundation Health Plan Inc., case number RG12616206, in the Superior Court of the State of California for the County of Alameda.
David Siegel can be reached at dsiegel@cvn.com.
Click here to see more insurance-related trials in CVN's one-of-a-kind online video archive.