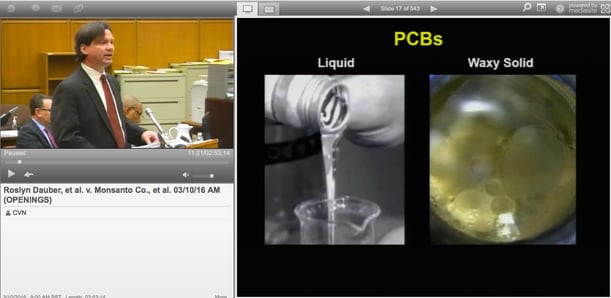 Plaintiffs' attorney Scott Frieling delivers his opening statement. Click here to see video from the trial.
Los Angeles - Agrochemical giant Monsanto Co. is facing allegations at a trial that began Thursday in a California state courtroom that polychlorinated biphenyls, poisonous industrial chemicals known more commonly as PCBs, caused two retired plaintiffs to develop cancer.
Roslyn Dauber, 62, and John Di Costanzo, 87, both claim their non-Hodgkin's lymphoma is the result of eating food contaminated by PCBs for years. PCBs are long-lasting chemicals that are extremely difficult to break down, and which can still be found in a variety of food sources despite not having been manufactured for decades in the United States.
In an opening statement that was a combination history and chemistry lesson, plaintiff attorney Scott Frieling explained to jurors that Monsanto manufactured PCBs from 1929 until 1977, and that the chemicals were used in pesticides, adhesives, lubricants and many other products. Once PCBs entered the ecosystem, Frieling said they became very hard to remove.
"They are virtually indestructible," Frieling said, according to a Courtroom View Network webcast of the trial. "Once PCBs are created, they will last a very long time."
Frieling showed jurors internal Monsanto documents dating back to the 1950's that he claimed would prove the company knew for decades that PCBs posed a substantial public health risk but falsely represented them as being safe. Monsanto ultimately halted production of PCBs after they were found to cause a wide range of illnesses, but by then Frieling said the environmental damage had already been done.
"Once they get into the food chain, they make their way into people, as well," he said.
Frieling told jurors it was easy to link the PCBs in Dauber and Di Costanzo's bodies to Monsanto, because the company produced 99 percent of the compounds sold in the United States. He claimed Monsanto intentionally avoided long-term safety testing on PCBs and instead publicized the results of short-term tests which didn't allow enough time for negative health effects to become evident.
Monsanto's attorney Anthony Upshaw argued to jurors that the plaintiffs couldn't definitively prove their cancer was caused by PCBs, and that many people with the same amounts of the chemicals in their bodies never suffer any adverse effects.
Company spokeswoman Charla Marie Lord told CVN that PCBs played important roles in a variety of industries over many decades, but that they couldn't be proven as the cause of Dauber's and Di Costanzo's illness.
"The evidence simply doesn't support the assertion that the historic use of PCB products was the cause of the plaintiffs' harms," Lord wrote in an email. "We are confident that the jury will conclude, as past juries have done, that the former Monsanto Company is not responsible for the alleged injuries."
Lord added that Monsanto's involvement in the trial stems from contractual obligations associated with former chemical businesses that operated under the Monsanto name, and that the company today is focused solely on agriculture.
Plaintiff attorneys have faced uphill battles at previous trials attempting to prove Monsanto's PCBs in the food supply caused cancer in humans. Another Los Angeles jury handed the company a win in 2014 after the first such case to go to trial, and a Missouri state court jury also rendered a defense verdict for Monsanto in 2015.
The current trial is taking place before Judge Stephen Czuleger and is expected to run through the end of March. The proceedings are being webcast and recorded gavel-to-gavel by CVN.
The plaintiffs are represented by Scott Frieling of Allen Stewart PC and by Gary Paul of Waters Kraus & Paul.
Monsanto is represented by Anthony Upshaw of McDermott Will & Emery LLP.
The case is Dauber, et al. v. Monsanto Co., et al., case number BC483342 in the Superior Court of California for Los Angeles County.
Email David Siegel at dsiegel@cvn.com
Not a subscriber? Click here for access to to the world's ONLY online library of gavel-to-gavel video of high-stakes civil jury trials for as little as $99/month.