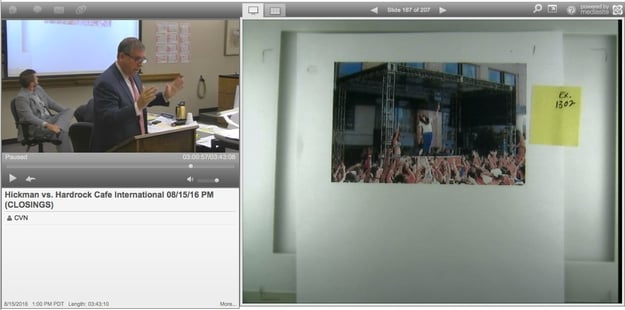 Defense attorney Kevin Gramling shows jurors a picture of Steve Aoki performing during his closing argument on behalf of Hard Rock Hotel. Click here to see video from the trial.
San Diego - A California state court jury handed a win on Tuesday to a Hard Rock Hotel in a lawsuit filed by a concertgoer who suffered a concussion and broken neck when celebrity DJ Steve Aoki jumped into the crowd from high above the stage during a concert, rejecting the woman's claim for over $10 million in damages.
The jury returned a 10-2 verdict in favor of Hard Rock after a half-day of deliberations following a two-week trial. Plaintiff Brittany Hickman's attorneys claimed Hard Rock should have known Aoki would leap into the crowd and should have taken steps to protect the audience. The hotel's legal team argued Hard Rock had no warning Aoki would perform the risky stunt, and that Hickman's injuries weren't as severe as she alleged.
Hickman, who was in her mid-20's when the 2012 accident occurred, became trapped under an inflatable raft that Aoki jumped into after climbing onto the scaffolding above the Hard Rock stage. Her attorneys presented multiple expert witnesses who testified that the impact left her with a traumatic brain injury requiring a lifetime of costly medical care, but during his closing argument on behalf of the hotel Ernest Weiss of Klinedinst PC dismissed those experts as hired guns brought in to secure a large verdict.
"In all of the medical cases I have seen, I have never seen a greater manufacturing and manipulation of evidence for the purpose of trying to build dollars into a case," Weiss said, according to a Courtroom View Network webcast of the trial.
Hickman's attorney John Gomez of Gomez Trial Attorneys told the jury that her concussion left her with an impaired memory, slowed mental processing, migraines and vertigo. He asked the panel to award $2 million for past pain and suffering and $8 million for the future, plus up to $783,500 in medical expenses.
Weiss told jurors that Hickman suffered a relatively mild concussion from which most people make a full recovery, and that spinal fusion surgery to repair her neck fracture had been largely successful. He suggested an award of $500,000 would be reasonable compensation for Hickman if the jury found Hard Rock liable for her injuries, arguing the fact she didn't seek any past economic damages indicated those injuries didn't significantly disrupt her life.
Gomez asked the jury to assign 10 percent responsibility to Aoki, who is one of the most popular "electro house" musicians in the world. The musician reached a confidential settlement with Hickman before the trial began, a fact that Weiss' co-counsel Kevin Gramling reminded jurors of while blaming Aoki alone for performing the stage dive.
"He was wrong. It was crazy. It was psychotic. And he settled out the the case," Gramling said.
Gomez argued that Aoki was well-known for his concert antics, and that leaping from the scaffolding onto a raft held by audience members was a popular part of his act. He said Hard Rock event organizers should have realized he might jump during the show and had more security on hand to ensure nobody was hurt.
However Gramling maintained that Aoki made a decision to try the jump just five minutes before the concert started, pointing to testimony from Aoki's tour manager stating that the stunt was unplanned.
"There is zero evidence that Hard Rock knew that he was going to jump," Gramling said.
Gomez told CVN his team is considering an appeal.
"We are exploring all options," he said in an email, adding that the lawsuit prompted Aoki to make his performances safer for guests.
"I suspect that Hard Rock recognizes they were very fortunate to receive the defense verdict they did," he said. "I hope it will be a wakeup call for them as well. And so we feel good about the litigation and our efforts."
Attorneys for Hard Rock and a company spokeswoman did not immediately respond to requests for comment.
The trial took place before Judge Joel Pressman, and the full proceedings were recorded gavel-to-gavel by CVN.
The case is Hickman v. Hard Rock Cafe International, case number 37-2013-00064985-CU-PO-CTL, in San Diego County Superior Court.
Email David Siegel at dsiegel@cvn.com