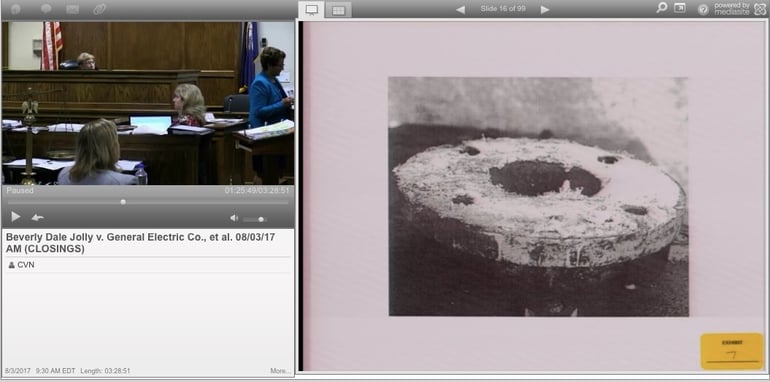 CVN screenshot of plaintiffs attorney Simona Farrise delivering her closing argument.
Spartanburg - A South Carolina state court jury delivered a verdict against valve manufacturers and Emerson Electric Co. subsidiaries Fisher Controls International LLC and Crosby Valve LLC on Thursday, in what plaintiff attorneys claim is the first time the two companies have gone to trial in an asbestos lawsuit.
The jury awarded $300,000 to Dale Jolly, a 73-year-old former Duke Energy employee, and his wife following a two-week trial. Jolly suffers from mesothelioma, an aggressive form of cancer affecting the tissue lining around the lungs that is specifically linked to the inhalation of asbestos fibers. His lawyers argued that he inhaled asbestos while working at various nuclear power plants and inspecting valves that used asbestos-containing gaskets.
While the Jollys' attorney Simona Farrise asked the jury to award the couple at least $1 million, she told Courtroom View Network that she is "very satisfied" with the verdict, and that the trial could provide a "roadmap" for other potential asbestos-related claims against Fisher and Crosby.
"The verdict is quite significant as both of these companies claim to have never been held accountable for their asbestos products - valves and replacement parts - for the asbestos injuries and deaths those products have surely caused," Farrise told CVN.
CVN webcast and recorded the full trial gavel-to-gavel.
The verdict includes $200,000 in compensatory damages for Dale Jolly and $100,00 for his wife. The jury found Fisher and Crosby did not engage in reckless conduct and declined to award any punitive damages.
Crosby and Fisher did not make any pretrial settlement offers according to Farrise.
Tim Bouch, an attorney for Fisher and Crosby, did not respond to requests for comment beyond confirming the verdict amount and stating the total damages had all been "eliminated by prior set offs."
During the trial Bouch argued that Jolly worked in numerous power plants and couldn't definitively prove his mesothelioma was caused specifically by the gaskets used in Crosby and Fisher's valves. He also maintained that the type of asbestos used in the gaskets didn't create exposure levels sufficient to cause cancer, a claim that one of Jolly's attorneys blasted as "absurd."
"That opinion flies in the face of every governmental agency and peer reviewed scientific opinion out there," Trey Branham told CVN. "I think the jury just decided that this evidence was not only not believable but frivolous."
Despite the jury awarding far less than Jolly's team requested, Branham's co-counsel Jonathan Holder told CVN that the jury's foreperson stated after the trial that the verdict was intended to "smack [the defendants] in the face."
"She said the jury's decision was based on the failure of Fisher and Crosby to warn of the dangers of their products," Holder said.
Jolly began working at Duke in 1979, long after his attorneys argued the risks of asbestos exposure were well established. While his lawsuit originally included dozens of defendants, including companies like Georgia-Pacific and Union Carbide, Jolly did not sue Duke. His lawyers repeatedly emphasized how Duke's efforts to mitigate asbestos exposure showed how Crosby and Fisher should have done the same.
"Both companies entirely failed to concern themselves with the health or safety of the asbestos valves and replacement parts products that they have incorporated into their products and sold for nearly 100 years without warning to the workers like the plaintiff who would be exposed to this deadly carcinogen," Farrise told CVN.
She added that the defendants failed to sustain their claim that Duke's workers should bear the responsibility because they were "sophisticated users."
"The jury rejected defendants claims that sought to blame the plaintiff and his coworkers for the exposure when those workers followed defendants' manufacturer's maintenance instructions to the smallest detail," Farrise said.
The trial took place before Justice Jean Toal, a former chief justice of the South Carolina Supreme Court who came out of retirement to preside over asbestos trials throughout the state.
Video of the full trial and dozens of other asbestos, toxic tort and product liability trials, are available by becoming a CVN subscriber.
The Jollys are represented by Simona Farrise, Jonathan Holder and Trey Branham of Dean Omar & Branham LLP, and by Theile McVey of Kassel McVey.
Fisher and Crosby are represented by Timothy Bouch and Yancey McLeod of Leath Bouch & Seekings LLP and by Philip Reid of Von Briesen & Roper SC.
The case is Beverly Dale Jolly et al. v. General Electric Company et al., case number 2016-CP-42-01592 in the Court of Common Pleas for the Seventh Judicial Circuit of South Carolina. E-mail David Siegel at dsiegel@cvn.com.