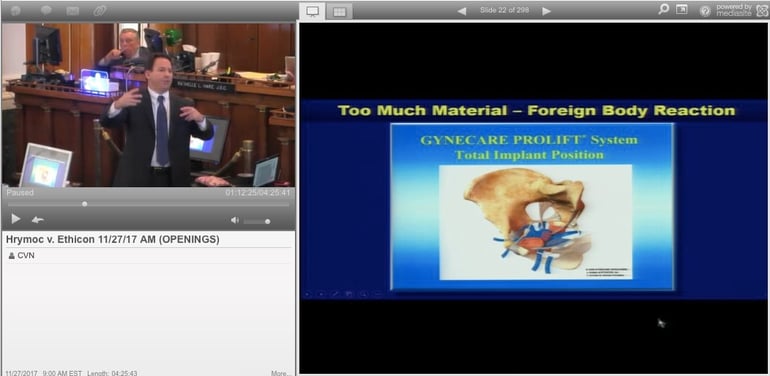 CVN screenshot of plaintiff attorney Adam Slater delivering his opening statement
Hackensack - A New Jersey state court jury heard opening statements on Monday in the second pelvic mesh product liability lawsuit to go to trial in the state and first trial to take place in the major hub for mesh-related cases since 2013.
Plaintiff Elizabeth Hrymoc and her husband Tad sued Johnson & Johnson's Ethicon unit after she had two of the company's pelvic mesh devices surgically implanted to treat incontinence. Her lawsuit claims the mesh was defectively designed, and that despite three operations attempting to remove it she still suffers from chronic severe pain.
Ethicon maintains the mesh devices implanted in Hrymoc were not defective and have successfully helped thousands of women suffering from incontinence and pelvic organ prolapse, a condition where internal organs like the bladder fall to a lower position in the abdomen than normal.
The trial is being webcast and recorded gavel-to-gavel by Courtroom View Network.
Hrymoc's attorney Adam Slater told jurors during his opening statement that both of the mesh devices she received, the Prolift and TVT-Obturator, contained a porous plastic called polypropylene. He said he would present evidence during the trial proving that Ethicon knew polypropylene could potentially injure vaginal tissue, but failed to provide adequate warnings about the supposed risks of the implants.
Plaintiff attorneys representing women in mesh cases argue the chemical reaction between polypropylene mesh and bodily fluids can cause it to become stiff and brittle and in some cases become impossible to completely remove.
Polypropolene mesh has been used for decades to treat hernias, but Slater told the jury he would present internal Ethicon documents allegedly showing the company knew the material posed much greater risks when implanted in vaginal tissue, but withheld those risks from patients and physicians.
Ethicon attorney Judy Wahrenberger told jurors that pelvic mesh products using polypropylene offered women a much safer option for treating incontinence and pelvic organ prolapse than more invasive surgical procedures used before their development.
The company has argued in court papers that it properly tested the Profit and TVT-Obturator implants and was fully transparent with both patients and physicians about their potential benefits and risks.
The U.S. Food & Drug Administration signed off on mesh implants as an approved treatment for pelvic organ prolapse in 2002, however since then thousands of women throughout the country filed lawsuits claiming they suffered debilitating side effects from the mesh. In 2016 the FDA redesigned pelvic mesh implantation as a high-risk procedure.
Over 8,500 of those lawsuits were consolidated in New Jersey, where Ethicon is based, in addition to sprawling mesh-related dockets in state court in Philadelphia and federal multi district litigation consolidated in West Virginia.
At least 31 mesh-related cases have gone to trial against defendants including Ethicon, Boston Scientific and C.R. Bard Inc., with plaintiffs prevailing on 22 occasions and receiving awards exceeding $1 million each time, though juries have also returned defense verdicts, including a federal jury in Texas that cleared Ethicon in a case involving a TVT-S implant on November 13.
However only one of those verdicts took place in New Jersey. That case, which went to trial in Atlantic County in 2013 and was also recorded by CVN, resulted in an $11.1 million verdict against Ethicon that was ultimately affirmed by the New Jersey Supreme Court in 2016. Adam Slater also represented the plaintiff in that case.
Since the Gross verdict many mesh manufacturers, including Ethicon, struck numerous large scale settlements in the hopes of winnowing down the the still massive mesh dockets pending throughout the country. Despite those settlements, thousands of cases remain pending.
The current trial before Judge Rachelle Harz is expected to conclude by Christmas. The full proceedings are available gavel-to-gavel for CVN subscribers, along with previous pelvic mesh trials in California, Texas, Missouri, Massachusetts and New Jersey.
The Hrymocs are represented by Mazie Slater Katz & Freeman LLC.
Ethicon is represented by Ruprecht Hart Weeks & Ricciardulli LLP, Riker Danzig Scherer Hyland & Perretti LLP, and by Butler Snow LLP.
The case is captioned Elizabeth Hrymoc and Tadeusz Hrymoc v. Ethicon Inc., et al. case number L-13686-14 in Bergen County Superior Court.
E-mail David Siegel at dsiegel@cvn.com