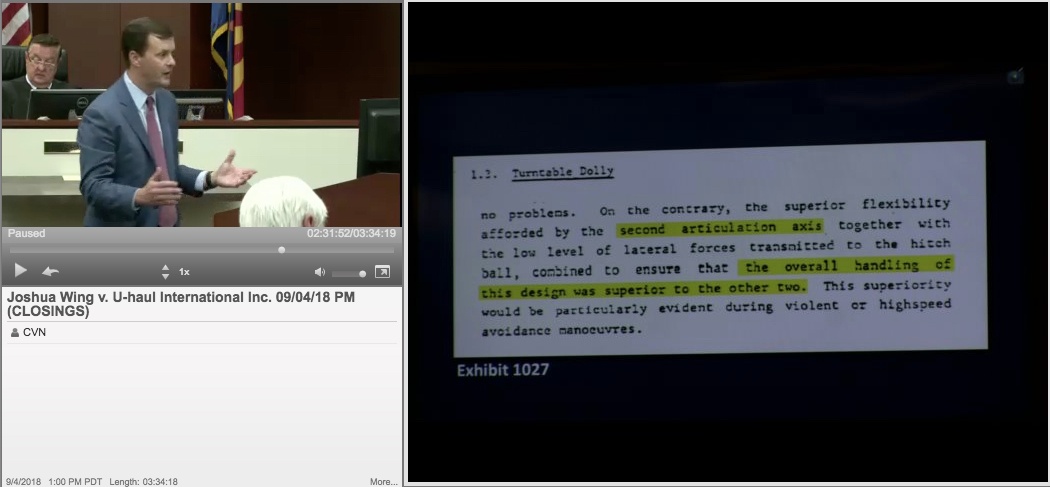 CVN screenshot of U-Haul attorney J. Banks Sewell delivering his closing argument
Phoenix, AZ - An Arizona state court jury cleared rental truck giant U-Haul of all liability on Thursday in a $30 million products liability trial over claims that the lack of brakes on a tow dolly caused a car accident that left a man permanently paralyzed.
The jury in Maricopa County, where U-Haul has its headquarters, deliberated for two days in a trial that began on August 15 before rejecting plaintiff Joshua Wing's lawsuit. Wing accused U-Haul of renting out tow dollies without independent braking systems despite knowing they posed a serious hazard for drivers, but U-Haul successfully argued the accident that rendered Wing a paraplegic was caused solely by reckless driving.
The full trial was webcast and recorded gavel-to-gavel by Courtroom View Network.
Attorneys for Wing and a representative for U-Haul did not respond to requests for comment.
Wing's spinal chord was severed in 2014 when he was thrown from the passenger seat of a Dodge pickup truck while towing a Toyota 4Runner from Oregon to Texas. His lawsuit alleges a lack of brakes on the tow dolly caused the truck to swerve out of control and accuses U-Haul of removing brakes from its tow dolly fleet to cut down on maintenance and repair costs.
U-Haul blamed the truck's driver for the accident, maintaining he drove at speeds nearing 90 miles-per-hour despite the tow dolly only being designed for a maximum speed of 55 miles-per-hour. The company also cited Wing's not wearing a seatbelt at the time of the crash.
Wing's attorney, Jonathan Kieffer of the Missouri-based firm Wagstaff & Cartmell LLP, asked jurors to award $30 million in damages to Wing and his minor son. He characterized tow dolly rentals as big business for U-Haul, claiming the company generated nearly $100 million in revenue from renting tow dollies without brakes in less time than it took Wing's lawsuit to make it to trial after being filed.
Kieffer told jurors that U-haul is the only company renting out tow dollies without brakes designed for vehicles smaller than heavy six-wheel trucks to tow large vehicles. He said companies like Penske Truck Rental and Budget Truck Rental refuse to rent out dollies like the one used by Wing due to safety concerns.
However J. Banks Sewell of the Alabama-based firm Lightfoot Franklin White LLC countered that the tow dolly in question was specifically designed without brakes, because extensive testing showed independent brakes didn't make tow dollies any safer. He rejected accusations that U-Haul removed brakes from its tow dolly fleet to cut down on maintenance costs, arguing that U-Haul only briefly put brakes on tow dollies as part of a test program.
Sewell reiterated that the tow dolly's instructions included clear warnings against speeds over 55 miles-per-hour, and he accused the truck's driver of recklessly "punching the gas" to pass another vehicle on a highway's emergency shoulder.
U-Haul's defense team overcame a potentially significant pre-trial obstacle, after Judge Theodore Compagnolo ruled that the tow dolly used by Wing violated an Arizona law requiring any vehicle trailer in excess of 3000 pounds to have independent brakes.
Despite Wing's attorney describing the judge's ruling to jurors, they accepted U-Haul's argument that the supposedly one-off finding, which hadn't been subject to appellate review, was first such decision in the statute's 40 year history, and that tow dollies were generally not classified as trailers in the rental truck industry.
Prior to the trial U-Haul filed a motion seeking to bar CVN from webcasting and recording the proceedings, however a presumption of access exists for the electronic news media to public proceedings in Arizona state courtrooms, and Judge Compagnolo denied U-Haul's request.
The case is captioned Joshua Wing and Clayton Wing v. U-Haul International Inc. and U-Haul Co. of Oregon, case number CV2016-050917 in Maricopa County Superior Court.
E-mail David Siegel at dsiegel@cvn.com