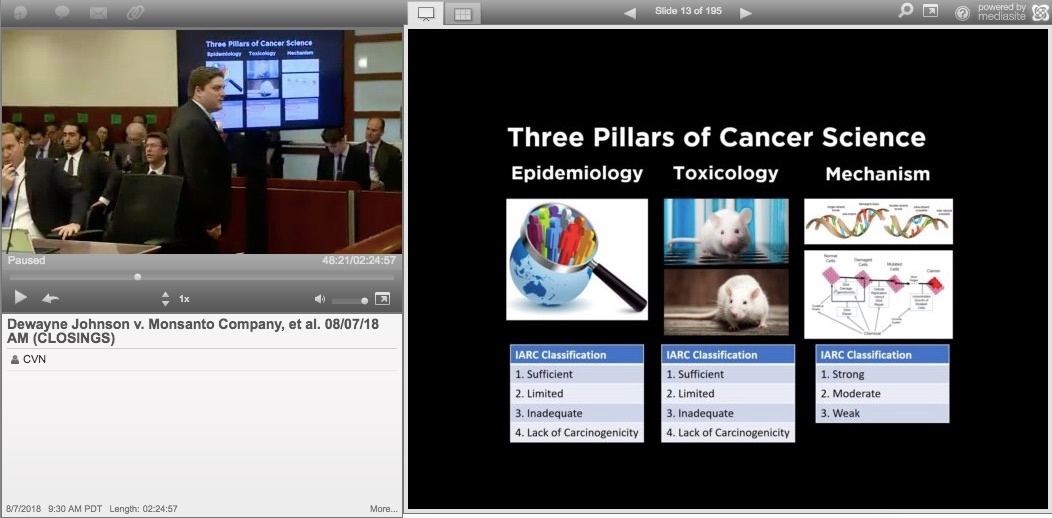 CVN screenshot of plaintiff attorney Brent Wisner delivering his closing argument
San Francisco, CA - A California state court jury awarded a former groundskeeper stricken with fatal cancer $39 million in compensatory damages and $250 million in punitive damages in the first lawsuit to go to trial the cancer risks allegedly associated with agrochemical giant Monsanto's popular Roundup weed killer.
The jury's landmark verdict came after weeks of testimony in a closely-watched trial that could have an impact on thousands of similar cases pending throughout the country. Monsanto faces numerous claims that they concealed information from consumers that glyphosate, a key chemical in Roundup, is carcinogenic.
Courtroom View Network webcast and recorded the opening and closing statements in the trial, and during his closing plaintiff DeWayne Johnson's attorney R. Brent Wisner of Baum Hedlund Aristei & Goldman argued that Monsanto should pay $39 million in compensatory damages and $373 million in punitive damages.
"That's a number that sends a signal to Monsanto and everybody who works there: 'We will not tolerate this kind of conduct,'" Wisner said, according to CVN's webcast. "When you return a verdict, we're going to make it right. And your verdict will be heard around the world. And Monsanto will have to finally do something."

Wisner described how Johnson was exposed to large quantities of glyphosate on a sometimes daily basis while working as a school groundskeeper using Roundup and a similar Monsanto herbicide called Ranger Pro. Johnson was diagnosed with non-Hodgkin's lymphoma in 2014, and Wisner told jurors that his illness is terminal.
He based his arguments on the International Agency for Research on Cancer's decision in 2015 to classify glyphosate as a possible carcinogen. He said that years before that decision, Monsanto knew glyphosate posed a health risk but didn't include appropriate warning labels for fear of hurting a popular product's sales.
"That is a choice that reflects reckless disregard for human health. It's a choice Monsanto made, and today is their day of reckoning," Wisner told the jury.
Monsanto argued throughout the trial there is no scientific evidence linking glyphosate exposure with cancer, and that Monsanto took the proper steps to ensure the safety of its products.
Their attorney George Lombardi of Winston & Strawn blasted the plaintiff's expert witnesses as non-credible hired guns and said numerous regulatory agencies, including the the U.S. Environmental Protection Agency showed no evidence of a link between glyphosate and cancer.
"Forty years of this product on the market. Forty years of this product being regulated. Forty years of scientific studies ranging from human to animal to cell. The message from that evidence is clear, and that is that this cancer was not caused by Ranger Pro," Lombardi told the jury.
The lengthy trial, taking place before Judge Suzanne Bolanos began on July 9, and as of Friday morning jury deliberations continued. CVN will provide an update as soon as a verdict is reached.
The case is captioned DeWayne Johnson v. Monsanto Company, et al., case number CGC16550128, in San Francisco County Superior Court.
Email David Siegel at dsiegel@cvn.com