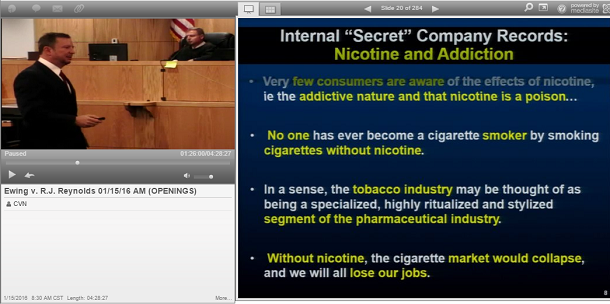 Richard Diaz says a decades-long tobacco industry conspiracy led to James "J.R." Ewing's nicotine addiction and respiratory disease. Ewing died in 2009, and his wife, Doris Ewing, is suing cigarette makers R.J. Reynolds and Philip Morris.
---
Pensacola, FL—Attorneys drew battle lines over the reasons behind a long-time smoker's respiratory disease as trial opened last week in a suit by his widow against the makers of the cigarettes her husband smoked. Ewing v. R.J. Reynolds, 2009-CA-002791.
"Almost a half a century ago, defendants, R.J. Reynolds and Philip Morris had a choice to make. The choice was whether they were going to reveal, or whether they were going to conceal," Richard Diaz, of The Law Offices of Richard J. Diaz, told jurors. "The evidence is going to show they made the wrong choice. The evidence is going to show that that choice resulted in the deaths, including that of J.R. Ewing, of 25 million Americans."
Diaz represents Doris Ewing, the widow of James "J.R." Ewing, who smoked up to four packs of cigarettes a day for 50 years. Ewing, who shared the initials of a fictitious Dallas oil baron, died in 2009, 14 years after being diagnosed with chronic obstructive pulmonary disease, or COPD. Ewing's widow, Doris Ewing, claims Philip Morris and R.J. Reynolds conspired to hide the health effects of smoking, leading to her husband's nicotine addiction and ultimately his respiratory disease.
The Ewing case is one of thousands of similar Florida lawsuits against the nation's tobacco companies. Those cases stem from Engle v. Liggett Group, a 1994 class action claim involving Florida smokers. A jury in that case found tobacco companies knowingly produced dangerous, addictive cigarettes and hid those dangers from the public. The Florida Supreme Court decertified the class on appeal, but its ruling allows individual plaintiffs to rely on the jury's conclusions in the original trial if they can prove the smokers at the center of their cases suffered a smoking-related disease caused by an addiction to cigarettes.
During Friday's openings, Diaz highlighted internal tobacco industry documents that detailed a decades-long campaign to cast doubt on the growing weight of scientific evidence concerning smoking's health effects. Diaz told jurors the parts Reynolds and Philip Morris played in the conspiracy helped fuel a nationwide smoking culture through much of the 20th century and caused Ewing to become so addicted to cigarettes he continued smoking even after his COPD diagnosis.
Diaz contended Ewing tried multiple method to quit smoking, including nicotine patches, but always returned to his cigarettes. "Here's a guy who took his cigarettes (and) cut them in half to try to smoke less. But when he had the urge he picked up the part that he cut and (would) light it up without a filter," Diaz said. "Here's a guy who took (antidepressant and smoking cessation aid) Wellbutrin, mind-altering drugs, (for which) you need a prescription. Medications as well. Didn't work."
However, the defense argues Ewing knew the dangers of cigarettes but smoked by choice, not because of addiction. "The story of James Richard Ewing and his smoking if 'I'll do what I want,'" Jones Day's Mark Belasic told jurors Friday. "Because that's what Mr. Ewing said repeatedly over the years when he was told by his wife, by his doctors, by the smoking cessation counselors, warned in the media, warned in the pack warnings that were on every pack he smoked for almost forty years. His consistent response was along the lines of 'I'll do what I want.'"
Belasic argued Ewing was fiercely independent and refused to follow his doctor's advice on everything from lowering his cholesterol to COPD treatment "He made a variety of decisions not to follow medical advice. And none of these issues—exercise, diet, taking his drugs, wearing a sleep machine—no one's going to claim that was because of addiction," Belasic said. "That's just the type of man he was. He didn't want to do it."
Belasic also challenged claims Ewing's attempts to stop smoking were sincere, noting smoking cessation counselors reported Ewing didn't "seem too receptive to quit," even four years before his death. Highlighting evidence that Ewing had reduced his smoking, Belasic said "Motivated to cut down? He was capable of doing it. All the way to zero? He didn't want to. That's what the evidence will show."
Trial is expected to last into next week.
Neither the parties' attorneys nor tobacco company representatives could immediately be reached for comment.
Email Arlin Crisco at acrisco@cvn.com.
---
Related Information
Richard Diaz, of The Law Offices of Richard J. Diaz, represents Doris Ewing.
Mark Belasic and Dennis Murphy, of Jones Day, represent R.J. Reynolds.
Kathleen Gallagher, of Beck Redden, represents Philip Morris.
Watch Ewing v. R.J. Reynolds and Philip Morris live and on demand.
Not a subscriber?
Learn more about CVN's unrivaled tobacco litigation library.