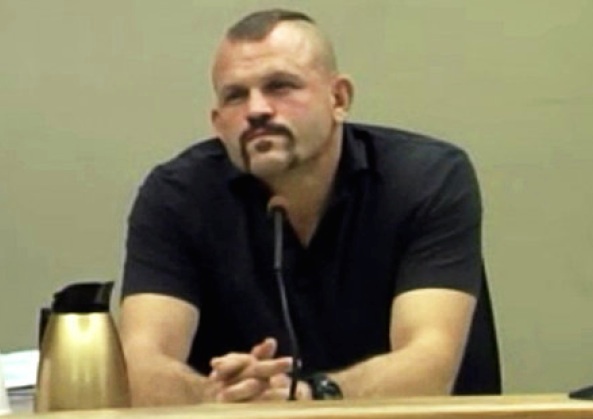 Former martial arts champion and "Dancing with the Stars" contestant Chuck Liddell testifies that he lost $2 million after an escrow company invested the money in a risky Ponzi scheme. Click here to see video from the trial.
San Luis Obispo — A group of investors, including former martial arts fighting champion Chuck Liddell, was awarded nearly $3 million last week by a California jury that said an escrow company acted fraudulently when it sunk funds into a real estate Ponzi scheme run by a convicted felon.
The San Luis Obispo County jury reached their verdict on June 25 following a five-week trial, finding that Cuesta Title Company helped developer Kelly Gearhart, who is awaiting sentencing on federal wire fraud and money laundering charges, swindle investors.
Liddell was awarded $1,982,727, and the owners of a limited liability company that introduced Liddell to Gearhart were awarded $939,000. The jury rejected claims brought by another group of investors, according to a Courtroom View Network video recording of the proceedings. (Click here to see video from the trial.)
The verdicts marked the first plaintiffs' victories against Cuesta over its association with Gearhart, who was accused by prosecutors of raising funds for projects like golf courses and commercial buildings that were never actually built. Represented by Chicago-based litigation powerhouse Sidley Austin LLP, Cuesta beat back investors' claims at two previous trials, including an initial bellwether trial in 2013.
Gearhart declared bankruptcy after the scheme collapsed, forcing nearly 1,200 investors to go after Stewart Title Company of California, which purchased Cuesta Title, to recoup their $100 million in losses. The majority of the investors settled with the company after it prevailed at the first two trials, and Liddell and other plaintiffs in the current case were among the last holdouts.
Liddell is the most high-profile investor to sue the company. He is largely credited with helping bring mixed martial arts fighting to a mainstream audience, and he has appeared on the popular television show "Dancing with the Stars." In addition to his celebrity status, Liddell's case differed from previous plaintiffs because he argued that he dealt directly with Cuesta instead of working through a loan broker.
According to Liddell's attorneys, Cuesta forged his signature on key escrow documents. The trial featured testimony from former U.S. Secret Service employee Larry Stewart, a handwriting expert retained by the defense who testified the signatures on the documents matched Liddell's writing style.
Liddell's attorneys repeatedly tried to question Stewart about his role as a government witness in the high-profile insider trading prosecution of style icon Martha Stewart, in which he was charged with perjury over his testimony regarding an ink analysis he claimed to perform, but was allegedly carried out by a co-worker. Stewart was acquitted of perjury, and Cuesta's attorneys repeatedly objected to the charges being raised by Liddell's legal team.
Cuesta's attorneys argued throughout the trial that the company had no knowledge of Gearhart's activities, and that escrow companies are legally prohibited from giving financial advice to clients or warning them of making bad investments. Gearhart had delivered successful returns for investors in the past, they claimed, and Cuesta merely followed the instructions of Liddell and other investors.
However Liddell's attorneys told jurors that Cuesta failed to disclose key conflicts of interest to Liddell, like the fact a company agent had flown on Gearhart's private jet and was involved in a relationship with his brother.
Gearhart is scheduled to be sentenced in federal court on July 2. Prosecutors are asking the court to impose a prison term of up to 135 months, according to court records.
The civil trial took place before Judge Martin Tangeman and was recorded gavel-to-gavel by Courtroom View Network, which also recorded the first bellwether trial against Cuesta in 2013.
An attorney for Liddell declined to comment on the verdict, and attorneys for the other parties did not respond to CVN's requests for comment.
Liddell is represented by Warren Paboojian of Baradat & Paboojian Inc., and other investors are represented by attorney Maria Hutkin.
Cuesta Title is represented by Gerard Kelly and Nicole Ryan of Sidley Austin LLP.
The case is Liddell, et al. v. Cuesta Title, case number CV09-0676, in San Luis Obispo County Superior Court.
E-mail David Siegel at dsiegel@cvn.com