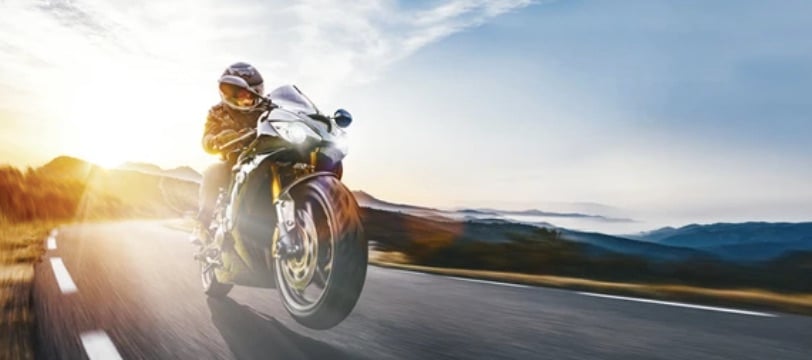 Stock image of a motorcycle driver
Los Angeles, CA - A rare in-person civil trial stemming from a collision between a motorcyclist and a truck begins January 28th in Los Angeles County, and the proceedings will be webcast gavel-to-gavel by Courtroom View Network.
As in most jurisdictions, the Covid-19 pandemic caused a near total shutdown of civil trial activity in Los Angeles County Superior Court, the largest single unified court system in the country. With infection rates in the LA area still soaring civil jury trials remain virtually nonexistent, however the parties opted for a bench trial in this case without a jury.
Plaintiff Steeve Rojas sued Hajoca Corporation, a plumbing, heating and industrial supplies company, following a 2017 collision between Rojas' Yamaha motorcycle and a Hajoca truck. Rojas alleges the Hajoca truck's driver, Kavin Henderson, ran through a stop sign, and that the accident crushed portions of his right leg, later requiring amputation of his foot.
Rojas' complaint accuses Henderson, in his capacity as a Hajoca employee, of "being inattentive" and "failing to keep a proper lookout" and violating provisions of the California Vehicle Code.
Rojas' wife, Sandra Acevedo, also seeks damages as a result of loss of consortium.
Hajoca argues in court filings that alleged negligence on the part of Rojas contributed to the accident and his ensuing injuries. The company also argues the damages for medical expenses Rojas claims are not "reasonable or lawfully incurred."
The caliber of attorneys representing both sides suggest the potential for an award of substantial damages in the case.
Rojas is represented by Brian Panish of Panish Shea & Boyle, one of the most preeminent plaintiff personal injury attorneys in California.
Hajoca is represented by Kara Pape of the Los Angeles-based firm Tyson & Mendes. Pape is a leader of the firm's complex trial team and focuses her practice on catastrophic personal injury defense.
Joining Pape is Paul Motz, a Chicago-based attorney with the firm Segal McCambridge Singer & Mahoney, and Zachary Fletcher, another Chicago-based attorney with the firm Best Vanderlaan & Harrington.
The trial will mark CVN's first in-person coverage in a California courtroom since the Covid-19 shutdown last March. Prior to that CVN, the only news outlet exclusively dedicated to gavel-to-gavel video coverage of civil trials nationwide, regularly webcast and recorded civil trials throughout California.
CVN's online trial video library, the only collection of its kind, includes more than 50 civil jury trials in California state courts and hundreds more from courts throughout the United States.
Gavel-to-gavel video of the proceedings will be available both live in real-time and on-demand, giving subscribers the valuable opportunity to a see a post-shutdown civil trial firsthand without having to physically travel to the courthouse.
The trial will take place in the Spring Street Courthouse before Judge J. Stephen Czuleger. It is expected to take roughly 8-9 days to complete.
The case is captioned Steeve O. Rojas and Sandra v. Acevedo v. Hajoca Corporation, case number BC689703, in the Superior Court for the State of California in Los Angeles County.
E-mail David Siegel at dsiegel@cvn.com