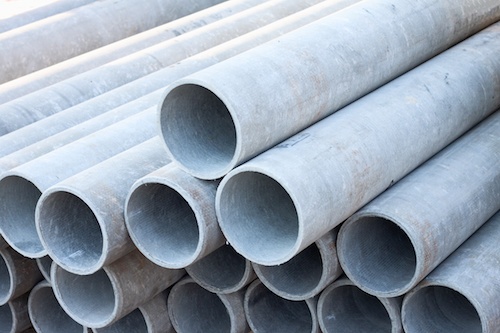 Stock image of asbestos cement pipe
Phoenix - An Arizona state court jury heard opening statements on Tuesday in a lawsuit filed by the family of a deceased pipefitter who developed mesothelioma after alleged exposure to asbestos cement pipes manufactured by CertainTeed Corp.
Francisco Herrera's wife and adult children sued CertainTeed shortly before his death in 2014. The lawsuit claims the dangers of asbestos exposure were already well-established when Herrera began working for SunAir Co. in the late 1970's installing water pipes for city utility systems, but that CertainTeed failed to provide adequate warnings about its asbestos-containing pipes to workers. Herrera was exposed to an "astronomical" amount of asbestos fibers when he cut CertainTeed pipes with an abrasive saw, his attorney told jurors during her opening statement.
Only CertainTeed remained in the case by the time witness testimony began on Wednesday.
CertainTeed denies responsibility for Herrera's death, arguing that SunAir failed to adequately train its workers to handle asbestos-containing pipes safely, and that SunAir primarily used pipes from a different manufacturer.
The trial is being recorded and webcast gavel-to-gavel by Courtroom View Network.
The well of Judge Dawn Bergin's Maricopa County courtroom was crowded as opening statements began in the long-running case, with both sides represented by out-of-state legal teams based in Dallas, Texas.
Susannah Chester-Schindler, a partner with the national plaintiff firm Waters Kraus & Paul, delivered the opening statement on behalf of the Herrera family.
Todd Suddleson, a partner with Dehay Ellison LLP, delivered the opening statement for CertainTeed. Suddleson is backed up by a team from Polsinelli LLP's Los Angeles office.
Stephen Hoffman, a partner in Lewis Brisbois' Phoenix office, gave an opening statement on behalf of defunct pipe supplier Gene McVety Inc., which ceased operations in 2002. McVety settled out of the case shortly before the start of witness testimony.
The City of Glendale, originally named as a defendant, settled out shortly before the trial began.
Herrera died before he could provide any testimony, but Chester-Schindler told jurors that mesothelioma, which affects the lining around the lungs, is the "signature" disease of asbestos exposure, and that Herrera's co-workers could confirm that he regularly sawed asbestos cement pipes without taking proper safety precautions.
"The only type of asbestos product that Mr. Herrera was exposed to was asbestos cement pipe," Chester-Schindler, according to CVN's webcast of the trial.
She told jurors that CertainTeed's installation manuals approved the use of an abrasive blade to cut the pipes but didn't warn workers about the potential health risks from the airborne dust that creates.
"They're promoting their pipe, but they're not giving their workers the benefit of the doubt and putting a warning on it so workers can protect themselves," Chester-Schindler said.
Chester-Schindler didn't provide a specific amount of damages during her opening statement, but she indicated non-economic damages would make up a substantial portion of a potential award.
During his opening on behalf of CertainTeed, Suddleson told jurors that Herrera's former co-workers would only offer generalized recollections, and that invoice records would show SunAir only purchased CertainTeed pipes on two occasions during Herrera's time with the company.
He also argued that CertainTeed provided adequate warnings about asbestos exposure to SunAir, but that SunAir failed to train Herrera in the safe work practices necessary when cutting asbestos cement pipe.
"There's no evidence Mr. Herrera ever worked with CertainTeed pipe or that it was a cause of his mesothelioma," Suddleson said.
The trial is scheduled to run through February 6, and CVN will provide a gavel-to-gavel webcast of the proceedings. CVN subscribers can access that footage, along with video from other asbestos, mass tort and product liability trials featuring some of the top trial attorneys in the United States in our one-of-a-kind online video archive.
The case is Francisco Herrera, et al. v. CertainTeed, case number CV2014-009632 in Maricopa County Superior Court.
Email David Siegel at dsiegel@cvn.com