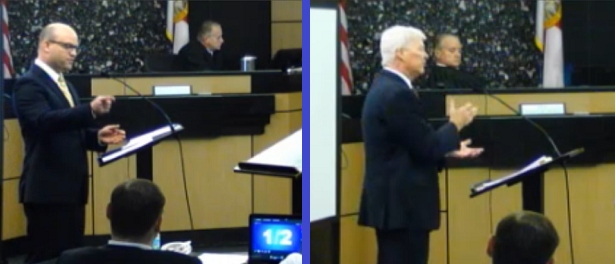 Philip Gold, left, and Brad Moores, right, deliver their opening statements at trial against West Boca Medical Center. Gold's client, Stanley Rovner, claims negligent treatment at the hospital cost him his leg.
---
West Palm Beach, FL—An ER doctor's negligent care cost a Florida man his leg, the man's attorney said as trial opened Wednesday against the hospital that treated him. Rovner v. West Boca Medical Center, 2015CA004973.
"A doctor should never do half of their job. Half of a patient's vascular system should never be ignored," Gold & Gold's Philip Gold, who represents Stanley and Catherine Rovner, told jurors during Wednesday's openings. "Half of a medical workup is no workup at all."

Stanley Rovner, now 78, arrived at the West Boca Medical Center's emergency room on November 28, 2012 complaining of right leg pain. He was treated by Dr. Deborah Lieberman, the emergency room physician on duty, where his veins, but not arteries, were examined by imaging equipment. Lieberman diagnosed him with a muscle strain and discharged him. Eight days later, he returned to the hospital's ER complaining again of right leg pain, where Gold said arterial tests revealed an occlusion, or blood blockage that required the amputation of his leg below the knee.
Rovner claims Lieberman failed to detect the arterial blockage in time to save his leg because she did not conduct a sufficient exam or order complete vascular testing in light of his history of arterial disease and symptoms. During Monday's openings, Gold told jurors Lieberman spent only four minutes examining Rovner, and he said evidence would show the ER nurse who examined Rovner found key symptoms that Lieberman missed. "The medical records demonstrate a pattern of incompleteness. The history was incomplete, the physical examination was incomplete," Gold said. "Only half of the vascular system was worked up and the other half was ignored."
Gold, who is seeking more than $300,000 in medical expenses, plus damages for pain and suffering, told jurors expert testimony, along with Lieberman's own statements, would prove the hospital was at fault. "Her testimony and the evidence we will get from the stand is devastating to the defendant and will prove our case," Gold said.
But the defense argues Rovner did not have an arterial occlusion on the night he saw Lieberman in the ER. During his opening statement, Adams Coogler's John "Brad" Moores told jurors medical records would show Rovner complained of only moderate pain to the paramedics that initially treated him and later told the ER nurse that his pain had receded completely, in contrast to the extraordinary pain that comes with an arterial occlusion. "[Arterial occlusion pain] doesn't just go away," Moores said. "It's there until something's done about it."
Moores told jurors Lieberman ordered imaging on Rovner's veins to rule out deep vein thrombosis but didn't believe he showed tell-tale symptoms of an arterial blockage. "There weren't any color changes [in the leg], there wasn't significant swelling," Moores said, noting follow-up consultations with two physicians who previously treated Rovner also dismissed the possibility of an acute arterial blockage.
Moores said Rovner did not complain of symptoms of an arterial occlusion, including a cold leg, swelling, and color changes in the leg, until about six days after the ER visit. Still, Moores said Rovner's long-term arterial disease, rather than an acute complication, was ultimately the reason doctors had to amputate his leg. "This isn't something that just happened," Moores said. "This is a process that has been going on for years."
Trial is expected to run into next week.
Email Arlin Crisco at acrisco@cvn.com.
Related information
Stanley and Catherine Rovner are represented by Gold & Gold's Philip Gold.
West Boca Medical Center is represented by Adams Coogler's John "Brad" Moores.
Watch the trial live and on demand.
Not a subscriber?
Learn how you can watch the best attorneys in the biggest trials, in Florida and across the country.