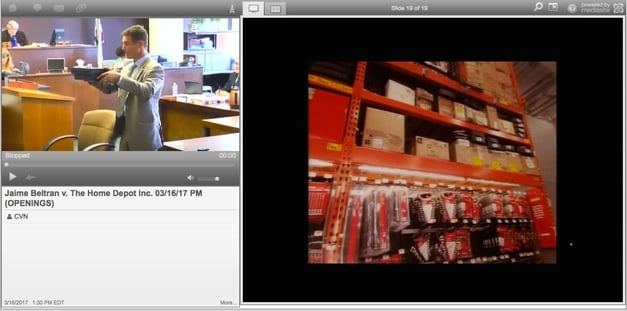 Courtroom View Network screenshot of plaintiff attorney Nick Rowley showing jurors the type of metal boxes that fell on his client's head in a Home Depot. Click here to see video from the trial.
UPDATE 3/20/17: A confidential settlement in the case was disclosed in court on Monday
Bakersfield—The attorney for a man hit by falling metal boxes in a Home Depot asked a California state court jury on Thursday to award his client up to $50 million in damages, arguing the accident injured his brain and left him struggling each day to "keep from losing his mind."
Nick Rowley of Carpenter Zuckerman & Rowley told jurors during his opening statement that Jaime Beltran, 54, is unlikely to further recover from the traumatic brain injury that he sustained while shopping, and that his medical expenses alone could reach $8 million. He claimed Beltran suffers from pain, anxiety, depression, memory problems and a decreased capacity for "executive function."
Home Depot, which has admitted liability for the accident, maintains that Beltran suffered a less serious brain injury than Rowley described, and that Beltran's current symptoms are the result of untreated psychological issues from which he can recover, and that he would be fairly compensated with an award of $1.3 million.
The trial, expected to last through next week, is being webcast live and recorded gavel-to-gavel by Courtroom View Network.
Rowley described how Beltran, who previously managed a cement design company, entered a Home Depot in 2013 to purchase supplies but left forever changed by the injury to his brain.
"The man who walks out that day is a different man," Rowley said, while Beltran sat in the courtroom seemingly overcome with emotion.
"This isn't an act. He can't hold it together," Rowley said. "That's what happens when somebody's brain is injured."
According to Rowley, a Home Depot employee on a ladder accidentally dislodged two laptop-sized metal boxes containing re-keying supplies from a shelf, and they fell onto Beltran's head from a height of roughly eight feet. Rowley twice dropped two of the metal cases onto the courtroom floor in front of the jury to demonstrate their potential impact.
Beltran initially told store employees that he was only dazed, but hours later he began suffering from nausea and increasing pain. He went to the emergency room and was later diagnosed with a concussion. Rowley claimed the accident was caught on video reviewed by Home Depot management, but told the jury without elaborating that the footage is no longer available.
Since 2013 Beltran has undergone 60 neurological tests. Rowley explained that he has largely abandoned his cement design business, only drives short distances, avoids most social situations and is now largely homebound with few prospects for finding new work.
"You can't retrain a damaged 50 year old brain," Rowley said. "This is a kind of end of life injury, unfortunately." He argued that aside from his sizable medical bills, Home Depot should compensate Beltran for the future impact and emotional toll of symptoms that could persist or worsen for the rest of his life.
"At the end of this trial that will not be an unreasonably shocking number," Rowley said, after asking the jury to award between $30 and $50 million dollars. "It will be 100 percent justice."
Representing Home Depot, Paul Caleo of Burnham Brown explained to jurors that Home Depot accepts complete responsibility for the accident, but that Beltran's future is not as bleak as Rowley described.
"We have a dispute about the injuries that he suffered," Caleo said.
Many of Beltran's symptoms developed in the weeks and months after the accident, Caleo claimed, noting that with more serious brain injuries most signs of possible damage are evident in the immediate aftermath.
Caleo told jurors that Beltran's symptoms are consistent with a milder brain injury than the type Rowley detailed, and that the physical effects of the injury have largely subsided. He claimed that Beltran's current symptoms are psychological, but that he has yet to pursue treatment specifically for his anxiety and depression.
Caleo argued that with roughly two years of psychological treatment, Beltran could achieve a full recovery.
"He can return to the same person that he was before he walked into that store," he said.
The trial is taking place before Judge Thomas S. Clark, and CVN will provide a gavel-to-gavel webcast for the rest of the proceedings.
The case is Jaime Beltran v. The Home Depot Inc., case number S-1500-CV-283696 in Kern County Superior Court.
E-mail David Siegel at dsiegel@cvn.com