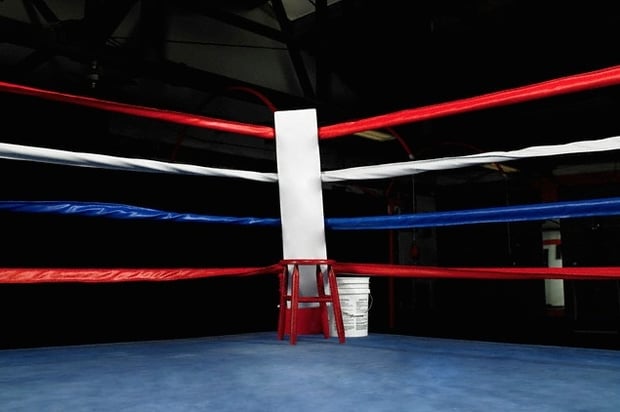 San Luis Obispo — Former Ultimate Fighting champion Chuck "The Iceman" Liddell accused a title company of forging his signature on escrow documents and costing him $2 million by investing in a real estate Ponzi scheme, at a trial that began Wednesday in California state court.
Liddell's suit accuses Cuesta Title of being complicit in dealing with developer Kelly Gearhart, who convinced investors to sink money into projects like golf courses and commercial buildings, but instead used the funds to pay himself and others.
Liddell's attorney, Warren Paboojian of Baradat & Paboojian Inc. told jurors during his opening statement that Cuesta Title failed to disclose conflicts of interest to Liddell, like the fact a company agent had flown on Gearhart's private jet and was involved in a relationship with his brother.
Paboojian said that after Liddell invested $2 million in four residential lots on the Vista Del Hombre golf course, Cuesta Title forged Liddell's signature on documents that allowed his investments to be released prior to the close of escrow and without the titles to the properties being transferred.
"There was fraud. They knew it," Paboojian said of the company during his opening statement, according to a Courtroom View Network webcast of the trial. (Click here to see video from the trial.)
Liddell is widely known due to status as a former UFC heavyweight champion. He is largely credited with helping bring mixed martial arts fighting to a mainstream audience, and he has appeared on the celebrity performance show "Dancing with the Stars."
Gearhart declared bankruptcy after the scheme collapsed, causing investors to go after Stewart Title Company of California, which purchased Cuesta Title, to recoup their $20 million in losses.
He pleaded guilty in 2014 to federal charges of money laundering and wire fraud and is scheduled for sentencing on June 1 in Los Angeles.
A bellwether trial in 2013 involving a test group of investor plaintiffs resulted in a defense verdict for Cuesta Title. That trial was also recorded gavel-to-gavel by CVN.
The vast majority of the 500 plaintiffs subsequently settled their claims against the title company, but Liddell, who is part of a group of fewer than 30 investors yet to resolve their claims against Cuesta Title, claims to have a stronger case than other investors.
While previous plaintiffs invested with Cuesta Title through a loan broker, Liddell's' attorneys say he dealt directly with the company. They claim that that Cuesta Title forged Liddell's signature, an accusation that previous plaintiffs did not make. Cuesta Title is expected to call a handwriting expert to testify that Liddell's signature was not forged.
Claims from three other remaining investors are also being heard at trial along with Liddell's.
During his opening statement on behalf of Cuesta Title, Gerard Kelly of Sidley Austin LLP said the company had no knowledge of of Gearhart's illegal activities.
"The bad guy in this is clearly Kelly Gearhart," Kelly said.
He said Liddell should have known that he was investing in a potentially high-risk deal, and that he had authorized the company to release his money.
"Mr. Liddell did no investigation," Kelly said. "He just plopped down his two million bucks and said, 'Release the money.'"
He explained that escrow companies are legally prohibited from giving financial advice to clients or warning them off making bad investments. The company must follow client instructions, which in this case meant working with Gearhart, who had returned profits for investors in the past.
"He was a success for many, many years," Kelly said.
The trial before Judge Martin Tangeman is scheduled to last up to two weeks, and is being recorded and webcast gavel-to-gavel by CVN.
Attorneys for the parties did not respond to a request for comment.
Liddell is represented by Warren Paboojian of Baradat & Paboojian Inc., and other investors are represented by attorney Maria Hutkin.
Cuesta Title is represented by Gerard Kelly and Nicole Ryan of Sidley Austin LLP.
The case is Liddell, et al. v. Cuesta Title, case number CV09-0676, in San Luis Obispo County Superior Court.
E-mail David Siegel at dsiegel@cvn.com