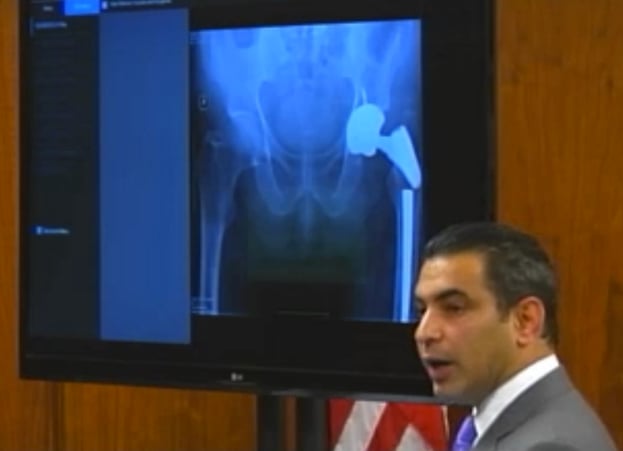 Plaintiffs' attorney Steve Vartazarian shows jurors an x-ray of a metal hip implant that he argues snapped because of a defective manufacturing process. Click here to see video from the trial.
Los Angeles — Wright Medical Technology Inc. defended one of their metal hip implants for the first time before a jury in a product liability trial that began Thursday in California state court over allegations that laser etchings on the device made it brittle and prone to fracture.
Plaintiff Alan Warner's case is the first to go to trial out of over a thousand other Wright hip implant suits pending in state and federal court. While the vast majority of those cases involve claims that metal components in the implants ground together and wore down, Warner's case is the first time Wright has had to defend the design of their hip implants before a jury in any capacity.
Warner was standing in his kitchen in 2010, when he suddenly felt a sharp pain in his left side, where a "Profemur R" device had been implanted three years earlier to replace an older artificial hip. X-rays revealed that the stem portion in Warner's implant had snapped, an outcome that his attorney said could only result from a defective manufacturing process.
Steve Vartazarian of The Vartazarian Law Firm told jurors during his opening statement that Warner didn't fall or engage in any other physical activities that could have caused the device to fail, and that Warner's surgeon implanted it properly, according to a Courtroom View Network webcast of the trial.
"He didn't do anything that caused it to break," Vartazarian said.
Wright's investigation of the break revealed that the fracture emanated from a mark etched onto the device by a laser to help doctors properly position it during surgery. Vartazarian told the jury that the titanium used in the Profemur R can withstand etchings up to 35 microns deep without being affected, but that anything deeper causes the metal to weaken and become brittle.
Vartazarian said the etching that caused Warner's hip implant to fail was over 100 microns deep, noting that other etchings on the implant got progressively deeper beyond the 35 micron limit, indicating that the laser was either misused or not operating properly.
Warner's implant was manufactured in France by Cremascoli Ortho Group, a company acquired by Wright in 2000, and Vartazarian said the company claimed it was unable to provide key documents about the implant's manufacturing process after records were transferred to the United States.
Wright was unable to provide any information on who used the laser on Warner's implant, what type of training they received, or what settings were used to operate the laser, according to Vartazarian. He also said the company could not produce engineering schematics detailing specifically how deep the laser etchings were supposed to go.
"I'll let them tell you where that information is," he said.
Vartazarian acknowledged that out of the roughly 9,000 Profemur R devices sold, fractures like the one Warner experienced were rare. However he characterized using that argument as a "speeding ticket" defense, saying no one would tell a judge they're not guilty of speeding because on 9,000 other occasions they didn't get caught.
While Vartazarian didn't name a specific amount of damages the jury should award, he said that Warner has incurred hundreds of thousands of dollars in past and future medical expenses. Warner underwent 14 major surgeries after the initial break due to subsequent dislocations and infection, and his current hip implant will have to be replaced again in the near future.
"This fracture launched a whirlwind of surgeries for Mr. Warner," Vartazarian said, adding that Warner has severe scarring from the multiple operations and is now almost entirely confined to his home.
Wright's attorney, David Van Dyke of Howard & Howard, told the jury that Warner's implant broke because the top of it never properly affixed to his existing bone. He also said that Warner's surgeon, Dr. Brad Penenberg, chose to use the smallest version of the Profemur R stem piece available.
Van Dyke said Warner's existing bone structure was inadequate to support the Profemur R, and that it never should have been prescribed by Penenberg in the first place. When the insecure top portion shifted inside Warner's body, Van Dyke claimed it placed stress on the narrow stem piece that caused it to crack.
"This was not a defective product," Van Dyke said. "It simply did not have proper fixation."
He also showed jurors 9,343 dots on a projection screen to represent the number of Profemur R implants sold, with one single dot illuminated to illustrate the rarity of the fracture Warner experienced.
"Only one [implant] out of 9,343 is known to have fractured at the guidance laser mark," Van Dyke told the jury.
Helen Zukin of Kiesel Boucher Larson LLP, who serves as co-liaison counsel for the plaintiffs in federal multidistrict litigation involving Wright hip implants, told CVN that there are roughly 600 cases pending in California state court and 600 consolidated before U.S. District Judge William S. Duffey, Jr. in Atlanta.
"I think there's always significance when you have a first trial involving a medical device when you have many other cases lined up behind it," Zukin said.
The current trial before Judge Michael Harwin is expected to last up to three weeks and is being recorded and webcast gavel-to-gavel by Courtroom View Network.
The case is Alan Warner v. Wright Medical Technology Inc., case number BC475958, in Los Angeles County Superior Court.
Warner is represented by Steve Vartazarian of The Vartazarian Law Firm and by George McLaughlin of Warshauer-McLaughlin Law Group PC.
Wright is represented by Michael Kell, Michael Fawaz and David Van Dyke of Howard & Howard, and by Michael Kirby and Micaela Banach of Kirby Noonan Lance & Hoge LLP.
E-mail David Siegel at dsiegel@cvn.com.
Related Content:
Click here for a copy of the complaint.
Click here to see more product liability trials in CVN's one-of-a-kind video archive.