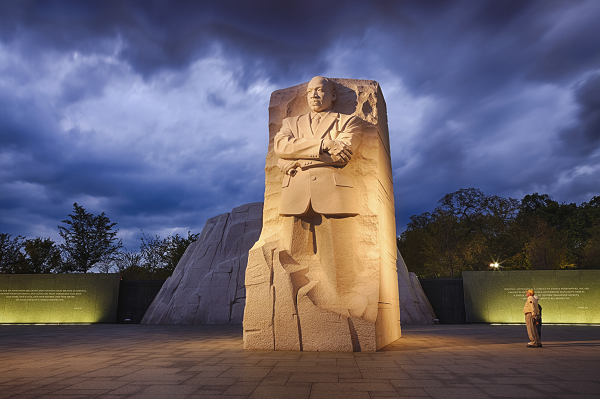 The Martin Luther King Jr. National Memorial in Washington D.C. honors the civil rights leader. A trial in Atlanta is scheduled for February to determine the fate of his Nobel Peace Prize and traveling Bilble.
---
Atlanta—A week before the Academy Awards honors Selma, the acclaimed film focusing on the Rev. Martin Luther King Jr.'s historic civil rights march to Montgomery, Alabama, a trial is scheduled that pits the civil rights leader's children against one another to determine the future of the civil rights leader's iconic possessions. Estate of Martin Luther King, Jr., Inc. v. Bernice King, 2014CV241929
King's sons, Dexter and Martin Luther King III, representing King's estate, have sued their sister, Dr. Bernice King, CEO of the King Center for Nonviolent Social Change, seeking to recover their father's 1964 Nobel Peace Prize and his traveling Bible. The suit stems from a decision last year by the estate's executive board, comprised of the three children, in which King's two sons voted to sell the Bible and Peace Prize. Bernice King, whose King Center had held the property on loan from the estate, refused.
Trial in the case is scheduled to begin February 16 in Fulton County Superior Court before Judge Robert McBurney, while the property remains in court possession.
The suit is one of a number of disputes among the siblings concerning their father's property, though at least one suit between the parties has resolved. Last Thursday, the estate announced it had dropped its claim seeking to revoke the King Center's right to use the civil right's leader's name and image unless Bernice King was removed as its CEO. That suit alleged that historically important documents had been left unsecured and susceptible to mold, mildew, and theft.
Beyond the lasting historical significance of the items at the center of the current litigation—King's traveling Bible was used when President Barack Obama took his Oath of Office in 2012—millions of dollars are at stake. An Associated Press story reports that the 1964 Nobel Peace Prize alone could sell for up to $20 million if King's sons prevail in their claim.
King, who was assassinated in 1968, left no will. His estate passed from his widow, Coretta Scott King, to King's children upon her death in 2006. That year King's heirs sold a collection of more than 10,000 of his personal documents for $32 million. That collection is now housed at the civil rights leader's alma mater, Morehouse College, according to the AP.
CVN will cover the case as it progresses.
---
Related information
Attorneys include:
Nicole Jennings Wade, representing the plaintiff, the Estate of Martin Luther King Jr. Inc.
Eric L. Barnum, representing the defendant, Bernice King.