For more than a decade, the nation's best tobacco attorneys have faced off in courtrooms across Florida as part of the state's unique Engle progeny litigation. And in that time CVN has covered more than 200 Engle progeny trials, from the very first openings in 2008 to the latest trials this year.
In 2011 we first introduced our Engle Trading Cards to spotlight the best attorneys and provide a lighthearted way to track statistics in the ongoing litigation. The cards have proven so popular over the years that we're bringing them back with a new, 4th edition collection.
Each week we'll feature a digital card with the CVN Engle record and statistics of a key attorney in the proceedings. The trials are among thousands of cases spun from a decertified class action against the nation's tobacco companies. Statistics are pulled from the CVN-covered Engle trials in which attorneys participated in openings, closings, or questioning. This series will highlight some new stars in the litigation as well as revisit some Engle veterans who we've featured on earlier cards.
---
Engle Trading Cards Series 4, No. 1
Eric Rosen, Rosen Injury Law P.A.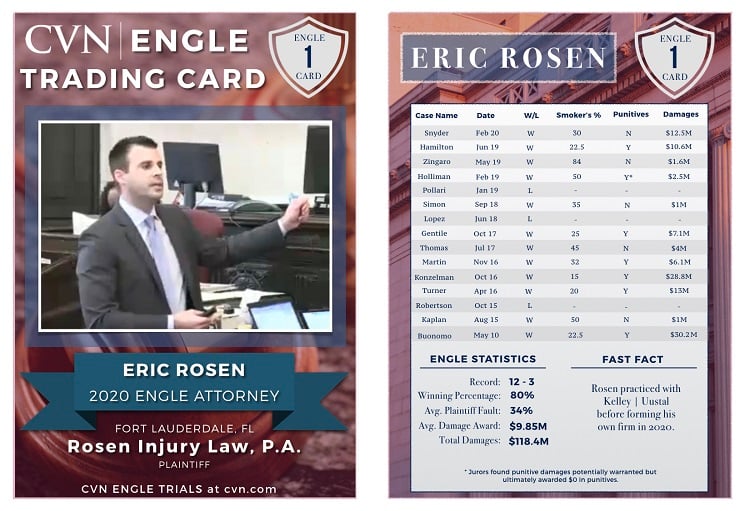 Eric Rosen leads off our newest slate of Engle cards.
---
Eric Rosen is a long-time vet of Engle progeny litigation, with a stellar 12-3 CVN record that stretches back to 2010. Among his biggest verdicts: a $30.2 million win against R.J. Reynolds in 2010's Buonomo trial and a $28.8 million award in 2016's Konzelman v. R.J. Reynolds. Most recently, Rosen won a $12.5 million verdict against RJR in February's Snyder trial, over the COPD-related death of a Florida police officer.
Stay tuned next week to see which top defense attorney will be featured on a new Engle card.
Email Arlin Crisco at acrisco@cvn.com.
Watch all of Eric Rosen's CVN-covered trials.
Not a subscriber?
Learn how you can access an unrivaled tobacco trial video library.