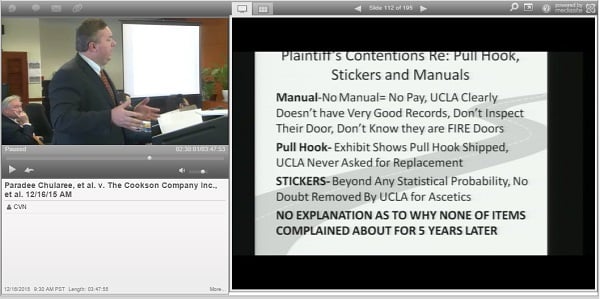 Christopher Faenza delivers closing arguments on behalf of McKendry Door Sales Inc. The company prevailed in a $32 million suit by Paradee Chularee, who claimed a door sold and installed by the company struck her, causing lifelong brain damage.
---
Santa Monica, CA-- Jurors last night cleared a door company of liability for the brain damage a former UCLA staff member claims she suffered when a rolling fire door struck her head. Paradee Chularee, et al v. The Cookson Company Inc., et al., SC113062.
The jury deliberated for about three hours before finding the fire door sold and installed by McKendry Door Sales, Inc., which allegedly struck Paradee Chularee in 2011, was not defectively designed, negligently sold, installed, or accompanied by insufficient warnings.
Chularee, a UCLA staff member, allegedly suffered permanent brain damage when the large rolling door, which led to a campus file closet, struck her head as she stood on a chair and tried to close it. Although she did not complain of any injuries beyond a headache immediately after the injury, she became incoherent three days later, and doctors concluded she suffered a stroke and bleeding in the brain.
The Homampour Law Firm's Arash Homampour, requested more than $32 million in damages during Wednesday's closing arguments, reminding jurors of evidence Chularee would need around-the-clock care for the rest of her life.
Wednesday's verdict capped an eight-day trial that focused largely on the door's suitability for the room and whether it was accompanied by appropriate warnings and equipment.
Chularee's legal team claimed the door's size and design, which required a person push or pull the door open or closed, was too dangerous for the room in which it was installed and did not carry warnings as to its proper use and risks.
During Wednesday's closing arguments, Homampour detailed evidence McKendry knew the door's weight and speed could seriously injure or kill a person. He contended the door's size and manual operation rendered it dangerous, which he said was borne out by evidence of its relatively rare use and compounded by its lack of warnings. "The defendant's going to get up here and say how 'We've sold millions or billions of these doors and never had an injury." That's a bogus defense," Homampour said. "We're talking about a very rare door. A too-tall door, sold without a pull-hook, and without a manual. That is a defective door, per (defendant's) own literature and their own testimony."
Homampour also claimed original discussions with UCLA called for a safer, chain-operated door for the room, but McKendry installed the manual, pull-down door instead, without regard to its danger. "Where are the notes? Where are the emails, where are the documents, explaining why they would switch from a chain-operated door to a push-up door?" Homampour asked. "That tells you they didn't think this through, that McKendry just totally dropped the ball."
However, the defense claimed the door met the specifications for the room's original design as a rarely used emergency response room with an eight-foot entryway, but UCLA ultimately used the room to store files after the door's installation. During Wednesday's closings, Yoka & Smith's Christopher Faenza reminded jurors of testimony from the project's architect, Jorge de la Cal. "Mr. de la Cal said, 'I was the architect on this project, currently working on projects at UCLA. That's what I wanted. I wanted an eight-foot opening.'"
Faenza told jurors that evidence of 30 years of the door's use established its safety record, while procedures and records proved the door was shipped with the appropriate warning stickers, instruction manual, and pull-hook. Faenza argued the instruction manual and pull-hook were likely lost by UCLA in the five years after its installation, while the warning labels were removed for aesthetic reasons. Noting the safeguards and inspections required for the fire door, Faenza said "There is zero chance that this door (didn't) arrive with stickers."
Jurors voted 11-1 in favor of McKendry on all questions except whether the door's risks outweighed its design, which was unanimously resolved in favor of the defendant.
The parties' attorneys could not immediately be reached for comment.
Email Arlin Crisco at acrisco@cvn.com.
Related Information
The Homampour Law Firm's Arash Homampour represents Paradee Chularee.
Yoka & Smith's Christopher Faenza represents McKendry Door Sales Inc.
Watch gavel-to-gavel coverage of the trial on demand.
Not a Subscriber?
Learn more about CVN's unparalleled California trial coverage.