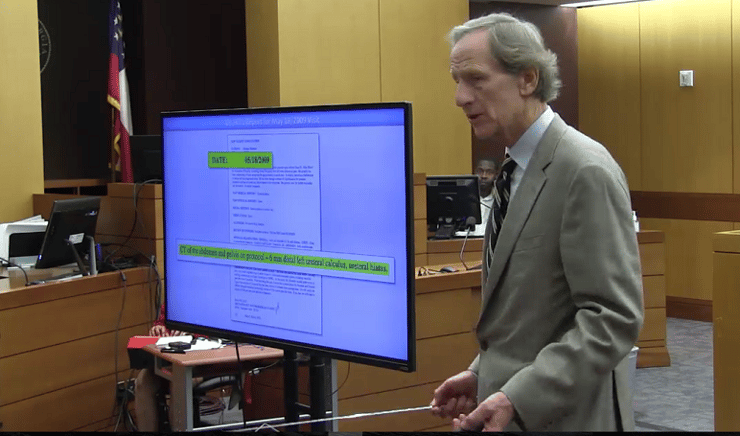 Philip Henry delivers his opening statement for the plaintiffs at trial against two doctors accused of negligence that led to a patient's cancer death.
---
Update: A Fulton County State Court jury Friday cleared two doctors of responsibility for the cancer death of a patient they had previously treated for kidney problems. CVN will provide more details, as well as gavel-to-gavel video of the trial.
Atlanta—Attorneys Tuesday debated whether a pair of doctors committed a fatal error in not ordering follow-up testing on a patient's kidneys, as trial in the malpractice suit against them opened. Moradov v. Hill, et al., 14EV000806H.
Shlomo Moradov, 51, died in 2015 after kidney cancer spread throughout his body. Six years earlier, Dr. Brian Hill, a urologist with Urology Specialists of Atlanta, had diagnosed and successfully treated Moradov for a kidney stone based on a non-contrast CT scan and Moradov's own complaints of abdominal pain. Although the scan also showed Moradov had three cyst-like structures in his kidneys at the time, neither Hill nor Dr. William Bottoms, a radiologist with Atlanta Radiology Consultants, P.C. who reviewed the imaging, mandated follow-up testing.
Moradov's mother and the executor of the estate claim that decision amounted to negligence that cost Moradov his life.
During Tuesday's opening statements, Henry Spiegel Milling's Philip Henry, representing the plaintiffs, contended one of those cyst-like structures was the cancer that ultimately spread throughout Moradov's body. Henry said expert testimony would prove that the tissue's irregular shape rendered it suspicious and the doctors should have ordered additional testing. "There needed to be additional imaging to make sure that that distorted cystic mass was not a cancer," Henry said. "That's what the standard of care was when there's a distorted cystic mass of that nature."
Henry added that, if the cancer had been caught back in 2009 by Hill and Bottoms, the disease could have been successfully treated. Experts, Henry said, would testify that "additional imaging was required. If it had been done, the cancer would have been diagnosed, [Moradov] would have been treated with a surgery, … would have been cured of the cancer, and live a normal life expectancy."
However, the defense disputes the claim that one of those structures was necessarily cancerous in 2009 and argues all three structures bore the hallmarks of simple, non-malignant cysts common in men Moradov's age. During Tuesday's openings, Hill's attorney, Huff Powell Bailey's Michael Frankson, argued that the fact both Hill and Bottoms independently concluded the structures weren't suspicious showed they followed the standard of care. "The plaintiffs' case [is] these two doctors separately committed the same negligence," Frankson said, adding expert testimony for the defense would support the doctors' decisions. "No, the reason that they came to the same conclusion is because that was the reasonable conclusion under the circumstances."
Bottoms' attorney, Huff Powell Bailey's M. Scott Bailey, agreed and said testimony would establish the structures did not bear tell-tale signs of a suspicious mass, such as thickened walls or calcifications. "[Bottoms] will tell you that, in his mind there is really no question that this was a simple hypodensity, a simple cyst, not a mass, but a simple cyst and one that did not require follow-up by the standard of care."
Trial is expected to run through the end of the week.
CVN is recording the trial. We will have updates via the news page and provide gavel-to-gavel video as soon as possible after the verdict.
Email Arlin Crisco at acrisco@cvn.com.
Related Information
Philip Henry, of Henry Spiegel Milling, represents plaintiffs Tziporah Moradov and Ezra Cohen.
Scott Bailey, Erica S. Jansen, and Bailey Sabulis, of Huff Powell & Bailey, represent Dr. William Bottoms and Atlanta Radiology Consultants, P.C.
Huff Powell & Bailey's Daniel Huff and Michael Frankson represent Dr. Brian Hill and Urology Specialists of Atlanta, LLC.