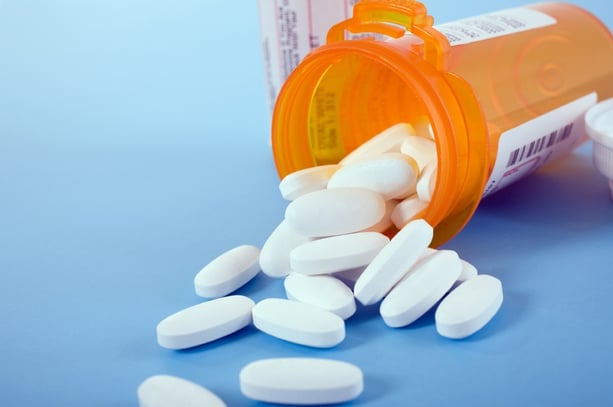 Stock photo of prescription medication.
Long Beach — A woman left scarred by an allergic skin reaction to an antibiotic accused her doctor of negligence at a trial that began Wednesday in California state court, claiming he failed to take an adequate medical history before prescribing the powerful drug Bactrim to treat her acne.
Plaintiff Jenny Hyoung developed a life-threatening condition called Stevens-Johnson syndrome while in college in 2011 after taking Bactrim, also known as Septra, which was prescribed by her family physician, Dr. Kyoung Yoo. SJS causes dangerous blistering and cell damage in the skin, and Hyoung was left with scarring over more than 30 percent of her body as a result of taking the drug, according to her attorney John Carpenter.
Carpenter told the jury during his opening statement that Yoo's decision to use Bactrim, which is often prescribed to patients with difficult-to-treat infections like MRSA, fell below the standard of care when used as a "first line treatment for mild acne." Hyoung successfully treated her acne for years with milder medications prescribed by other doctors, Carpenter claimed, but that wasn't included in the medical history Yoo took before prescribing the new drug.
"Dr. Yoo doesn't ask about any of this history," Carpenter said, according to a Courtroom View Network webcast of the trial. "He just sees her and in a brief examination prescribes her one of the strongest antibiotics there is for a mild condition of acne."
Yoo never warned Hyoung that patients taking drugs like Bactrim could develop SLS, according to Carpenter. When Hyoung initially developed swelling around her neck and flu-like symptoms, she continued taking the Bactrim, since she thought it was similar to other medications she had previously taken to treat her acne.
Carpenter didn't go into detail about Hyoung's specific injuries or any potential damages. The jury will first consider only Yoo's liability as part of a bifurcated trial.
Yoo's attorney Thomas McAndrews told jurors that while Hyoung's allergic response was likely caused by Bactrim, Yoo was not negligent for prescribing it.
He argued that the fact Hyoung sought treatment from Yoo for her acne indicated the other medications she took hadn't been effective, and that she disclosed this past history to Yoo during her examination.
"What this case really comes down to is one thing and one thing only. Was it appropriate for Dr. Yoo to prescribe Bactrim to this patient at the time he did," McAndrews asked.
SJS only occurs in a miniscule fraction of patients who take Bactrim, and the complication is so rare that doctors who prescribe the drug, including one of the plaintiff's dermatology expert witnesses, don't warn patients about it specifically, McAndrews argued. Instead patients taking Bactrim are advised to stop taking the drug if they develop a rash or fever and to seek medical attention.
"It's exceedingly rare," McAndrews said. "[Bactrim] is an effective medication that has benefits."
Hyoung's lawsuit originally included claims against a number of pharmaceutical companies and the Target pharmacy where she had the prescription filled, but Yoo was the only defendant remaining in the case when it went to trial on Wednesday.
The trial is taking place before Judge Ross Klein and is being webcast gavel-to-gavel by CVN.
Hyoung is represented by John C. Carpenter of Carpenter Zuckerman & Rowley LLP.
Yoo is represented by Thomas F. McAndrews of Reback McAndrews Kjar Warfor & Stockalper LLP.
The case is Hyoung v. Yoo, case number NC058059 in the Superior Court of California for Los Angeles County.
Email David Siegel at dsiegel@cvn.com