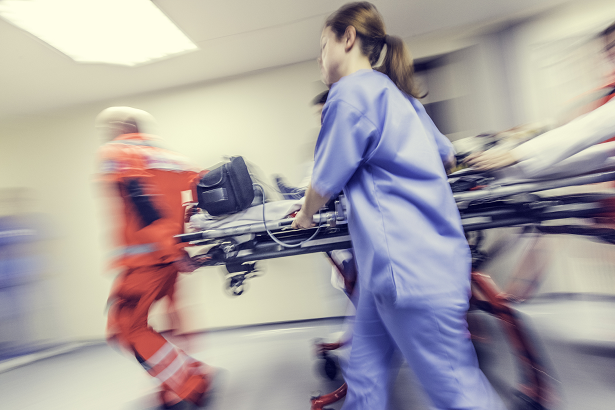 Stock image.
---
Editor's Note: This story has been updated to reflect the verdict reached Friday morning.
Jurors Friday awarded more than $3 million to the family of a woman who died days after childbirth, with a verdict that split fault between the two nurses who treated her, but cleared her doctor of negligence. Edwards v. Nicome, et al., 11A36121.
A DeKalb County State Court jury found nurses Cherie Cox and Gloria Huber-Smith 70% and 30% liable, respectively, for the May 2009 death of Shari Edwards. Edwards died of heart failure three days after being admitted to DeKalb Medical for preeclampsia and ultimately giving birth to her daughter.
The $3.012 million verdict, reached after more than a day of deliberations, also cleared Dr. Nicole Nicome, Edwards' physician at the hospital, of any responsibility for her death.
Attorneys for Edwards' family requested $25 million in damages during Wednesday's closing arguments.
The verdict caps a nearly three-week trial in which Edwards' family claimed she died because of peripartum cardiomyopathy, or heart failure, and the failure of her healthcare team, including Nicome and nurses Cox and Huber-Smith, to detect or treat her deteriorating condition.
"[Shari] Edwards' body was sending off flares into the night, telling people to sound the alarm, that she was in trouble," before her death, Edmond, Lindsay & Hoffler's Roderick Edmond told jurors during Wednesday's closing arguments. But, "the nurses and Dr. [Nicole] Nicome were negligent for failing to take basic steps … which would have shown that she was decompensating and, really, knocking on death's door."
Edmond argued Edwards' blood pressure problems had initially been treated, but in the hours before her death her condition became more precarious with low oxygen levels and blood-gas levels joining her complaints that she was short of breath. Despite this, Edmond said medical records showed staff did not take Edwards' vital signs for three hours before she went into the cardiac arrest that proved fatal.
"Slowly but surely, as her heart tried as best it could to keep pumping fluid, it just couldn't do it, couldn't keep up the fight. Slowly but surely, a drop at a time, her lungs gradually filled up with fluid," William Atkins, of Edmond, Lindsay & Hoffler, said in plaintiff's rebuttal closing. "She drowned. Three days after giving birth to a little girl."
Edmond told jurors expert testimony proved simply checking Edwards' vital signs and properly treating her could have saved her' life. "If there had been treatment during that interim, when the blood pressure was trending higher, then this whole cycle could stop, and she could be saved," Edmond said.
But the defense argues Edwards' condition was stable in the hours before her cardiac arrest, and her healthcare team treated her appropriately throughout her stay, including ordering tests and intervention where necessary. During his closing argument Wednesday, Nicome's attorney, Schreeder, Wheeler & Flint's Michael Flint, told jurors Edwards' death could not have been reasonably forseen and he reminded jurors of records Nicome made concerning treatment ranging from administering oxygen to ordering CT scans. "All of these things were reasonable, prudent. And they showed a doctor who was engaged, cared about her patient, and was doing her best in real-time, not in hindsight," Flint said. "All the people who saw her [the day of her death] thought she was fine. Nobody knew the end, what was going to happen. Nobody had a crystal ball."
Flint said witness testimony showed Edwards was acting normally and waiting to be discharged from the hospital in the hours before her death. "She put on her clothes, she was ready to go, she was standing," Flint said. "Nobody observed shortness of breath, observed any distress in this lady in the critical time period."
Flint added that a nursing note at 9:10 a.m. the day of her death claiming she complained of shortness of breath was marked with an incorrect timestamp. "How do we know that?" Dr. Nicome was in the room at 9:10. The patient was not short of breath."
Bendin Sumrall & Ladner's Timothy Bendin, representing the nurses, told jurors that, while he believed Nicome acted appropriately, the nurses followed proper protocol given their medical roles. "To me this isn't even a nursing case. It's a doctor case if there is one, and I don't think there is one," Bendin said. "[The nurses] are being faulted for trying to follow the orders of the physician and for failing to do things they weren't ordered to do by the physician. And that just simply is not fair. It is not fair to these people."
CVN recorded the trial and will offer on-demand video of the trial as soon as posible.
Email Arlin Crisco at acrisco@cvn.com.
Related Information
Plaintiffs are represented by Edmond, Lindsay & Hoffler's William Atkins, Roderick Edmond, and Keith Lindsay.
Dr. Nicole Nicome is represented by Schreeder, Wheeler & Flint's Michael Flint and Michael Eshman.
Cherie Cox and Gloria Huber-Smith are represented by Bendin Sumrall & Ladner's Timothy Bendin and Phi Nguyen.
CVN will offer on-demand video of the trial as soon as possible.
Not a subscriber?
Learn how you can see the best attorneys in action, in Georgia and across the country.