For more than a decade, Florida's Engle progeny tobacco litigation has featured some of the top lawyers in the country.
The cases are among thousands that stem from a Florida class action suit that the state's supreme court ultimately decertified, allowing individual plaintiffs to recover against the nation's tobacco companies if they can prove the smokers in their cases suffered from nicotine addiction that caused a smoking-related disease.
The ongoing nature of the litigation has finely honed the courtroom skills of its attorneys, with CVN's unrivaled Engle coverage capturing veritable master classes of trial work. It's one reason why we honor the best Engle attorneys each year.
And this year's Engle Defense Attorney honoree went undefeated in a pair of high-stakes cases.
CVN's Engle Defense Attorney of 2019
King & Spalding's Jason Keehfus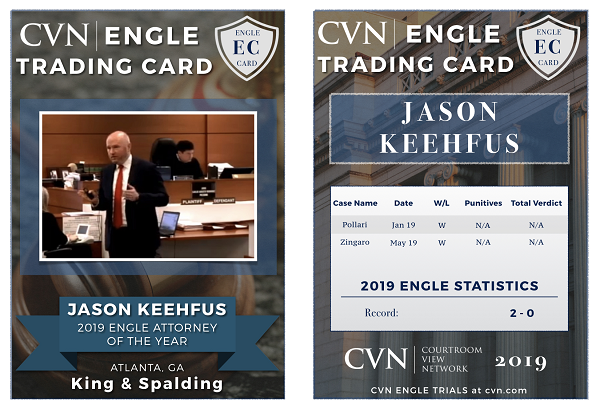 The Trials: Pollari v. R.J. Reynolds and Philip Morris and Zingaro v. Philip Morris and R.J. Reynolds.
The Verdicts: Keehfus opened the year with a win, when jurors in January found Paul Pollari was not a member of the Engle class. Months later, jurors cleared RJR of liability for Karla Zingaro's respiratory disease and cancer, despite finding her to be an Engle class member.
The Details: Keehfus notched a key victory for RJR in January's trialover the 1994 cancer death of Paul Pollari. The 2019 Pollari case was a retrial, after a $13 million verdict five years earlier had been set aside. Attorneys in the 2019 trial sought $12 million in compensatories alone, plus a finding that punitives were warranted. But Keehfus, along with Shook Hardy's Kenneth Reilly, who represented Philip Morris in the case, laid out a powerful argument that nicotine addiction did not cause Pollari's cancer death.
Keehfus's second win of the year followed in May, amid claims four decades of smoking caused Zingaro's respiratory disease. Jurors ultimately found Zingaro was an Engle class member.

However, Keehfus adeptly argued that Zingaro's history with Reynolds predecessor Lorillard's Kent cigarettes — smoking a pack a day for a couple of years — did not contribute to her respiratory disease. "This is not a close call," Keehfus said. "When Mrs. Zingaro stopped smoking Reynolds cigarettes she hadn't even increased her risk of developing those diseases over someone who never smoked."
And Keehfus successfully countered any theory that beginning to smoke RJR cigarettes set in motion the path that plaintiffs contended ultimately caused her illness. "Mrs. Zingaro would have gone on to become a smoker whether she smoked some R.J. Reynolds cigarettes from 1970-72 or not," Keehfus said, noting Zingaro's friends and family were all smokers. "She was going to be a smoker whether she smoked those Kent cigarettes or not."
Keehfus's outstanding work in the courtroom earned RJR a pair of major Engle wins in 2019, and CVN's honor as Engle Attorney of the Year.
Stayed tuned for the announcement of the Engle Plaintiff's Attorneys of the 2019, coming January 3.
Email Arlin Crisco at acrisco@cvn.com.
Related Information
Learn how you can access an unrivaled library of tobacco trial coverage.