Stock image.
---
CVN's unrivaled coverage of Engle progeny tobacco litigation saw some of the nation's best attorneys face off in Florida courtrooms in 2018, with hundreds of millions of dollars at stake. The cases are among thousands that stem from a Florida class action suit that the state's supreme court ultimately decertified, allowing individual plaintiffs to recover against the nation's tobacco companies if they can prove the smokers in their cases suffered from nicotine addiction that caused a smoking-related disease.
CVN's Engle Defense Attorney of 2018 earned the honor by going undefeated in a trio of high-profile trials.
CVN's Engle Defense Attorney of 2018
King & Spalding's Ursula Henninger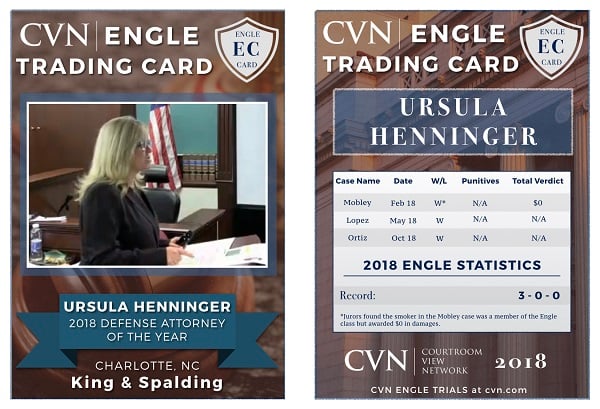 ---
The Trials: Mobley v. R.J. Reynolds, Lopez v. R.J. Reynolds, and Ortiz v. Philip Morris and R.J. Reynolds
The Verdicts: Henninger, representing R.J. Reynolds, went undefeated in all three Engle trials she took to verdict in 2018. Jurors found the smokers at the heart of the Lopez and Ortiz cases were not Engle class members. In Mobley, jurors found for the plaintiff on class membership but awarded $0 in damages.
The Details: Henninger began her stellar 2018 trial year with Mobley, where the family of Leonard Mobley, who died of cancer after decades of smoking, sought more than $18 million in damages. But Henninger spearheaded a defense she said showed Mobley chose to smoke despite knowing the dangers of cigarettes. "Mr. Mobley never told anyone that he was… confused about the health risks or [addictiveness of] nicotine," Henninger told jurors during closings. "You didn't get that evidence in this case."
Jurors agreed, finding Mobley 95% responsible for his fatal lung cancer and awarding no damages.
In Lopez, Henninger keyed a defense win at trial over the lung cancer death of Juan Lopez, a 52-year-old Cuban immigrant who died of lung cancer, years after moving to Florida and starting to smoke Winston cigarettes made by RJR at the time. Henninger successfully argued Lopez became hooked on nicotine during his years of smoking Cuban cigarettes before immigrating to the US. "Mr. Lopez is the wrong smoker [for an Engle-progeny claim], Winston cigarettes are the wrong cigarettes, and my client… is definitely the wrong defendant," Henninger said.
Henninger closed out the year with a win in Ortiz, where the family of Carlos Ortiz claimed his fatal respiratory disease was brought on by dangerous cigarettes and tobacco industry fraud. But jurors found the claim time barred, after Henninger argued Ortiz likely knew he had respiratory disease as early as the mid-1980s, years before the Engle class cutoff date. "If you're coughing all day and night spitting up phlegm, every day, for years upon years," Henninger said, "You know you have something."
Henninger's superior trial work earned her top honors as CVN's Engle Defense Attorney of 2018.
Related Information
Watch all of Ursula Henninger's CVN-covered trials.
Not a subscriber?
Learn how you can watch the biggest trials featuring the country's best lawyers, for as little as $99 a month.