CVN covered major verdicts won by some of the best plaintiff's lawyers in Georgia in 2016. CVN Georgia's Attorney of the Year distinguished himself by going 2-1 in front of CVN cameras, including a critical eight-figure award in Cobb County.
CVN Georgia Plaintiff's Attorney of 2016:
Fried Rogers Goldberg's Michael Goldberg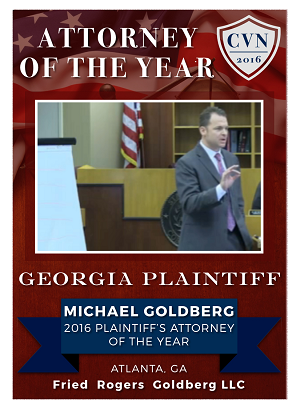 The trial wins: Khan v. Moore Freight Service Inc. and Reboulet v. Schlosberg.
The verdicts: Jurors awarded $20 million to the plaintiffs in the Khan trial, for catastrophic brain damage a man suffered in a truck collision. Jurors awarded $813,000, before apportionment, in the Reboulet trial, to a driver who suffered back injuries in a rear-end collision.
The details: In Khan, plaintiffs, the family and conservator of a Muslim immigrant who suffered severe brain damage in a collision with a truck, sought millions in damages for a lifetime of care.
At trial, the defense criticized the evidence supporting the man's life care plan and noted his own family provided much of his treatment, which defense attorneys said minimized the cost. In his closing argument, Goldberg struck back hard at both arguments and noted the defense never raised its own life care plan in opposition. "No doctor is going to come in here and say that [Khan] doesn't need, at the bare minimum, what's contained in this life care plan," Goldberg said. "And if the family decides to [provide care] for him? God bless them. They should be able to keep the money. They're going to do the job for him? The money should go to them."
In a year when anti-Muslim rhetoric made headlines across the country, Goldberg's courtroom work helped secure an eight-figure verdict for the family. "We obviously had concerns as to whether the jury could look past the fact that our clients are Muslim and are from Pakistan," Goldberg told CVN after the verdict. "But the jury was able to do exactly what the law says to do. They looked at the evidence and put aside all prejudices and sympathies and awarded what the case was truly worth.
"It is really amazing to find out that everyone can get a fair shake in front of a jury," Goldberg said.
In Reboulet, an Atlanta-area architect claimed he suffered severe back injuries when he was involved in a rear-end collision. The defense focused on the driver's prior history of health problems. While Goldberg acknowledged Reboulet's prior medical issues, he argued evidence showed Reboulet suffered no neck pain in the five years before the accident. "Could this all be a coincidence? A person goes five years without any issues, and then suddenly the minute he's hit by a car at highway speed from behind, he suddenly has diabetic neuorapthy in his arms and hands? Something that no one has seen?" Goldberg asked. "It would have to be an unbelievable coincidence that that was what occurred."
Goldberg's work in these two cases, and particularly his centerpiece $20 million win, earns him CVN Georgia's Plaintiff's Attorney of the Year honors.
Related information
Watch all of Michael Goldberg's CVN-covered trials.
Not a subscriber?
Learn how you can see the best attorneys in action, in Georgia and across the country.