CVN has covered a slate of headline-grabbing cases in courtrooms across Florida over the past year. Our 2019 Florida Plaintiff's Attorney of the Year earned that honor by winning 8-figure verdicts in a pair of high-profile, vehicular collision cases.
CVN Florida's Plaintiff's Attorney of 2019
Avera & Smith's Mark Avera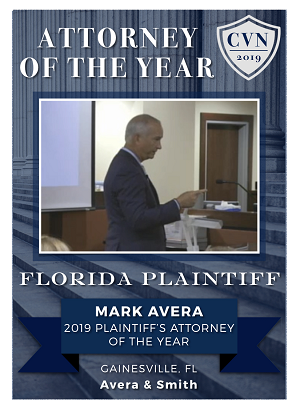 The Trials:Wiederhold v. Domino's Pizza and Faircloth v. Cantina Tallahassee LLC, et al.
The Verdicts: In June, Avera won an $8.97 million verdict for the widow of a retired firefighter killed in a collision with a Domino's Pizza delivery driver. Two months later, he spearheaded a $30.8 million win against a pair of bars for the crash that left a teenager with catastrophic brain damage.
The Details: Richard Wiederhold was paralyzed in a 2011 head-on crash with a Domino's pizza delivery driver; he later died from injuries he suffered in the wreck. Key to the case against the pizza giant was Avera's argument that the corporation exercised a right of control over the Orlando franchise that employed the driver, which he said rendered it responsible. At trial, he contended evidence showed Domino's had authority over issues ranging from employee uniforms and grooming standards to delivery vehicle appearance and equipment.
And he countered defense claims that those restrictions only existed to protect the corporation's brand. "It doesn't matter why they have the right of control," Avera said in closings. "You won't see an instruction on the law that says 'Well, if the right of control is for [the] brand, then they get a pass.'"
Two months later, Avera helped win more than $30 million for the life-long brain damage Jacquelyn Faircloth suffered when she was struck by Devon Dwyer. Two Tallahassee, Florida bars had served alcohol to Faircloth and Dwyer, both of whom were underage. Because Dwyer had fled the scene of the crash and no blood-alcohol results were available, a central question in the case was whether Dwyer was drunk when he hit Faircloth. Dwyer, for his part, maintained he drank no more than four or five beers during his four hours at the bar. In closings, however, Avera walked jurors through the night of the accident, noting one friend said Dwyer looked drunk, while receipts showed he purchased 18 beers and six bourbons at the bar.
"I would submit to you that he's not sitting there in that bar for four hours with one beer in his hand for each and every hour," Avera said.
Avera's powerful trial work in 2019 earned a pair blockbuster awards, and the distinction of being CVN Florida's Plaintiff Attorney of the Year.

Email Arlin Crisco at acrisco@cvn.com.
Related Information:
Coming later this month: Florida Engle Attorneys of the Year.
Learn how you can watch the best trial attorneys in action, in Florida and around the country.