Several of the nation's best attorneys made persuasive cases for CVN Florida's Plaintiff's Attorney of the Year, pulled from Florida-based attorneys who argued CVN-covered, non-Engle cases in the state last year. However, this year's honoree earned the accolade with a masterful case that delivered a multi-million-dollar jury verdict in a difficult asbestos suit against one of the country's leading manufacturers.
Florida Plaintiff's Attorney of the Year: The Ferraro Law Firm's James Ferraro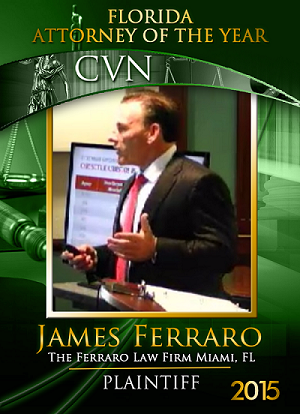 The trial: Taylor v. Georgia Pacific.

The verdict: $17 million to Roy and Suzanne Taylor and a finding Georgia Pacific was 55% at fault for the asbestos-related mesothelioma Roy Taylor developed.
The details: Key to proving Georgia Pacific's liability for Roy Taylor's mesothelioma was linking the asbestos in its joint compound to work Taylor did on a Saudi building project in the 1970s that allegedly used the compound.
Without documents showing sufficient joint compound deliveries to the site, Ferraro instead used invoces showing massive deliveries of Georgia Pacific wallboard, which required the joint compound for installation.
In a cogent closing, Ferraro highlighted the necessary connection between the materials. "Who buys wallboard from Georgia Pacific and doesn't buy their joint compound? Come on, think about it, who does that?" Ferraro asked. "It's sold as a system."
The powerful case Ferraro and his team built swayed the jury and earned him CVN Florida's honor as the Plaintiff's Attorney of 2015.
---
Related Information
Watch Taylor v. Georgia Pacific on demand.
Not a subscriber?
Learn how you can watch CVN Florida's unparalleled coverage of the state's key trials.