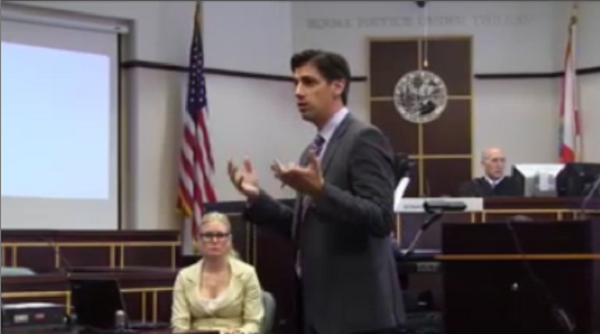 Christopher Blain argues that evidence does not prove that a chemical burn sufferred by Lissette Perez was caused by a defective Wawa gas pump.
---
Orlando, FL— Jurors last month found a national convenience store chain not liable for chemical burns one of its patrons claims she suffered during a gas spill. Perez v. Wawa Inc., 2013-CA-011167.
Lissette Perez sued Wawa Inc., claiming her leg was chemically burned in January 2013 when gas sprayed from a defective pump at one of the chain's Orlando stores as she refueled her car. Following three days of testimony and argument, jurors took less than half a day to find the company was not responsible for Perez's injuries.
The trial focused on whether the Wawa station's pump had malfunctioned and the long-term severity of Perez's chemical burns. Perez's attorney, Morgan & Morgan's Clay Mitchell argued that evidence of repair work on the pump immediately after the accident established that the pump was defective. In closing arguments July 23, Mitchell showed jurors photos of a repair truck at the pump just days after Perez's accident and noted that Wawa claimed it had no record of the visit. There was "nothing in the evidence about any repair work being done to fix any problem that would have caused this gas to spew out," Mitchell said. "Why is that? You've got to ask yourself why do we not know about it."
In requesting $75,000 in damages, Mitchell argued Perez endured more than two weeks of extreme pain and continues to suffer from heat sensitivity and dark scars on her leg. Mitchell said the burn's lasting effects have rendered her unable to play outside with her son. "She is torn apart by it; it is tormenting for her," Mitchell said. "She feels inadequate as a mother, and she doesn't see an end to it unless she can get help and get this fixed" through future surgery.
However, the defense argued there was no evidence the pump was defective. During closings, Vernis & Bowling's Christopher Blain reminded jurors of records showing all of the store's gas pumps had been inspected that morning. "During that inspection in the morning there was nothing wrong with any of the pumps. No notes, nothing that there was a failure or a problem," Blain said.
Blain noted that both a service attendant on the scene and Perez testified they heard nothing to indicate the pump was malfunctioning. Blain argued that, although the pump allegedly fell out of Perez's car's fuel tank, "Does that mean that there was something that malfunctioned because of Wawa? Could it be because of user error? Ms. Perez?
"There's no evidence that has been provided to you showing that there was anything wrong with this pump on this day. Nothing," Blain said.
Wawa, a privately held company, owns more than 645 convenience stores nationwide, including more than 50 stores in Florida.
Neither the parties' attorneys nor Wawa representatives could be reached for comment.
Email Arlin Crisco at acrisco@cvn.com.
---
Related information
Lissette Perez was represented by Morgan & Morgan's Clay Mitchell. Wawa Inc. was represented by Vernis & Bowling's Christopher Blain.
Watch gavel-to-gavel coverage of the trial on demand.
Not a subscriber?
Learn how you can watch CVN Florida's unparalleled coverage of the state's key trials.