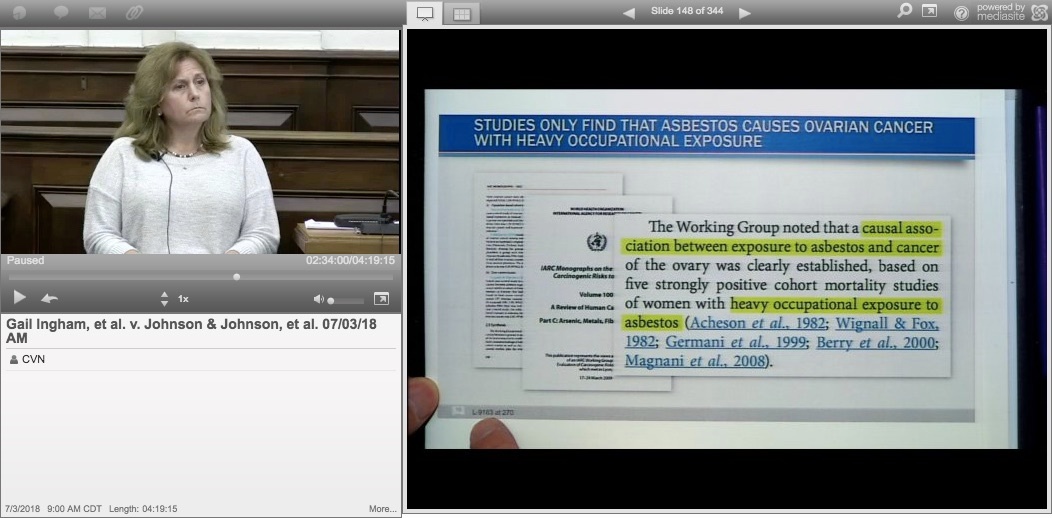 CVN screenshot of Dr. Cheryl C. Saenz, a gynecological oncologist testifying as an expert witness for J&J, under cross-examination by plaintiffs attorney Mark Lanier
St. Louis, MO - Attorneys for Johnson & Johnson defending the company from claims that asbestos supposedly present in its cosmetic talc products caused 22 women to develop ovarian cancer wrapped up their case this week in Missouri state court, with closing arguments expected next Wednesday.
The closings will cap off a long-running and closely-watched trial that began on June 6 and could potentially saddle J&J with their largest verdict yet in a talc case. The proceedings will be webcast live by Courtroom View Network, which has recorded and webcast the full trial so far.
A number of factors caused attorneys, analysts and reporters to descend on Judge Rex Burlison's St. Louis courtroom, with many more viewing online remotely, to watch the sometimes explosive arguments over what caused the 22 plaintiffs to develop ovarian cancer after using products like Johnson's Baby Powder and Shower to Shower for decades.
The logistics of 22 individual plaintiffs presenting their claims simultaneously during a single trial is in and of itself a legal high wire act. Judge Burlison plans to give nearly 400 jury instructions in a session that will last an entire day, when in many trials that process takes less than an hour.
The potential for a staggering verdict also makes this case unique. Some previous J&J talc trials resulted in verdicts exceeding $50 million, with some surpassing $100 million, meaning a combined verdict for all 22 women or their surviving family members could potentially exceed $1 billion dollars.
Some of those prior talc verdicts have been thrown out on appeal, most recently in a June 29 decision from a Missouri court erasing a $55 million verdict on jurisdictional grounds in the wake of a decision last year by the U.S. Supreme Court limiting the ability for plaintiffs to file lawsuits outside their home state.
Verdicts on that scale are not uncommon for Mark Lanier, the renowned Texas-based attorney representing the women. While backed up by a large support staff, Lanier has personally questioned all of the witnesses in the trial and will deliver the plaintiffs closing on Wednesday. J&J meanwhile is represented by no less than six attorneys from three heavyweight national law firms.
The trial is also unique because previous ovarian cancer talc cases were based on the theory that talc particles traveled up a woman's fallopian tubes after being applied to the genitals, and that the talc itself is carcinogenic. Lanier is arguing for the first time that asbestos particles in the talc, and not just the talc alone, cause ovarian cancer.
J&J has faced other trials over claims that inhaling asbestos in talc products caused mesothelioma, but this is the first time a jury will consider arguments that asbestos in talc caused ovarian cancer.
As they've argued in both ovarian cancer and mesothelioma cases, J&J maintains that talc is not carcinogenic, and that their talc products never contained asbestos. The company presented expert witnesses who testified that other risk factors, such as family history, made the plaintiffs more susceptible to developing ovarian cancer.
In all talc trials to date, J&J stressed that numerous federal regulatory agencies declined to label talc a carcinogen, and that talc miners who were exposed to the mineral in far greater volumes than the plaintiffs don't show any higher rates of mesothelioma than the average population.
Whether the verdict is for the plaintiffs or J&J, it will likely play a role in shaping the contours of any large-scale settlement of the nearly 9000 talc-related claims pending against the company in state and federal court. Most are consolidated in federal multidistrict litigation in New Jersey, but there are active state court J&J talc dockets in California and Missouri, and standalone talc mesothelioma lawsuits filed all throughout the country.
Wednesday's closings will present both sides with the challenge of summing up weeks of complex scientific testimony, and jurors with the daunting task of apportioning damages for 22 women or their next of kin should they find J&J liable.
Judge Burlison indicated that jurors will work through the weekend if necessary to reach a verdict, and both the closings and the verdict will be webcast by CVN.
Then on Monday another cosmetic talc lawsuit heads to trial, this time in Los Angeles involving Colgate's products. Another cosmetic talc mesothelioma trial involving J&J is scheduled to begin in Los Angeles the following week.
CVN has recorded numerous talc and asbestos trials in California, Missouri, New Jersey and South Carolina, and they are all available to subscribers as part of CVN's one-of-a-kind online trial video archive.
The current trial is captioned Ingham v. Johnson & Johnson, No. 1522-CC10417-01 in the Circuit Court of the City of St. Louis, Missouri.
Email David Siegel at dsiegel@cvn.com