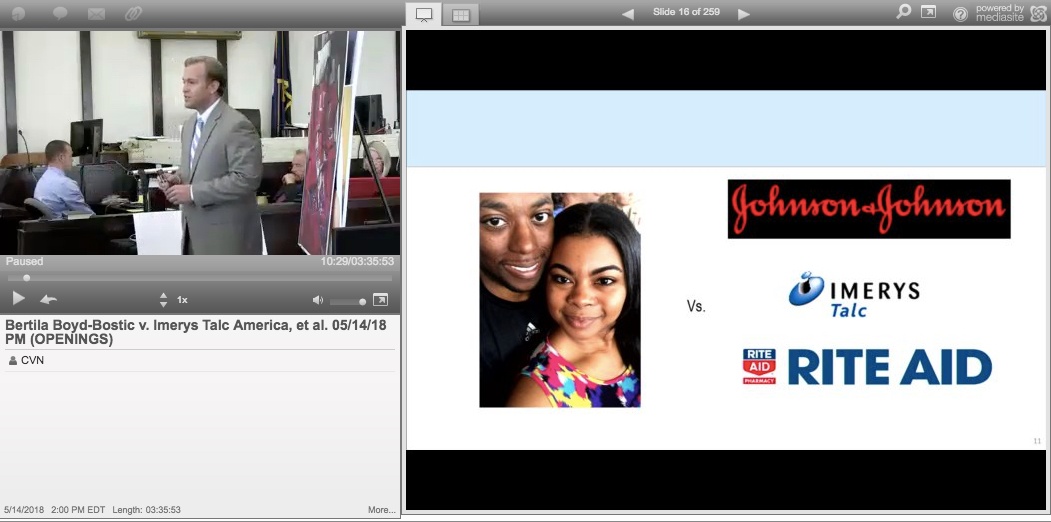 CVN screenshot of plaintiff attorney Chris Swett delivering his opening statement
Darlington - A high-stakes trial over the dangers of asbestos supposedly present in Johnson & Johnson's talc powder products began its second week in South Carolina state court on Monday, with all sides clashing over the cause of a young attorney's rare and fatal cancer.
Jurors heard that Bertila Boyd-Bostic received a diagnosis for pericardial mesothelioma, an extremely infrequent cancer affecting the lining of the heart, at the age of 30. She passed away 15-months later last October, and her husband Antoine Bostic is pursuing a lawsuit alleging her death was caused by inhaling asbestos in Johnson's Baby Powder for years.
Other defendants include Imerys Talc America, J&J's talc supplier, and for the first time in a J&J talc mesothelioma trial drug store chain Rite Aid. The full trial is being webcast gavel-to-gavel by Courtroom View Network.
Only three other cases linking J&J's talc products to mesothelioma have gone to trial prior to Bostic's . One ended in a defense verdict last year in Los Angeles, and another concluded last month in New Jersey with massive $117 million verdict, including $80 million in punitive damages. Both were recorded by CVN.
Another trial in Los Angeles is currently underway.
Attorneys for J&J and Imerys argued to jurors in South Carolina that their talc never contained asbestos, and that Bostic-Boyd's mesothelioma could have been caused by a number of other factors.
During his opening statement, Bostic's attorney Chris Swett of Motley Rice told jurors that J&J became aware as far back as the 1970's that their talc products contained asbestos, and that they made ultimately unsuccessful efforts to remove it.
"When they figured out they couldn't do it, Johnson & Johnson had choices," Swett said.
He explained that the company had the option of selling safer cornstarch based powders, or of providing a warning to the public, but stuck with their traditional talc-based products without disclosing any health risks to protect the sales of popular brands used by multiple generations.
Swett claimed that J&J intentionally used tests that would not be able to detect the presence of asbestos in their talc powder.
An attorney for J&J, Michael Brown of Nelson Mullins Riley & Scarborough LLP, told jurors that millions of consumers purchased products like Johnson's Baby Powder and Shower to Shower and never developed mesothelioma.
"And that's because it does not contain asbestos," he said.
He cited that even talc miners, who are exposed to vastly higher amounts of the mineral, don't show any more cases of mesothelioma than the general population.
Another J&J attorney, Bruce Bishop of Wilcox & Savage PC, argued that there was no medical evidence linking Bostic-Boyds cancer to asbestos exposure. He said pericardial mesothelioma can develop for a variety of other reasons.
This is a similar tactic to the one J&J used in the first talc mesothelioma trial, where they successfully argued that the plaintiff's cancer was the result of previous radiation therapy.
An attorney for Rite Aid, Sarah Johnston of Barnes & Thornburg LLP, argued that the drug store chain should not be a defendant in the case. She explained that the products in question were never banned or recalled, and that the company shouldn't be held responsible for selling an extremely widely-used product that no regulatory agency had ever said posed a health risk.
The trial is taking place before retired Chief Justice of the Supreme Court of South Carolina, Jean Toal, who currently presides over the state's consolidated asbestos docket.
Gavel-to-gavel video of the full trial will be available to CVN subscribers, in addition to numerous other talc, asbestos, product liability and mass tort trials from throughout the United States.
The case is captioned Antoine Bostic, individually and as Personal Representative of the Estate of Bertila Delora Boyd-Bostic v. 3M Company, et al., case number 17-CP-16-0400, in the Court of Common Pleas for the County of Darlington.
Email David Siegel at dsiegel@cvn.com