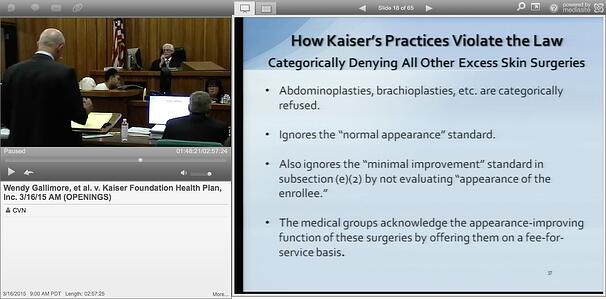 Plaintiffs' attorney Rob Gianelli delivers his opening statement on Monday. Click here to see video from the trial. Click here for a copy of the complaint.
Oakland, Calif.— A bench trial in a class action accusing Kaiser Permanente of unlawfully refusing to cover the removal of excess skin for nearly 10,000 patients who underwent weight loss surgery began on Monday in California state court.
Plaintiff Wendy Gallimore claims that Kaiser Foundation Health Plan Inc. is systematically violating a California law requiring insurance companies to pay for reconstructive surgery needed to return a patient's body to a "normal appearance" after disfigurement due to disease or trauma. Kaiser routinely denies coverage for excess skin removal following bariatric surgery - also known as "stomach stapling" - on the basis that the follow-up procedure is cosmetic and elective, according to Gallimore's complaint.
Gallimore experienced drastic weight loss after undergoing bariatric surgery in 2006 to treat her morbid obesity but was left with large amounts of loose skin, a condition that she says amounts to physical disfigurement. Rather than pay for removal of the skin, Gallimore says Kaiser referred her and other similarly situated patients to the company's for-profit cosmetic surgery centers without adequately evaluating the patients' skin condition first, allegedly in violation of section 1367.63 of California's Health & Safety Code.
During opening statements before Judge Wynn Carvill, Gallimore's attorney Rob Gianelli of Gianelli & Morris argued that Kaiser is ignoring the "normal appearance" requirement of the law, and instead told bariatric surgery patients that reconstructive surgery would only be covered if the excess skin presented a "functional" problem, according to a Courtroom View Network webcast of the proceedings.
Gianelli said the fact Kaiser maintains a network of fee-for-service clinics to perform skin removal demonstrates the widespread nature of the issue, but argued that patients with a normal physical appearance wouldn't seek out reconstructive surgery.
"You're always normal to start with," Gianelli said, describing Kaiser's alleged rationale for denying coverage without properly evaluating patients. "Unless you have a reconstructive surgeon review this under the statutory standard, you can't just say 'no' to everything."
Kaiser's attorney Mark Palley of Marion's Inn LLP argued to Judge Carvill during his opening statement that the plaintiff class is trying to "socialize" the costs of medically unnecessary elective surgery that he compared to "tummy tucks."
Palley said the plaintiffs' interpretation of the statute is overly broad, and that it is only meant to cover severe deformities like congenital defects, tumors, or injury from accidents. The California legislature didn't intend to require coverage for surgery that will merely improve physical appearance, he argued.
He stressed that coverage decisions were made by Kaiser's doctors and based on medical necessity, and that the costs for elective procedures shouldn't be passed on to other policyholders.
"[Plaintiffs] want to socialize those costs on others and increase premiums mainly for cosmetic purposes and against the judgment of our surgeons," Palley said. "The statute doesn't require that."
The trial is expected to last up to 10 days, after which Gianelli said he will ask the court to declare that Kaiser's policy violates the Health & Safety Code, and for an injunction requiring Kaiser to re-evaluate any patients that had been deemed ineligible for coverage.
Gianelli told CVN a ruling in favor of the plaintiff class could leave Kaiser on the hook for coverage of potentially thousands of surgical procedures. Kaiser's general counsel declined to comment.
Video of the proceedings will be recorded and webcast gavel-to-gavel by CVN.
The plaintiffs are represented by Rob Gianelli, Joshua Davis and Richard Fruto of Gianelli & Morris.
Kaiser is represented by Brian Lee and Mark Palley of Marion's Inn LLP.
The case is Wendy Gallimore, et al. v. Kaiser Foundation Health Plan Inc., case number RG12616206, in the Superior Court of the State of California for the County of Alameda.
David Siegel can be reached at dsiegel@cvn.com.
Related Coverage:
Insurer Blasted With $4.5M Class Action Bad Faith Verdict
Click here to check out more insurance cases in CVN's one-of-a-kind video archive.