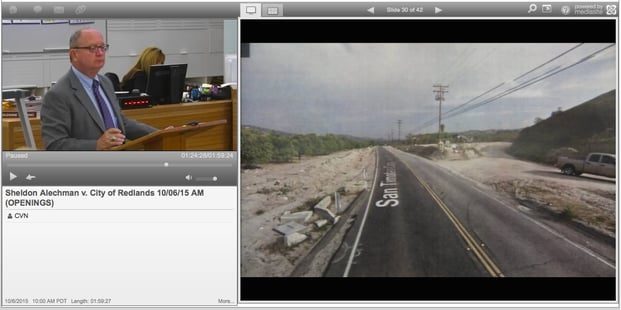 Defense attorney Bruce Disenhouse shows jurors a photograph of the location where Sandra Alechman's fatal vehicle rollover occurred. The concrete structure she hit is visible on the left. Click here to see video from the trial.
San Bernardino — A woman's death in a single vehicle rollover accident was caused by the City of Redlands' failure to remove a roadside cinderblock structure that she struck while driving, her widower's attorney argued in a trial that began Tuesday in California state court.
Plaintiff Sheldon Alechman sued the city following his wife Sandra Alechman's death in 2011, when her Mercedes sport utility vehicle rolled over, after she blew out two tires in a collision with a cement structure alongside San Timoteo Canyon Road. Alechman's attorney, William Shapiro of Robinson Calcagnie Robinson Shapiro Davis Inc., told jurors the city knew for years that the structure, called a weir, posed a "grave risk" to drivers but took no action.
The weir sits just 15 inches from the edge of the road, Shapiro said, meaning drivers who exited the roadway for any reason had no recovery room to avoid hitting the structure. He argued that the California Department of Transportation's safety manual, which the city adopted, calls for clearance zones of up to 30 feet alongside high-speed roads and for any fixed objects within that zone to be surrounded by protective railing.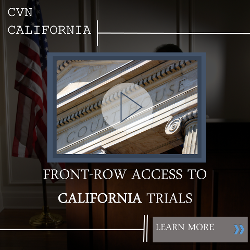 Shapiro said nobody knows what caused the 66-year-old Alechman to exit the roadway, but that her vehicle and tires didn't suffer any mechanical failures, she wasn't intoxicated and she wasn't texting or speaking on a cellular phone at the time of the accident. He argued that Alechman wasn't speeding on the 55 mile per hour road, a claim that the city disputes.
"It was that cinderblock wall that caused that tire to pop," Shapiro said, according to a Courtroom View Network webcast of the trial. "Had that not been there, she would have simply gone right back on the road."
City officials don't know who initially installed the concrete structure or what its original purpose was, according to Shapiro. However reflective paddles had been placed on the weir by 2011, which Shapiro said proved the city knew the structure posed a danger, and that it should have been removed.
"The evidence is going to be in this case that the cost to remove that block was negligible," Shapiro said.
He didn't tell the jury the amount of damages he plans to ask for.
The city's attorney Bruce Disenhouse told the jury that Alechman was driving at roughly 80 miles per hour when she struck the weir, and that she didn't try to avoid the structure despite having ample room in her lane to maneuver.
He argued that objects like fire hydrants, light poles and highway dividers are frequently placed in close proximity to high-speed traffic, and that the cement weir presented no danger to Alechman had she been more cautious.
"If Ms. Alechman was driving prudently, within the posted speed limit, or even slightly less, this roadway does not present any unreasonable risk of harm," Disenhouse said.
Disenhouse also attempted a pre-emptive strike on the credibility of an accident reconstruction expert hired by Sheldon Alechman's lawyers. In a trial centering around an accident where the only person involved is deceased, the jury's perception of each side's reconstruction experts could play a key role in the verdict. Disenhouse said the city's expert had a record of testifying for both plaintiffs and defendants, but that Alechman's expert testified exclusively for plaintiffs in civil cases.
The trial before Judge John Pacheco is expected to take about a week to complete and is being recorded and webcast gavel-to-gavel by Courtroom View Network.
Sheldon Alechman is represented by William Shapiro and Justin King of Robinson Calcagnie Robinson Shapiro Davis Inc.
The City of Redlands is represented by Bruce Disenhouse.
The case is Alechman v. City of Redlands, case number CIVDS1210203, in San Bernardino County Superior Court.
E-mail David Siegel at dsiegel@cvn.com
Related coverage:
Click here to see more California state court trials in CVN's one-of-a-kind video archive