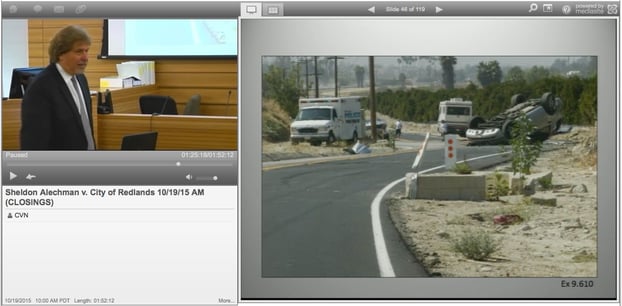 Plaintiff's attorney William Shapiro shows jurors a photograph of the concrete structure that he said caused Sandy Alechman's death in a 2011 accident. Her overturned car is visible in the background. (Click here to see video from the trial.)
San Bernardino — A California state court jury awarded $1.3 million on Thursday to the husband of a woman who died in a rollover accident after her car struck a roadside cement box, finding the City of Redlands to be responsible for unsafe road conditions that caused her death.
The 12-member jury deliberated over three days following a trial that began October 6. They awarded $2 million to plaintiff Sheldon Alechman, according to a Courtroom View Network webcast of the trial, but found his wife Sandy to be 35 percent responsible for her own death. Therefore the actual damages awarded will be reduced to $1.3 million.
Sandy Alechman died in 2011 at the age of 66, when her Mercedes sport utility vehicle rolled over, after she blew out two tires in a collision with a cement structure alongside San Timoteo Canyon Road. Her husband sued the City of Redlands the next year, claiming officials knew a cement structure sitting only 15 inches from the side of the road posed a danger to drivers, but that officials took no action.
The structure, called a weir, took on an air of mystery leading up to and during the trial. Alechman's attorney, William Shapiro of Robinson Calcagnie Robinson Shapiro Davis Inc., told CVN that nobody could identify the purpose of the structure, who installed it or who owned it. While it didn't technically sit on city property, Shapiro argued the weir was in the city's right of way, meaning the city had an obligation to remove it.
"This thing is patently dangerous," Shapiro said. "For these people who work for the city to say that it's not is just putting their heads in the sand."
Shapiro said jurors approached him and counsel for the city in the hallway outside the courtroom after the verdict was delivered and urged them to remove the weir. He noted that the city had refused to make any settlement offers to resolve the case, claiming that the weir didn't present an unsafe road condition.
"Jury trials are often bigger than one case, and this is a prime example of how the jury can be the conscience of the community, and they can create change," Shapiro said. "I let the jury know that with their verdict they will be making the City of Redlands a safer place, and they did."
He argued that the city's decision to place reflective paddles on the weir, despite not knowing its purpose or owner, proved officials knew it posed a potential hazard to drivers. Shapiro told the jury Alechman wasn't speeding at the time of the accident, wasn't intoxicated, and that neither her car nor her tires suffered any mechanical failure.
The city's attorney, Bruce Disenhouse, told jurors that Alechman was driving at 80 miles per hour on a 55 miles per hour road, and that she should have been able to avoid the weir if she were driving prudently, arguing that structures like fire hydrants and light posts are often placed in close proximity to high-speed traffic.
Disenhouse did not respond to requests for comment from CVN.
Since the only person involved in the actual accident is deceased, both sides were forced to rely heavily on testimony from accident reconstruction experts. Shapiro said jury trials like this are especially difficult, because the general public is predisposed to believing that single-car accidents are caused by the driver and not by unsafe road conditions. He said a turning point in the case came when the city's expert admitted during a deposition that the weir could be a danger for drivers.
"I try to prove cases with the other side's witnesses," Shapiro said.
Shapiro said he suspected the city might remove the weir as soon as Thursday evening, and that if it wasn't removed promptly he planned to follow up with city officials.
"Somebody else is going to hit that thing," he said.
Juries in cases like this have special responsibilities, Shapiro said, telling the panel during his closing argument to think of their verdict as the equivalent of having a "hotline to the mayor's office."
"It's beautiful when juries can come in and they can tell a city that we need our cities to be safe, and if you're not going to do it, then we're going to do it."
The trial before Judge John Pacheco was recorded gavel-to-gavel by Courtroom View Network, and is available in CVN's online video archive along with many other high-stakes trials throughout California.
The case is Alechman v. City of Redlands, case number CIVDS1210203, in San Bernardino County Superior Court.
E-mail David Siegel at dsiegel@cvn.com