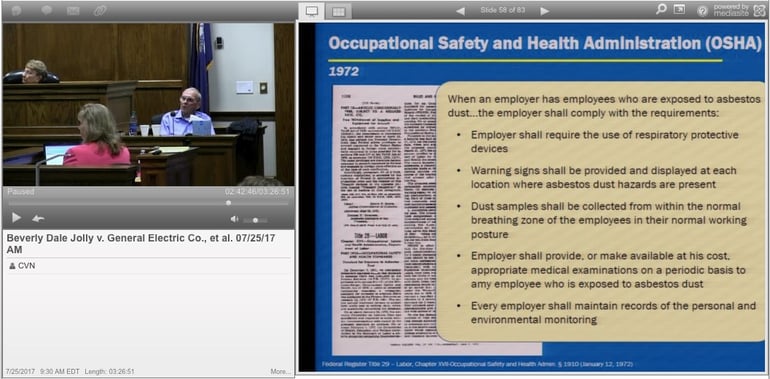 CVN screenshot of plaintiff Dale Jolly under cross-examination
Spartanburg - An attorney for a former Duke Energy worker who inspected asbestos-containing valves in nuclear power plants told a South Carolina state court jury on Monday that the valve's manufacturers are responsible for his client's mesothelioma, a deadly form of cancer linked to asbestos exposure.
73-year-old Dale Jolly claims he developed mesothelioma, which affects the lining of the lungs, as a result of years working with thousands of valves used in various Duke plants. Jolly's lawyers allege that while Duke took proactive steps to protect workers from asbestos exposure, valve manufacturers Fisher Controls International LLC and Crosby Controls International LLC chose to continue using asbestos despite being aware of its health risks.

Simona Farrise, who is of counsel to lead plaintiffs firm Dean Omar Branham LLP told jurors during her opening statement that Jolly's exposure came specifically from the asbestos-containing gaskets inside the valves. Ms. Farrise is also the founder of The Farrise Law Firm based in California.

"So where did the asbestos come from? It came from within, if you will, the literally hundreds if not thousands of valves that Crosby made, designed, and sold to Duke at these various plants," Farrise told jurors, according to a Courtroom View Network webcast of the trial.

Jolly received his mesothelioma diagnosis in January 2016 and sued dozens of companies the following April, including Georgia Pacific, Union Carbide, Pfizer and General Electric. Only Fisher and Crosby remained as defendants when the case went to trial. Jolly worked for Duke from 1979, when he began as a pipe fitter, until 2003, when he retired as an ultrasonic quality control inspector.

It was during these regular inspections of valves and their asbestos-containing gaskets that Jolly inhaled asbestos, Farrise said. She put special emphasis on his 1979 start date, telling jurors that by then the health risks of asbestos were well-known, and that the federal government had been involved in asbestos regulation as early as the 1930's.

Farrise did not ask jurors for a specific amount of damages during her opening statement, but plaintiff verdicts in asbestos cases often reach into the millions of dollars, and Jolly's attorneys are seeking both compensatory and punitive damages, according to court filings.

The defendants' attorney, Timothy Bouch of Leath Bouch & Seekings LLP told jurors that while there was no dispute that Jolly's cancer is the result of asbestos exposure, there is no way to prove the asbestos came specifically from Fisher and Crosby's valves.

"All pancakes have two sides," Bouch said, arguing to jurors that the two companies did not recommend or sell the "flange gasket" that Farrise claims was the principal cause of asbestos exposure.

During Jolly's tenure with Duke, Bouch said he worked at numerous power plants and could have been exposed to asbestos from a wide range of sources. He pointed to Jolly's deposition testimony, in which Bouch tols jurors that Jolly never mentioned Fisher or Crosby and claimed to have "never worked with a valve in his whole career."

The trial before Judge Jean Toal, a former chief justice of the South Carolina Supreme Court who came out of retirement specifically to preside over asbestos trials throughout the state, is expected to last up to two weeks.

The full proceedings will be webcast live and recorded gavel-to-gavel by CVN.

Jolly and his wife are represented by lead counsel Jonathan Holder of the Texas-based firm Dean Omar Branham LLP and local South Carolina counsel Theile McVey and John Kassel of Kassel McVey, Attorneys at Law.

The defendants are represented by Timothy Bouch, Yancey McCleod II and Amy McLeod of Leath Bouch & Seekings LLP.

The case is Beverly Dale Jolly et al. v. General Electric Company et al., case number 2016-CP-42-01592 in the Court of Common Pleas for the Seventh Judicial Circuit of South Carolina.

E-mail David Siegel at dsiegel@cvn.com