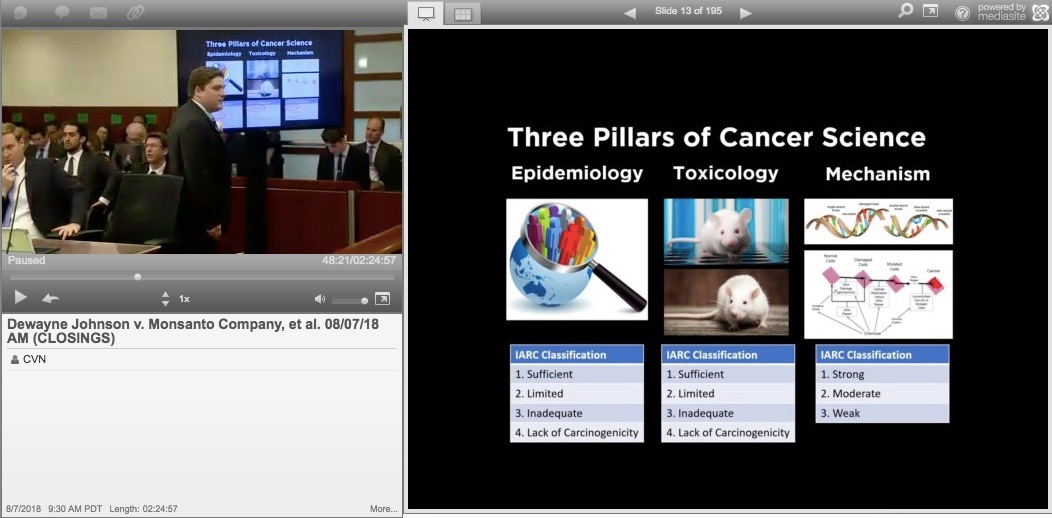 CVN screenshot of plaintiff attorney Brent Wisner delivering his closing argument
San Francisco, CA - A California appeals court on Tuesday will hear oral arguments in agrochemical giant Monsanto's bid to toss a $78.5 million award stemming from the first trial over the company's popular "Roundup" weed killer, and audio of the proceedings will be available via Courtroom View Network.
Monsanto, which was acquired by Bayer in 2018, will ask a three-judge panel to enter judgment in their favor or to order a new trial. The court's decision will have a major impact on ongoing settlement discussions involving over 50,000 plaintiffs who claim they developed cancer from exposure to the chemical glyphosate in herbicides like Roundup.
The $289 million verdict in that trial (subsequently reduced to $78.5 million) and other verdicts that followed battered Bayer's stock price, and whether or not the verdict survives the appeal will give significant leverage to plaintiffs or Bayer depending on the outcome.
Due to COVID-19 restrictions the hearing will take place telephonically. Live audio will be available free by registering with CVN, and on-demand access will be available upon the hearing's conclusion for subscribers to CVN's video library.
CVN also filmed and webcast opening and closing statements in the underlying trial, available to video library subscribers here. Plaintiff Dewayne "Lee" Johnson, who worked as a school groundskeeper, alleged that repeated exposure to glyphosate caused him to develop non-Hodgkin lymphoma.
Johnson's attorneys argued Monsanto knew glyphosate posed a serious health risk but failed to warn consumers. The jury agreed, awarding Johnson both compensatory and punitive damages.
Monsanto argues the trial court improperly excluded evidence showing that glyphosate is safe, and that jurors reached a verdict based on emotion instead of adequately vetted scientific facts. In their briefs the company specifically cites a determination by the EPA that glyphosate is not carcinogenic.
"It was not malicious for the regulators to reach this judgment, and it was not malicious for Monsanto to share their view of the science," Monsanto's appeal states.
Johnson's lawyers maintain the jury's decision was reasonable based on the factual record before it. "[I]t was a reasoned finding repeatedly confirmed based on Monsanto's reprehensible conduct," their brief states. "No one but Monsanto is responsible for its behavior."
Johnson is represented by Michael Miller, Curtis Hoke and Jeffrey Travers of The Miller Firm LLC, Brent Wisner and Pedram Esfandiary of Baum Hedlund Aristei & Goldman PC, and by Mark B. Burton of Audet & Partners LLP.
Monsanto is represented by David Axelrad, Jason Litt and Dean Bochner of Horvitz & Levy LLP, and by K. Lee Marshall of Bryan Cave Leighton Paisner LLP.
The case is Dewayne Johnson v. Monsanto Company, case number A155940, before Division 1 of the Court of Appeal, First Appellate District in San Francisco.
E-mail David Siegel at dsiegel@cvn.com