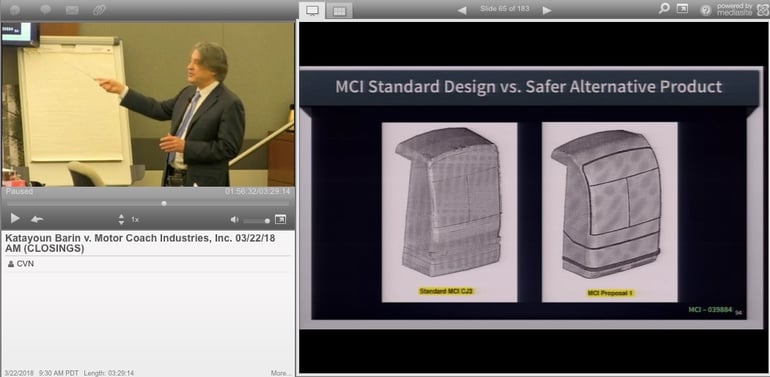 CVN screenshot of plaintiff attorney William Kemp delivering his closing argument
Las Vegas - A Nevada state court jury awarded $18.7 million on March 23 to the family of a surgeon killed after being sideswiped on his bicycle by a bus, in the first products liability trial of its kind over claims that a bus' allegedly faulty aerodynamic design created a sucking force that caused the fatal accident.
Jurors deliberated for most of a day in a trial that began on February 23. They determined that Motor Coach Industries, the largest manufacturer of buses and motor coaches in North America, is responsible for the death of Kavyan Khiabani in 2017 at the age of 51. He was cycling alongside a 2008-model MCI tour bus before being drawn underneath it and crushed.
The jury determined that the MCI bus was was not defectively designed, but that MCI failed to provide adequate warning that could have been acted upon to avoid the accident.
The award far surpasses the $1 million settlement offer from MCI's insurer, AIG, made just before the start of closing arguments, according to attorney William Kemp of Kemp Jones & Coulthard, who represents Khiabani's family.
MCI argued the bus in question complied with all current federal safety regulations, and that Khiabani bore responsibility for the accident due to making a sudden swerve on his bike too close to the bus. An attorney for the company did not respond to a request for comment.
The full trial was recorded and webcast gavel-to-gavel by Courtroom View Network.
Kemp and his co-counsel, Peter Christiansen of Christiansen Law Offices, told jurors that the aerodynamic design of the tour bus created a pulling force equivalent to 20 pounds near the right front portion of the vehicle. They argued that other buses use safer streamlined designs that exert no pulling force, and that MCI should have known their design posed a risk to cyclists like Khiabni.
"This case should be remembered as the first product liability case against a bus manufacturer to recover for poor aerodynamic design," Kemp told CVN. "Because there are hundreds of thousands of buses and large trucks on the road today that also have bad aerodynamic design that impacts millions of unwary bicyclists they pass, other like lawsuits are inevitable."
The long-running trial took place before Clark County Circuit Court Judge Adriana Escobar, and featured testimony from 17 expert witnesses, much of it involving accident reconstruction experts presenting conflicting versions of how the crash occurred.
While the plaintiffs were represented entirely by local Nevada counsel, MCI brought in attorneys Darrell Barger, Michael Terry, John Daucus and Brian Rawson from the Texas-based firm Hartline Dacus Barger Dreyer LLP. They were backed up by local attorneys from Weinberg Wheeler Hudgins Gunn & Dial LLC.
Kemp told CVN he expects the verdict to have a significant impact beyond the immediate parties to the case.

"Plaintiffs hope that the verdict stimulates the manufacturers of large buses and trucks to design safer vehicles that are not aerodynamically dangerous," Kemp said. He cited MCI's size, noting that "any changes made by it will quickly benefit society."
The full trial is available to CVN subscribers as part of CVN's one-of-a-kind online video archive of civil trials, which includes numerous other product liability and wrongful death trials from Nevada and across the country.
The case is captioned Keon Khiabani, et al. v. Motor Coach Industries Inc., et al. case number A-17-755977-C in the 8th District Court in Las Vegas, Nevada.
Email David Siegel at dsiegel@cvn.com
Correction: An earlier version of this story incorrectly stated that the jury determined the MCI bus was defectively designed. Jurors found no design defect and returned a plaintiff's verdict on the claim of failure to warn only.