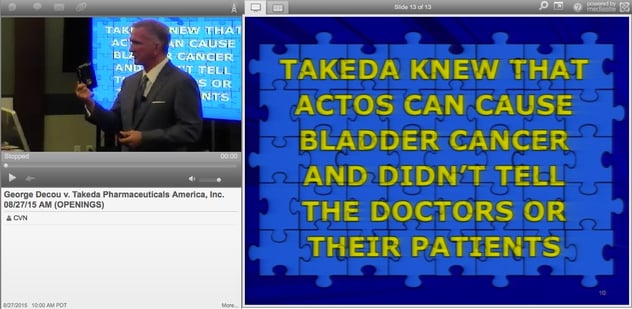 Plaintiffs' attorney Robert Eglet tells jurors in August that Takeda should pay $2 billion for allegedly failing to warn two diabetes patients of the cancer risks from taking Actos. Click here to see video from the trial.
Las Vegas — A Nevada state court judge overseeing a potentially $2 billion jury trial over the alleged bladder cancer risks of Takeda Pharmaceutical Co Ltd.'s blockbuster diabetes medication drug Actos announced Wednesday that the drug company and two plaintiffs had tentatively resolved their claims, likely ending a trial that began in August and was expected to continue for weeks.
Judge Jerry Wiese told attorneys outside the jury's presence that a tentative deal had been struck, and that the jury would likely be released on Monday pending final negotiations amongst the parties. Details of the deal were not disclosed in court. A Takeda spokeswoman confirmed a tentative agreement had been reached and was being finalized by the parties, and an attorney for the plaintiffs declined to comment.
The trial had been recorded gavel-to-gavel up to that point by Courtroom View Network.
The plaintiffs, a man who developed bladder cancer and the family of a man who died from the disease, chose not to opt into a $2.4 billion settlement agreement that will resolve most of the roughly 8,000 Actos lawsuits pending throughout the country. The deal seemed at risk of falling apart when the trial began in August, with a higher than expected number of holdouts, but since then enough plaintiffs signed on to lock in the settlement's terms, which offer an average payout of $250,000.
Plaintiffs' attorney Robert Eglet told the jury during his opening statement in August that he planned to ask for $2 billion in damages for George Decou and the family of Maurice Iorio. He claimed that Takeda knew Actos, known generically as pioglitazone, could cause bladder cancer as far back as when the drug was being tested on lab rats, and that the company intentionally destroyed hard drives and other materials to keep that information from coming out in court.
Takeda's attorneys argued during the trial that 77-year-old Decou and Iorio, who died in 2013 at 74, developed bladder cancer from smoking tobacco, which is a well-known risk factor for the disease. They also argued that medical studies have failed to show a link between taking Actos and cancer.
Eglet lost his bid in 2014 to hit Takeda with a multi-billion dollar verdict at a previous Actos trial in Las Vegas, but a federal jury that same year slammed the company with a staggering $9 billion verdict over the drug. U.S. District Judge Rebecca Doherty ultimately cut the award to $36 million, but also excoriated Takeda for intentionally destroying Actos-related evidence, a subject placed front and center in Eglet's opening statement. He repeated jury instructions from Judge Wiese, which said jurors should presume that missing Actos-related information on hard drives destroyed by Takeda contained information adverse to the company's position.
Actos was launched in 1999 and jointly marketed with Eli Lilly & Co., and it quickly become one of Takeda's top-selling drugs. Regulators in France and Germany yanked Actos from the market in 2011, the same year that the U.S. Food & Drug Administration issued a warning that the drug could cause an increased risk of bladder cancer while still allowing it to be sold in the United States. Actos generated $4.5 billion in sales in 2011 and made up 27 percent of Takeda's revenue that year, according to Bloomberg News
Nine Actos cases have gone to trial since an initial bellwether case in California state court in 2013, including three trials recorded gavel-to-gavel by CVN. Juries ruled against Takeda in five of those cases, although two of those verdicts were later thrown out by judges. However in July a California appeals court reinstated the first $6.5 million plaintiffs verdict against Takeda after a lower court granted the company's request for a new trial.
The current trial in Las Vegas was recorded gavel-to-gavel by CVN from the start of opening statements forward, and is available for viewing online along with many other high-stakes products liability trials in CVN's video archive.
The plaintiffs are represented by Eglet Prince and by Kemp Jones & Coulthard.
Takeda is represented by Greenberg Traurig LLP and by Snell & Wilmer.
The case is George Decou, et al. v. Takeda Pharmaceuticals America Inc., et al., case number A-13-683446-C in Nevada's Eighth Judicial District Court in Clark County.
E-mail David Siegel at dsiegel@cvn.com.