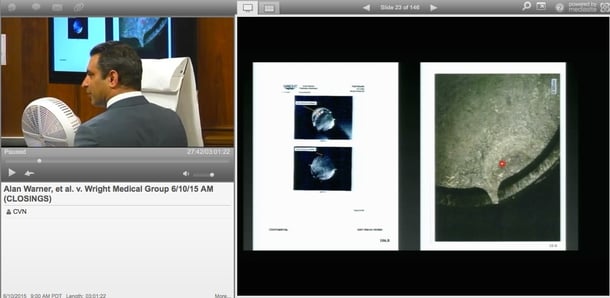 Plaintiffs' attorney Steve Vartazarian shows jurors microsopic images of a metal hip implant during his closing argument that he said was defectively manufactured by Wright Medical Technlogy. (Click here

to see video from the trial.)
Los Angeles — The first product liability lawsuit to go to trial out of nearly 1,200 pending cases involving Wright Medical Technology Inc.'s metal hip implants resulted in a $4.5 million plaintiffs' verdict on Friday, after a California state court jury decided that the stem piece in a senior citizen's implant broke due to being weakened by a laser during the manufacturing process.
While the majority of other lawsuits over allegedly defective Wright hip implants claim metal components in the devices ground together and released toxins into patients' blood, plaintiff Alan Warner's case is the first time Wright has defended its metal hip implants before a jury in any capacity. Although the jurors said Wright's design of the Profemur R device was not at fault, they found that the implant used in Warner was defectively manufactured and caused him injury.
The 12-member jury deliberated for just over a day following a two-week trial before deciding 9-3 that the Profemur R used in Warner snapped in 2010 while he stood in his kitchen due to a laser orientation mark that was burned too deeply into the device. Warner's attorneys argued that laser engravings deeper than 35 microns can cause the titanium in metal implants to become brittle, and that the crack in the Profemur R emanated from a laser mark over 100 microns deep. The laser etchings are used to help doctors orient the device during surgery.
Less than three years had passed since Warner had the Profemur R implanted when it snapped, although it was designed to last for well over a decade, according to his attorneys. Following the fracture, Warner required 14 major surgeries after experiencing a number of dislocations and prolonged infections. The jury awarded Warner $4 million for past and future pain and suffering and $500,000 to his wife for loss of consortium, according to a Courtroom View Network webcast of the trial. (Click here to see video from the trial).
Lead plaintiffs' counsel Steve Vartazarian of The Vartazarian Law Firm told CVN that Wright's highest pre-trial settlement offer was $455,000, and that his highest settlement demand was $4 million. He said other plaintiffs litigating against hip implant manufacturers might be less likely to settle their cases for lower amounts in light of this verdict.
"Nobody has ever gone up against [Wright] in trial, and I finally decided that I'm going to do it, and we did, and we won," Vartazarian said. "It's possible to take them down."
Vartazarian's co-counsel George McLaughlin of Warshauer-McLaughlin Law Group PC told CVN that this case offered attorneys their first glimpse of Wright's strategy for defending their implants in front of a jury, since the company has confidentially settled all prior claims over its devices supposedly fracturing.
"We were just wanting to see, 'Well, what is a failed hip worth?' because no jury has ever told us," McLaughlin said,
Vartazarian did not ask jurors to award a specific amount of damages during the trial, asking the panel to only give the Warners what it determined was fair.
Wright spokeswoman Julie Tracy told CVN the company expects to appeal the jury's decision, and that the verdict's impact on other pending hip implant cases is negligible.
"This was a one-off case involving a particular component with a strong track record of clinical success," Tracy said.
Wright's attorneys argued during the trial that the Profemur R snapped because the top of of the implant wasn't properly affixed to Warner's existing bone, and that the device shouldn't have been used in patients like Warner whose bone structure was compromised. They also said Warner's surgeon, Brad Penenberg, selected a stem piece that was too narrow. As the top of the implant shifted it placed stress on the narrow stem piece and caused it to break, the company's attorneys claimed.
However Vartazarian told the jury during his closing argument that Penenberg had been specifically recruited by Wright to use their implants in his patients and to train other surgeons in the use of the devices. He said nobody would have been more familiar with the proper use of Wright hip implants and noted that Penenberg stopped using Wright's devices in his patients due to safety concerns as soon as he learned about Warner's fracture.
Vartazarian said that Wright's own analysis initially showed the crack in Warner's implant emanated from a laser guidance mark, but that once they were sued the company began using the argument that the Profemur R wasn't meant for use in patients like Warner who had degraded bone structures, despite distributing marketing materials that Vartazarian said indicated otherwise.
Given the large amount of complex scientific and medical evidence in the case, the trial largely came down to a battle of the experts, with each side taking swipes at the credibility of witnesses hired by the other party. Vartazarian accused one of Wright's experts of being a "hired gun" paid $250,000 to say whatever the company wished, while Wright's lawyers criticized one of the plaintiffs experts, an aeronautical engineer, for having no advanced education in metallurgy.
The trial before Judge Michael Harwin, including all witness testimony, was recorded and webcast gavel-to-gavel by Courtroom View Network. Another key hip implant trial is scheduled to begin in Los Angeles on July 7 involving a metal hip implant manufactured by Zimmer Holdings Inc, and CVN hopes to similarly record and webcast those proceedings. It will be the second trial after an Illinois state court jury decided last year that one of the company's Durom implants was not defective.
The other 1,200 Wright hip implant cases are pending in California state court and in multidistict litigation consolidated in Georgia federal court. Helen Zukin of Kiesel Boucher Larson LLP, who serves as co-liaison counsel for the plaintiffs in the MDL, told CVN the verdict in Warner's case is very significant.
"It says a lot about the witnesses on both sides," Zukin said. "Those of us who work on these cases know how serious these injuries can be and how life altering they are."
The California case is Alan Warner v. Wright Medical Technology Inc., case number BC475958, in Los Angeles County Superior Court.
Warner is represented by lead counsel Steve Vartazarian of The Vartazarian Law Firm and by George McLaughlin of Warshauer-McLaughlin Law Group PC.
Wright is represented by Michael Kell, Michael Fawaz and David Van Dyke of Howard & Howard, and by Michael Kirby and Micaela Banach of Kirby Noonan Lance & Hoge LLP.
E-mail David Siegel at dsiegel@cvn.com.
Related Content:
Click here for a copy of the complaint.
Click here to see more product liability trials in CVN's one-of-a-kind video archive.